What We Know About Jared Kushner's Thyroid Cancer Diagnosis And Treatment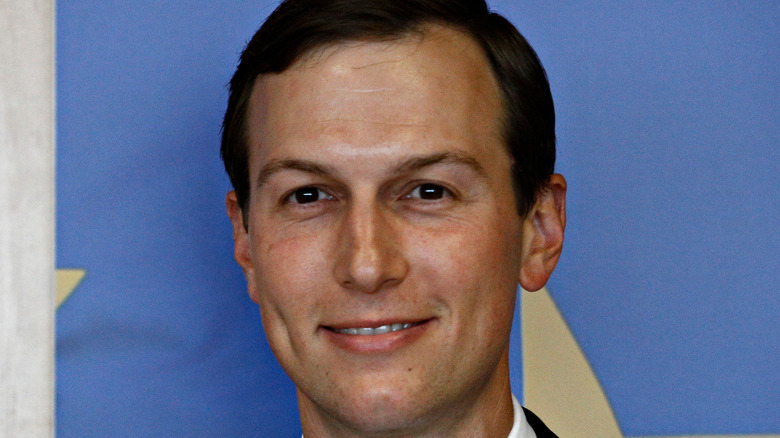 Alexandros Michailidis/Shutterstock
We may receive a commission on purchases made from links.
It has been reported by The New York Times that Jared Kushner, son-in-law of former President Donald Trump and husband of Ivanka Trump, recounts details of his secret battle with thyroid cancer in his upcoming memoir. In addition to being a part of the presidential family, Kushner served as a senior adviser to former President Donald Trump, and provides an insider's perspective of what it was like to work in the White House. Kushner's publication, titled "Breaking History: A White House Memoir" will be available for purchase on August 23rd, 2022 (per Amazon). 
Part of Kushner's story that was kept hidden from the public was his personal experience with thyroid cancer. When initially struck by the news of his diagnosis in October 2019, Kushner reportedly requested that White House doctors not share the information with his wife and father-in-law, as further explained in his memoir (per Today). According to The New York Times, the former senior advisor eventually told his wife, two aides, and chief of staff Mick Mulvaney, but attempted to hide the information from the then-president. In his own words, Kushner writes, "This was a personal problem and not for public consumption."
However, former President Trump found out about his son-in-law's diagnosis and asked him if he was nervous about the surgery, reports the New York Post. When Kushner asked him how he knew, Trump replied, "I'm the president. I know everything. I like to keep things like this to myself as well. You'll be just fine."
How his thyroid cancer was evaluated and treated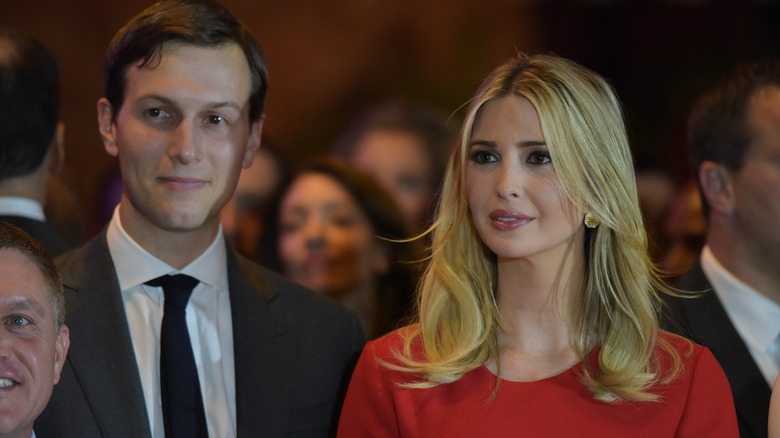 a katz/Shutterstock
According to Today, the symptoms of thyroid cancer can be subtle, which is why being evaluated by a doctor at the first sign of unusual changes is important. Dr. John Torres told Today in 2020 that some symptoms of thyroid cancer to look out for include swollen glands in the neck, pain in the throat or neck, difficulty breathing, and a lump in the front of the neck. Additionally, Dr. Torres shares that thyroid cancer is one of the most treatable cancers, is most common in people between the ages of 25 and 65, and is three times more common among women than men.
In Jared Kushner's case, he was evaluated by Dr. Thomas Fahey, who suggested that Kushner have an operation to remove the affected growth in his thyroid. The New York Post reports that the surgery was scheduled for the Friday before Thanksgiving, in hopes that Kushner's absence in the office would go unnoticed around the holiday. 
While the doctors warned that the surgery might alter Kushner's voice, Kushner writes that his surgery had minimal effects. During the procedure, Dr. Fahey removed a substantial portion of his thyroid. As further explained in the New York Post, Kushner's biopsy results came back after the surgery and ultimately revealed that the growth was in fact cancerous. In his memoir, Kushner expresses his gratitude towards his recovery as he writes, "Thank God we caught it early."