How Worried Should You Really Be About Monkeypox? Dr. Mike Hoaglin Explains - Exclusive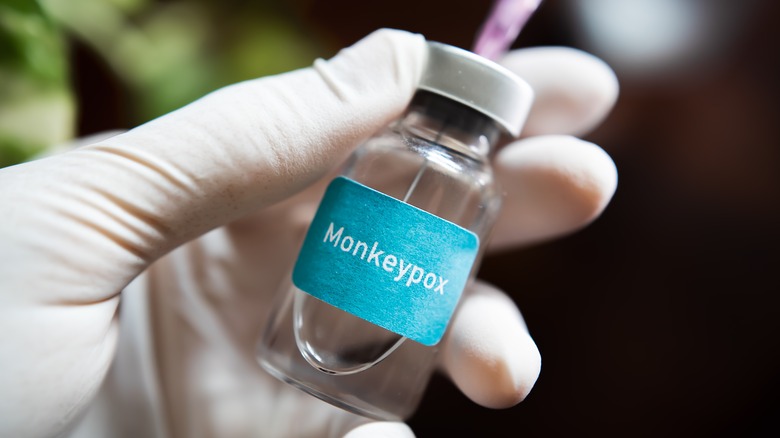 Wachiwit/Shutterstock
The monkeypox virus has continued to spread around the United States since cases were first reported in endemic countries in May 2022 (via World Health Organization). Almost 3,500 cases have been reported in the U.S. as of July 26th, prompting the Biden administration to make a decision on whether or not to declare the virus a public health emergency (via U.S. News). 
To learn more about monkeypox, Health Digest spoke with Dr. Mike Hoaglin, the Medical Director at DrHouse, a telehealth company providing on-demand urgent care, men's health, and women's health services throughout New York State. "Monkeypox is primarily spread through close person-to-person contact, especially direct exposure to the infectious skin lesions, or exposure [to] anything that touched the lesions such as clothing or bed linens," said Dr. Hoaglin. "It may also be spread through oral secretions with prolonged face-to-face contact. It has also been reported to be spread from mother to fetus." 
According to Dr. Hoaglin, the best way to protect yourself against the disease is to avoid contact with people who have it until their skin lesions have fully healed. "If you are caring for someone with the illness at home, wear gloves and an N95 mask when in the same room, and ideally eye protection as well," he said. "Avoid agitating soiled linens, so that the viral particles do not become airborne." 
What are the symptoms of monkeypox?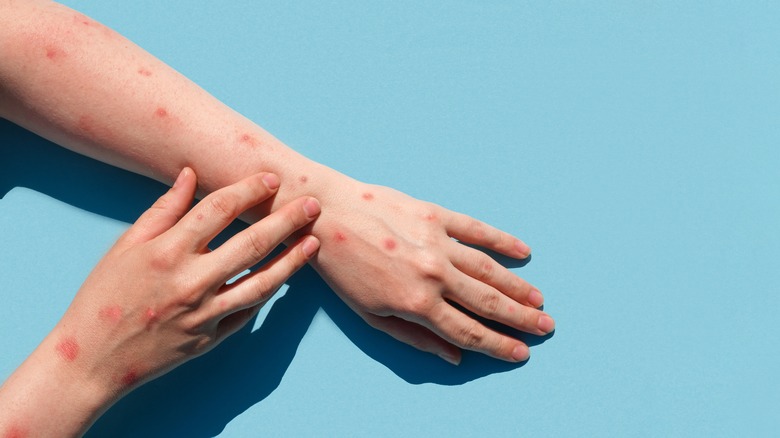 Marina Demidiuk/Shutterstock
You'll want to be aware of the symptoms of monkeypox so that you can seek medical care as soon as possible if you suspect you have it. "Typically there is an initial flu-like illness of fever, headache, muscle aches, fatigue, and even swollen lymph nodes/glands, but in this year's outbreak, the flu-like illness does not always occur," explained Dr. Hoaglin. "What is most characteristic, though, is the rash, which occurs a few days after the fever. The rash can appear anywhere, especially on the face and genital areas. It typically starts as a painful pencil-eraser-sized round bump that develops a tiny depression on top. There may be a few or many lesions. They can fill with fluid and then crust over, dry out, and fall off, which can take up to 14 days."
According to Dr. Hoaglin, most people who get monkeypox will be able to recover without treatment. If you have monkeypox and experience mild symptoms, isolate yourself from others until you can no longer spread the virus. According to the CDC, you should consult a local medical professional about isolating. Generally, people with monkeypox should remain isolated until all lesions have healed over completely.
Other information to know about monkeypox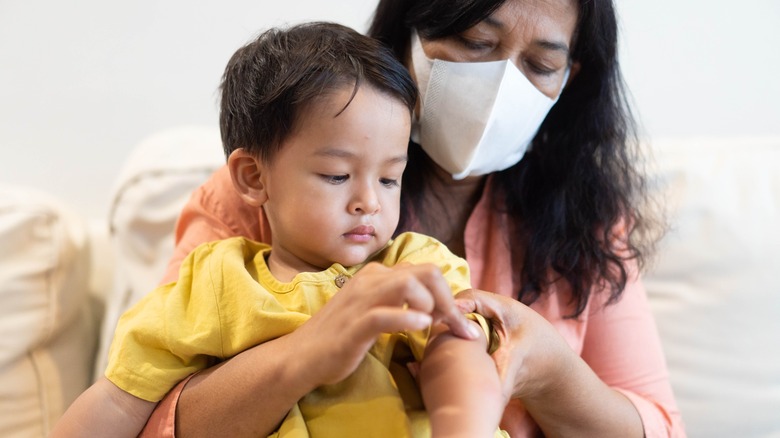 MIA Studio/Shutterstock
While many people can recover from monkeypox at home, some people may have a more difficult experience with the virus. "Higher risk patients with underlying medical issues, especially in children and those who are immunocompromised, may need to be hospitalized for supportive care," said Dr. Hoaglin. Even if you are not a high-risk patient, it is important to talk to a medical professional if you believe you have monkeypox. "You should stay at home and contact your doctor or schedule a virtual urgent care visit," directed Dr. Hoaglin.
Dr. Mike Hoaglin is currently the Medical Director for DrHouse. He is a practicing physician, advisor, and digital health expert passionate about telehealth, mental health, healthcare communications, and gut microbiome. Licensed in ten states, Dr. Hoaglin is a Supervising Virtual Urgent Care Physician at Oscar Medical Group, Medical Director of Prairie Health's telepsychiatry practice, and treats mental health conditions at Brightside Health. He was previously a Medical Director at uBiome, formerly the leading microbial genomics company and Clinical Scholar-in-Residence at Practice Fusion, a cloud-based electronic medical records system. He was Policy Analyst at the U.S. Department of Health and Human Services, where he received The Secretary's Commendation and served as Clinical Director of Emmy Award-winning The Dr. Oz Show.
You can keep up with Dr. Mike Hoaglin on Twitter and Facebook or learn more about DrHouse on Twitter, Facebook, and Instagram.