Married To Medicine's Dr. Jackie Opens Up About Why She Created Her Own Sunscreen - Exclusive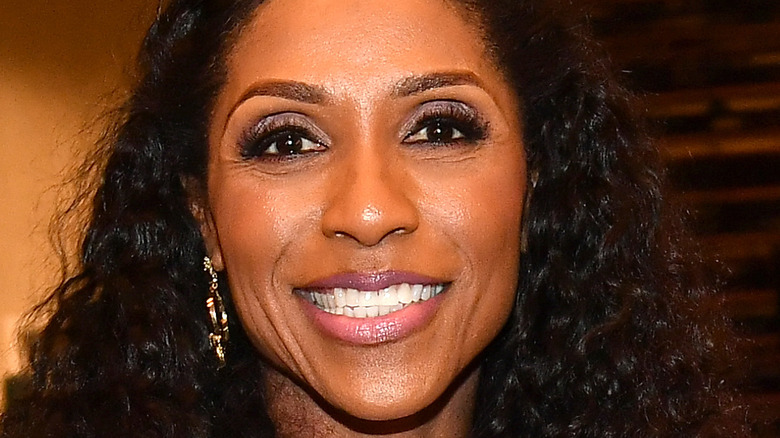 Paras Griffin/Getty Images
Dr. Jackie Walters is perhaps best recognized as a staple on Bravo's "Married to Medicine." After nearly a decade of appearing on the medical reality TV show, the Atlanta-based OB-GYN has offered viewers a look into both her professional and personal life. That means fans have gotten to see her in doctor mode with her white coat on. But being a doctor is hardly her only professional gig. She's also an author and the host of a podcast; both aim to demystify the vagina, sex, and other aspect's of women's health. That's an impressive undertaking, but it's still barely scratching the surface of her career.
The mogul has also dipped her toes in the beauty industry. Dr. Walters partnered with Volition Beauty to release two products. In an exclusive interview with our sister site The List, she explained how her first collab — the Skin Rhythm Balancing & Clearing Serum — was inspired by conversations with her patients. "Believe it or not, when you see your OB-GYN, most women don't just talk about female issues. We talk about skin. We talk about hair [and] nails," she explained. "I wanted something that everybody could use that would take care of all those hormonal imbalances we get as women. My collaboration with Volition was the idea."
Her second collab with Volition — the Adaptint Super Seamless Mineral Shield SPF 30 — arrived in 2022, and she revealed what inspired this drop, too.  
Dr. Jackie Walters wanted to create something to minimize the risk of skin cancer
Dr. Jackie Walters' own experiences with breast cancer inspired her to partner with Volition to create her sunscreen. "I'm a two-time breast cancer survivor; I don't want another cancer," she said. "If I can prevent anybody from getting cancer, I wanted to do that." She further explained that she designed the Adaptint Super Seamless Mineral Shield SPF 30 with the Black community in mind. Many sunscreens leave a white cast on deeper skin. That won't be a problem with her product.
"I wanted to create a product — and I did — with Volition where you have minimal visible white residue when you put it on so that it fades into the skin. African Americans come in a range of beautiful melanin, so we created two tinted colors — a cool neutral undertone and a warm undertone so that we get the right color," she said. Dr. Walters emphasized that it was essential for the Black community to protect their skin. "Nobody thinks about it because we always think as people of color [that] the melanin protects us, and it doesn't."
"Everybody should wear sunscreen. Man, woman, boy, girl — everybody should wear sunscreen. For the first time this year, I actually saw a skin cancer in the genital area," Dr. Walters added. She even shared a tip to help others remember to incorporate the product in their routines. 
SPF 30 offers strong protection from the sun's rays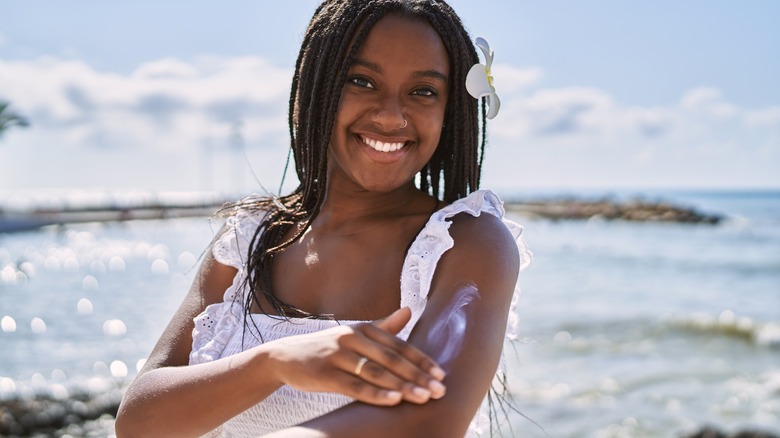 Krakenimages.com/Shutterstock
When selecting the right sunscreen to incorporate in your routine, Dr. Jackie Walters said that SPF 30 offered adequate protection. "When I started talking to a dermatologist about sunscreen, I had somebody tell me, 'Do a SPF 100.' This dermatologist said, 'You don't need all that. If you stick with 30, you got the coverage you need,'" she said. "But 30 gives you the absolute protection that you need. You don't need much more than that." Don't forget to reapply every two hours, too. 
She even blends her sunscreen with a dab of foundation to provide some extra coverage. Speaking of, Dr. Walters told The List that she'd love to continue releasing beauty products, but she'll do so while continuing her medical career. Despite rumors, she emphasized that she had no plans to retire. "When you retire, you get old," she joked.
New episodes of "Married to Medicine" air Sundays on Bravo at 9:00 p.m. ET/PT.