Olivia Newton-John's Cause Of Death Explained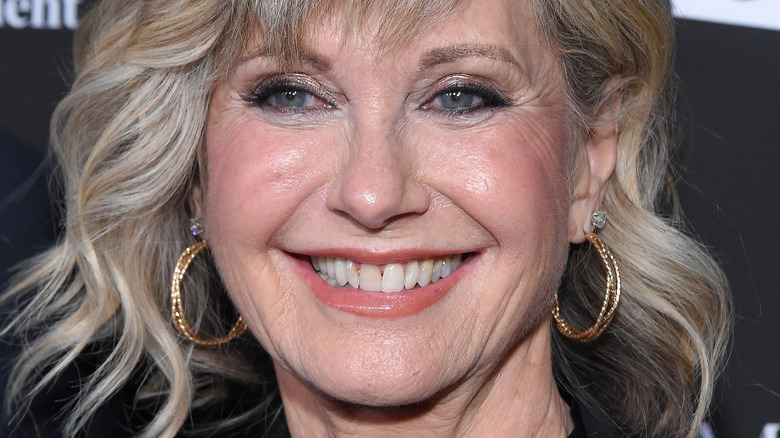 DFree/Shutterstock
Singer and actress Olivia Newton-John died on August 8, 2022, at 73 years old (via People). John Easterling, Newton-John's husband, took to various social media channels to announce her passing, saying, "Dame Olivia Newton-John passed away peacefully at her ranch in Southern California this morning, surrounded by family and friends." Newton-John is survived by her husband and her daughter, Chloe Lattanzi.
In her lifetime, Olivia Newton-John won four Grammy Awards and received the Officer of the Order of the British Empire medal, which accordingly made her a dame (via People). However, what made her a household name was her performance in "Grease," a classic film that continues to get told in the form of high school musicals. What's more, TMZ reports that her co-star in the film, John Travolta, remembered Newton-John in a tribute posted to the actor's Instagram account. "My dearest Olivia, you made all of our lives so much better. Your impact was incredible. I love you so much," Travolta wrote. 
Ultimately, members of Newton-John's family revealed that she passed away from a 30-year battle with breast cancer. She received the initial diagnosis in 1992 but then went into remission for over 20 years. In 2013, her breast cancer returned before going into remission once more only to return a second time in 2017. This time, the cancer metastasized to her sacrum.
She battled breast cancer for 30 years
Gabe Ginsberg/Getty Images
For three decades, Olivia Newton-John fought a battle with breast cancer (via People). She referred to herself as a "cancer thriver," and both she and her husband often commented on her positive mindset when it came to her fight against breast cancer, which involved chemotherapy, photon radiation therapy, a partial mastectomy, and breast reconstruction. She was notably one of the first celebrities to speak out about having breast cancer, and her contributions to raising awareness culminated in the Olivia Newton-John Cancer Wellness & Research Centre in Melbourne, Australia.
Breast cancer is estimated to affect one in eight women and is the second leading cause of cancer-related death for women (via the National Breast Cancer Foundation, Inc). In fact, a woman is diagnosed with breast cancer approximately every two minutes in the United States. During Newton-John's 30-year battle with breast cancer, the star spoke openly about her experience to raise awareness about detection and research, reports Prevention. In promoting dialogue about detection, she shared that neither her first mammogram nor her biopsy detected malignant cancer, instead diagnosing it as benign. 
Then, during the opening of her foundation, she encouraged other women to be advocates for their own health by sharing her story, saying, "I don't say this to scare women, but you just have to trust your instincts" (via Prevention). She spoke about how her daughter was her driving force in her fight against breast cancer as well as her belief in focusing on positive aspects of life. Now, the world is focusing on all of the positive aspects of her life in remembrance.