Naturopathic Doctor Natasha Vani Explains How Changing Health Habits Can Impact Chronic Disease - Exclusive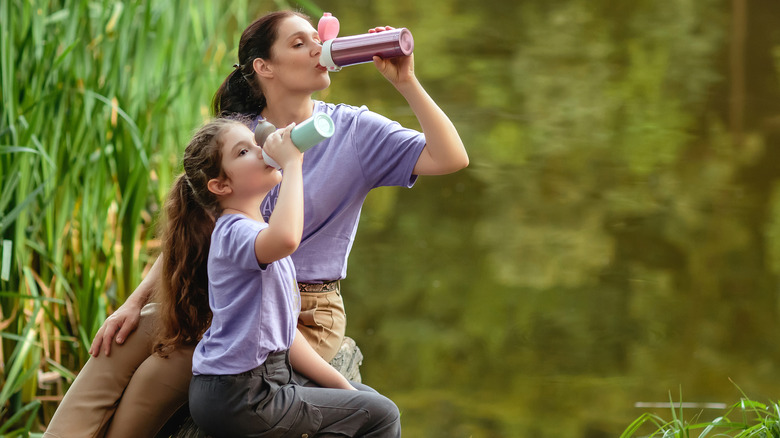 Hanna Rusina/Shutterstock
Chronic diseases like type-2 diabetes, hypertension, heart disease, high cholesterol, and strokes have a major impact on the U.S. healthcare system, and, of course, the lives of the people living with these diseases. The Centers for Disease Control and Prevention have identified that lifestyle choices have major impacts on these chronic diseases and that changing daily lifestyle habits is crucial to managing them.
Anyone who's tried to change a habit or make a major lifestyle change knows exactly how difficult that process can be. The best of intentions and even consistent action doesn't always result in long term changes. To make matters even more complicated, many people don't know what habits they should adopt or change in order to manage their chronic disease. Even if they've identified which habits they need to change and which ones they need to pick up, they might not know where to start.
Naturopathic Doctor Natasha Vani sees these scenarios all the time when she works with patients to manage their chronic diseases. Luckily, she's got some good advice about how to kick off lifestyle changes, stay motivated, and change habits for the long term. In an exclusive interview with Health Digest, she revealed how changing health habits can impact chronic disease and how to make changes that stick.
Building awareness through observation
Vani is the VP of Program Development and Operations for a platform called Newtopia, which helps people manage chronic diseases and mental health issues. People who download the app can use the platform to monitor their daily habits and identify areas of their lives that need improvement, like getting more sleep, exercising regularly, or adding more nutrient dense foods to their diet. 
Newtopia isn't just a habit tracker app. Vani explained that it's a platform to help you identify habits that are hurting your health and create and maintain habits that actually improve your health.
"Newtopia uses lifestyle intervention in the areas of nutrition, exercise, sleep, stress and overall well-being. We develop awareness of habits through tracking, coaching and wearable devices," she said. "We then educate and facilitate behavioral change by using cognitive behavioral techniques as well as mindfulness-based techniques."
The app syncs with wearable devices that you probably already have, as well as Apple and Android health apps. It collects all that data and uses it to make personalized recommendations.
Supporting healthy habits long term
Vani said that though research shows that long term lifestyle changes are the most effective way to manage and even reverse chronic diseases, that alone isn't enough motivation to sustain healthy habits. Given the proper support system, most people can successfully change their old habits and maintain new habits. Vani explained that the Newtopia app provides people with that support system.
"Each participant is paired with a dedicated health coach or Inspirator, who takes time to learn their unique well-being needs, challenges, preferences and even their genetically motivated behaviors and personality type," she said. "Influences such as family health history, social determinants of health and lifestyle are all taken into consideration in creating a personalized wellbeing plan that reflects the whole person, leading to improved physical, mental and emotional outcomes."
The Inspirators help keep people motivated and provide accountability. They can also help people develop incremental goals so they can regularly celebrate their achievements and track their progress.
Making lifestyle changes for your health can be really overwhelming, but with the right information and support, anyone can make the changes they need to improve their health.
Newtopia just launched a new engagement platform and brand refresh, which includes a state-of-the-art participant experience and streamlined website. Check out a video demo of their new app.