The State With The Most Deaths From HIV In 2021 May Surprise You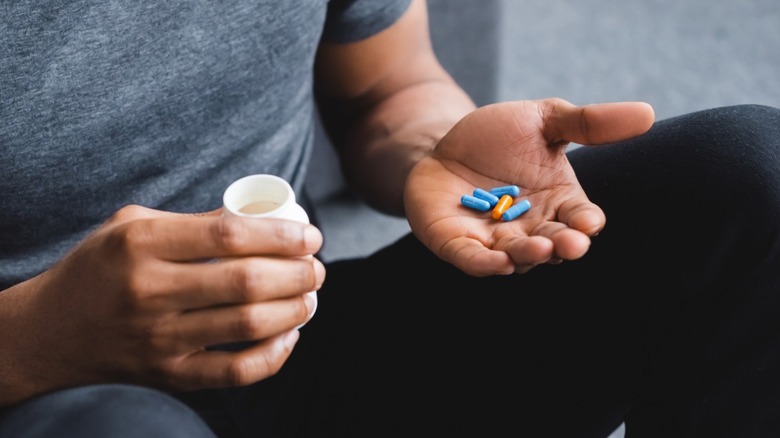 LightField Studios/Shutterstock
Even as the U.S. continues to grapple with the double-whammy of COVID-19 alongside the monkeypox outbreak, HIV (human immunodeficiency virus) also remains a significant public health concern.
According to the Centers for Disease Control and Prevention (CDC), despite the progress made in HIV prevention and HIV infections falling approximately 8% between 2016 and 2019, by the end of 2019, approximately 1.2 million Americans had HIV. And in 2020, over 30,000 Americans received an HIV diagnosis.
HIV, which causes AIDS (acquired immunodeficiency syndrome) originated in the 1970s, although it wouldn't be until the early 1980s that scientists would become aware of its existence. By the mid-1990s, AIDS was the number one cause of death for Americans between the ages of 25 and 44, per PublicHealth.
While antiretroviral therapy (ART) treatment has vastly reduced HIV-related deaths, data from Kaiser Family Foundation (KFF) revealed that more than 700,000 Americans have died of HIV-related illnesses over the course of the disease's four-decade existence. One cause of HIV-related deaths is that those being treated for HIV are still immunocompromised and at risk of dying from pneumonia and other co-infections (via NYU Langone Health.) Another cause of death related to HIV could also be due to the fact that roughly 15% of people who have HIV are unaware they are infected, per HIV.gov.
The region with the highest numbers of HIV infections
The U.S. locations that had the highest rates of HIV deaths were two states in the South — Louisiana and Mississippi. Both states had 2.6 per 100,000 deaths related to HIV in 2021. Two other states in the South, Florida and Georgia, came in just behind at 2.5 HIV-related deaths per 100,000 people. On the other end of the spectrum, Wisconsin and Minnesota tied for the fewest HIV-related deaths at 0.4 deaths per 100,000 people. Fifteen states reported no HIV-related deaths at all in 2021.
The fact that the top four states for HIV-related deaths in 2021 were in the South is not too surprising, given that 53% of total HIV infections between 2016 and 2017 were in the South, per White House Office of National AIDS Policy (ONAP). 
HIV infections going undiagnosed and lack of access to HIV treatment services due to the COVID-19 pandemic were likely contributors to Louisiana being one of the two leaders in the nation in HIV-related deaths in 2021 (via Louisiana Department of Health). And plans in Mississippi to reduce HIV infections through community engagement were stymied during the pandemic, per the Mississippi Department of Health. This suggests that the pandemic also likely interrupted HIV testing in Mississippi, which already had low HIV testing rates.