What Is Skeeter Syndrome?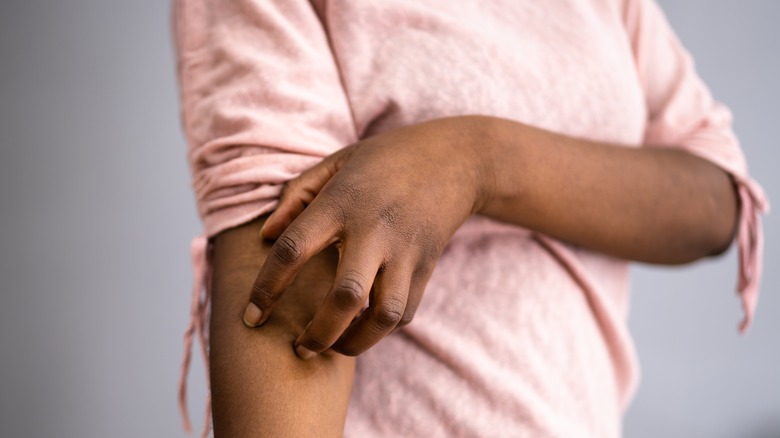 Andrey Popov/Shutterstock
If you've ever been outside during warm months, you've probably encountered mosquitoes, or "skeeters." Mosquitoes — specifically the female ones — are after your blood. When they bite you, they're also putting some of their saliva into your skin, per the Centers for Disease Control and Prevention (CDC). The saliva is administered through a complex mouthpiece that has six tiny sections that pierce the skin, looking for blood vessels to penetrate, according to National Geographic. On top of that, mosquito saliva contains a compound that prevents blood from clotting and blood vessels from constricting.
The bumps from mosquito bites are your body's reaction to the insect's saliva. Most mosquito bites are mild, resulting in a swollen patch of skin where the bite occurred. Some bites can be hard and red, and you can just about count on all of them itching (via the CDC). Mosquito bites are one thing, but skeeter syndrome is another. While it sounds like something from a horror film, skeeter syndrome is real.
Skeeter syndrome is an extreme reaction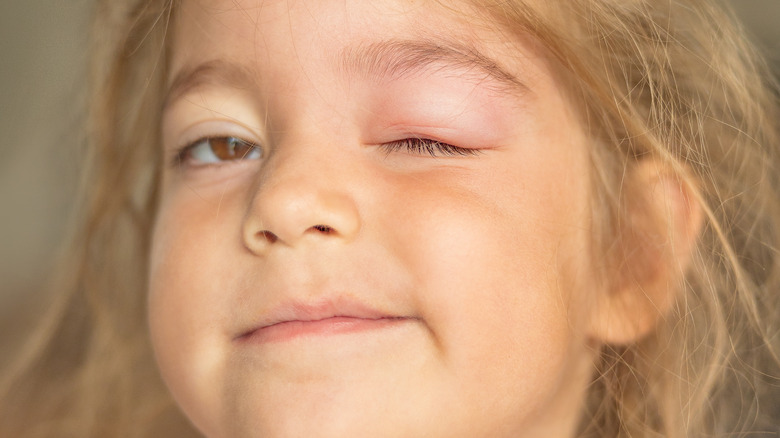 AlinaTuresson/Shutterstock
Skeeter syndrome is an extreme reaction to mosquito bites. The Cleveland Clinic reports that this condition is rare, and it is more common in children, the elderly, and those with weak immune systems. However, it's good to know the symptoms of skeeter syndrome because you could develop it, even if you have never had a bad reaction to a mosquito bite before. This is because you may be highly allergic to the saliva of one particular mosquito, but not all of them, according to the Cleveland Clinic.
Aside from the swollen, red skin and itching a mosquito bite produces, a fever usually accompanies skeeter syndrome. Another symptom is swollen lymph nodes (via WebMD). The area of inflamed skin could be larger than what you would expect from a mosquito bite, and it may become harder. Some of the bites can hurt and result in blisters, per the Cleveland Clinic.
For mild cases of skeeter syndrome, the Cleveland Clinic recommends over-the-counter antihistamines, hydrocortisone cream, and fever reducers. Symptoms usually get better within a few days to a couple of weeks. You should consult your doctor if you think you are having a severe allergic reaction, as they can prescribe corticosteroids to help (via Cleveland Clinic).