This Is How Long The Effects Of Viagra Last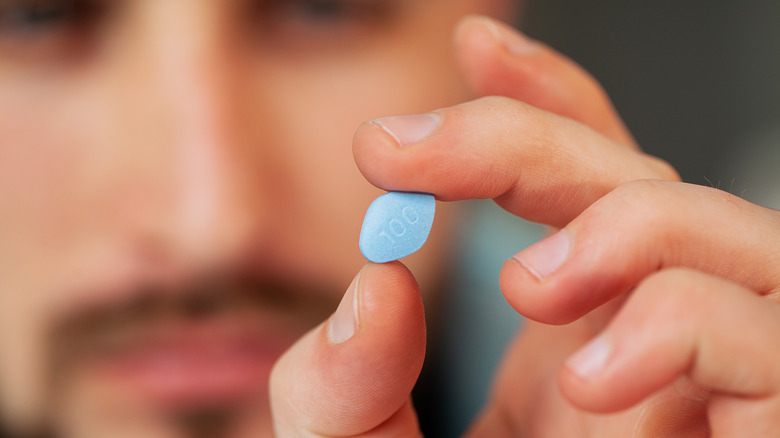 Yuriy Maksymiv/Shutterstock
You probably have heard of Viagra before. The brand-name drug is prescribed to men who have erectile dysfunction, i.e. difficulty getting an erection for sex, according to Medical News Today. While Viagra can be prescribed to any man above 18 years old, most men don't start having erectile dysfunction symptoms until their 50s, according to GoodRX.
Essentially, Viagra works by inhibiting the enzyme that allows blood to flow out of the penis so it stops being erect. By inhibiting this enzyme (specifically phosphodiesterase type 5), blood will stay in the penis for longer, allowing it to stay erect for sex, according to Hims. In men with erectile dysfunction, this enzyme plays a significant role in the inability to get an erection. However, Viagra should only be taken by those diagnosed with erectile dysfunction — not by men who simply want to last longer in bed. The effects of Viagra can last for hours, creating other medical issues.
Viagra can stay in your system for hours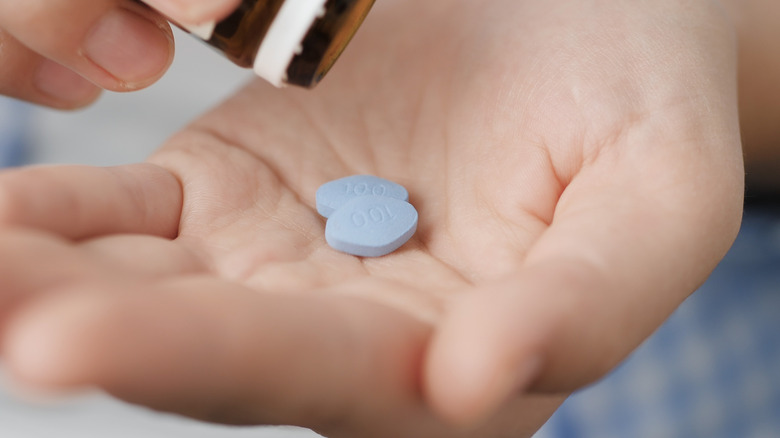 Stasonych/Shutterstock
It's important to note that there is a difference between how long Viagra stays in your body and how long the erection will last. While it depends on the individual and the dosage of Viagra, the effects can last anywhere between 4 to 8 hours, according to GoodRX. It's possible that a man may experience multiple erections during this time. It's best to take it orally, at least 30 minutes to 60 minutes before any sexual activity — although it can be taken up to 2 hours before, according to Healthline. So don't sweat figuring out the perfect time to take Viagra, as you have a fairly wide window.
For the best results when taking Viagra, follow the prescribed dosage. The standard amount is 50 mg, although that can change depending on the recommendations from your doctor. Also, you may want to take it on an empty stomach, as it's believed that this can increase the efficacy (via SingleCare). It should be noted that some experts believe there is no link and — as long as you don't take Viagra after a fat-heavy meal — it doesn't matter if your stomach is empty or not.
When to seek medical attention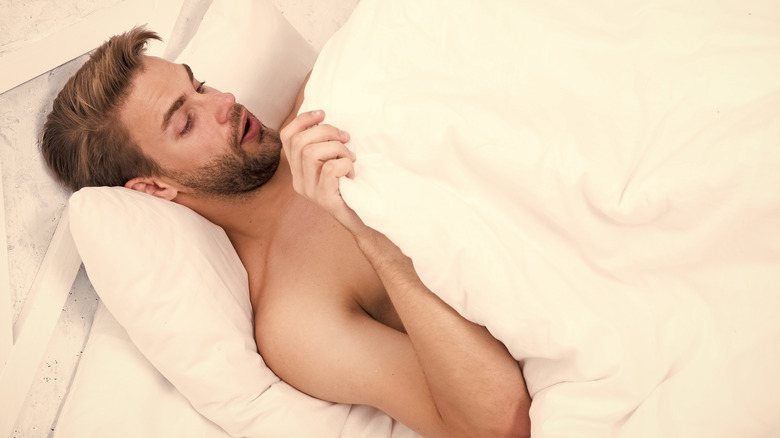 Just dance/Shutterstock
Despite men taking Viagra to have a longer-lasting and easier erection, there is a point where an erection lasting too long can be dangerous. Seek medical help immediately if a single erection is lasting longer than 4 hours, even if it isn't painful (per GoodRX). This condition is called priapism and is a prolonged erection of the penis, staying hard long after sexual activity has finished, according to Mayo Clinic. This is why men who don't experience erectile dysfunction should not take Viagra.
In priapism, blood becomes trapped in the penis and is unable to leave. Doctors have various ways of attempting to reduce the erection, such as ice packs, draining the blood from the penis, and using medication to reduce blood flow to the penis (via Cleveland Clinic). If you seek medical help immediately, most people recover. However, the longer it takes to receive treatment, the greater the chance of permanent erectile dysfunction or other issues.