This Calamine Lotion TikTok Trend Could Ruin Your Skin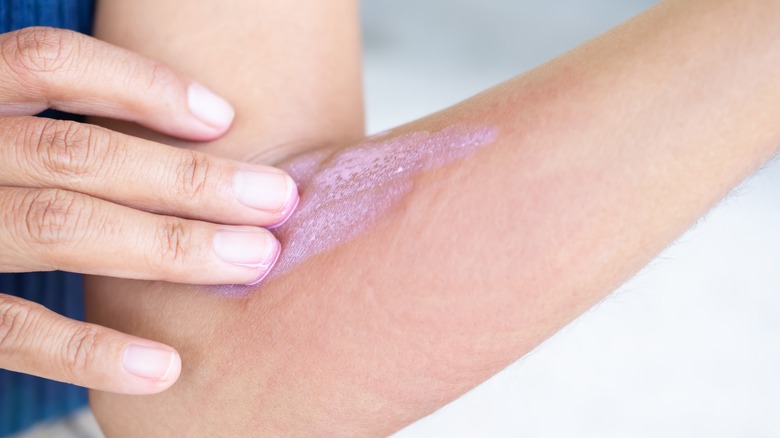 wing-wing/Shutterstock
TikTok can be the source of some pretty life-changing hacks, but it pays to be discerning when it comes to some of them — especially beauty hacks since they can result in adverse reactions, per WebMD. One popular trend gaining traction is spreading a layer of calamine lotion on your face as a primer before applying foundation.
The Washington Post reports that some users are claiming the hack helps dry oily skin and clear up acne. Others praise the lotion because it gives foundation a matte appearance. Some users say it can help makeup stay in place for long periods of time — even in the summer heat. One user explained that she had tried a number of primers, and was surprised to find that calamine worked better than all of them. But before you reach for a bottle and give this idea a try, dermatologists are warning against it.
Calamine can make some skin conditions worse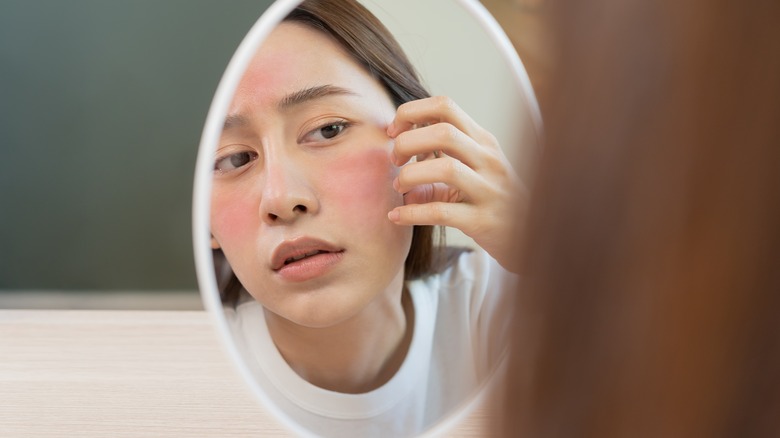 Kmpzzz/Shutterstock
Calamine lotion can help stop the itching associated with rashes and insect bites, according to WebMD. Its active ingredients include zinc oxide and ferric oxide, which work as an antiseptic to stop itching. Director of D.C.'s Center for Laser and Cosmetic Dermatology Dr. Pooja Sodha, says that while these ingredients can safely be used on skin temporarily, high concentration and long-term use could cause skin irritation. It could also result in dry skin and using the lotion over your entire face could damage your skin's natural defenses. The American Academy of Dermatology weighed in on the matter and told The Washington Post that overuse of calamine lotion could worsen any skin irritations and conditions like acne, rosacea, and dermatitis.
Sodha urges people to use caution when trying out any hacks on social media. She adds that everyone should consider any possible side effects of long-term use when it comes to putting something on their face.