LaTanja Silvester Explains The Importance Of Focusing On Equity In Disaster Responses - Exclusive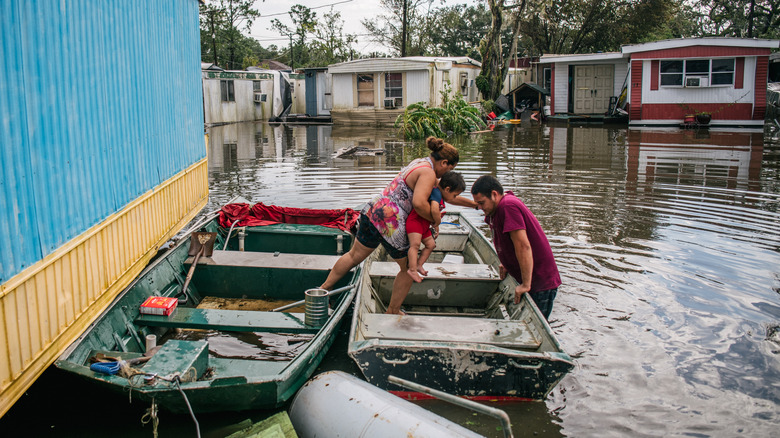 Brandon Bell/Getty Images
When Hurricane Katrina made landfall in August 2005, New Orleans residents were not prepared for what would be one of the worst natural disasters to affect the U.S. For the city's BIPOC population, the recovery process they faced only exacerbated inequity. According to The Planner's Network, a three-bedroom, two-bathroom house with six feet of flood water in a predominantly Black neighborhood received $90,000 in government aid money. A similar house in a predominantly white neighborhood received $150,000.
The Kaiser Family Foundation surveyed New Orleans residents during the 10-year anniversary of Hurricane Katrina and found that 42% of survey respondents believed that white residents received "a lot" of assistance, while 47% of Black residents felt like they didn't receive enough help. In the 17 years since then, the New Orleans community has taken disaster recovery into their own hands through the formation of the New Orleans Resilience Corps.
Through the New Orleans Resilience Corps, community health workers (CHWs) reached out to the city's residents to educate them on COVID-19, connect them with financial resources, and provide testing kits and vaccines. LaTanja Silvester, who leads the New Orleans Resilience Corps, spoke exclusively to Health Digest about how the team is helping provide more equity in disaster response.
Effects of disasters vary by population
"The pandemic and the rapidly accelerating climate crisis have shown that BIPOC communities are disproportionately vulnerable to disasters and the public health impacts that come along with them," LaTanja Silvester explained. "We need to transform disaster recovery so that it increases racial and economic equity and strengthens social bonds, rather than leaving these communities worse off."
During the aftermath of Hurricane Katrina, Resilience Force mobilized aid workers to help respond to disaster-stricken communities in New Orleans that weren't prioritized when it came to receiving resources and assistance. "Resilience Force works to rewrite the rules of disaster recovery and ensure a more effective, equitable, and sustainable approach for all people affected by the rapidly increasing 'new normal' of climate disasters," said Silvester.
From the national movement of Resilience Force, The New Orleans Resilience Corps formed and employed CHWs to continue responding to public health crises and natural disasters. "At the onset of COVID-19, the New Orleans community was devastated by a different kind of disaster, but a disaster nonetheless, that required the same kind of organization, forward-thinking approach, and human-centric approach to rebuild," Silvester said.
How this model can help rebuild communities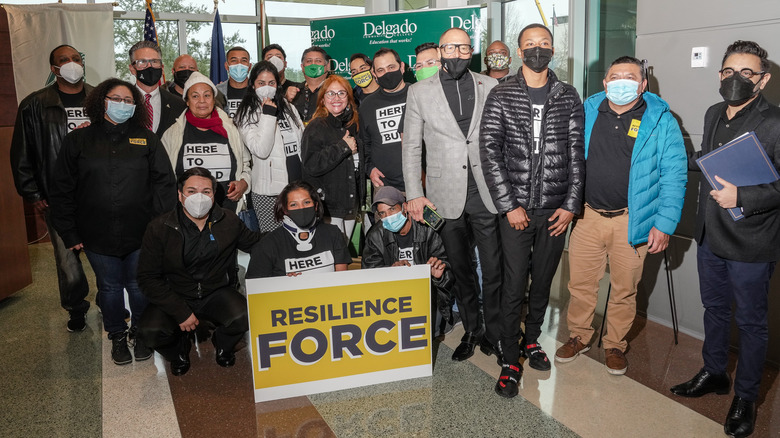 Josh Brasted/Getty Images
During the mass job loss at the start of the pandemic, The New Orleans Resilience Corps was able to provide employment and train people to provide assistance to their fellow residents as CHWs. The CHW-based model helped address key public health and economic issues the city faced during the pandemic by capitalizing off the bonds that are already formed within the community — in turn, empowering the residents through the disaster recovery process.
"Our hope is that this model can be implemented in cities across the country to address the pandemic as well as other disasters, such as those related to climate change," LaTanja Silvester told us. She believes that the federal government should set up a formal resilience workforce program that incorporates the CHW model on a national scale. According to Tulane University's School of Public Health, such community health programs can "address disparities by ensuring equitable access to health resources."
"For too long, the disaster recovery industry has prioritized property over people and directed funds to wealthy homeowners, only serving to make the rich richer and leave marginalized communities in economic despair," Silvester said. She added, "We need to rewrite the rules of recovery to bring together resilience workers, disaster-affected community members, and activists to rebuild and support the resilience workforce with the labor protections, health care benefits, job stability, and wages needed to do their jobs."
Learn more about the Resilience Force and The New Orleans Resilience Corps on the Resilience Force website.