The Female Celebrity Workout Routine People Are Most Likely To Try - Exclusive Survey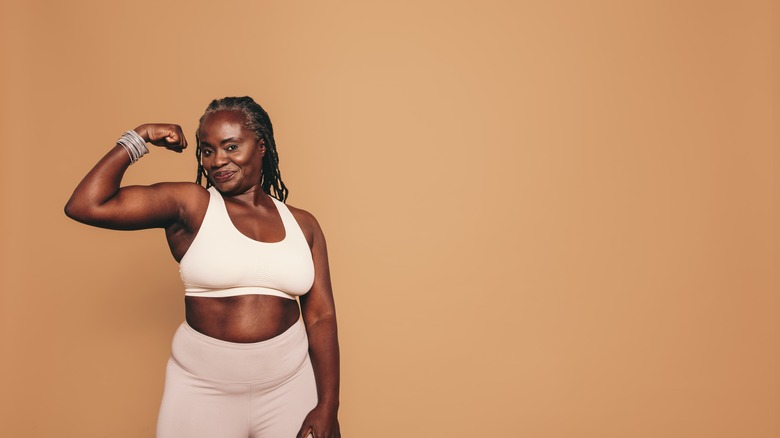 Jacob Lund/Shutterstock
Social media can hold a lot of influence over our personal relationship with health and fitness. A 2018 study published in Health Communication found that while perusing fitness-related posts left some people with icky feelings about their own bodies, others experienced the exact opposite effect — viewing the fitness-related posts served as motivation to get their own bodies in motion.
Psychology Today notes that social media differs from traditional media in its unique ability to facilitate self-presentation and self-promotion. In other words, we get to see only what the people posting want us to see. But because the nature of apps like Instagram and Facebook allow for regular status updates, it creates a greater sense of perceived realism — leading to a sort of trust between the person posting and the viewers.
With social media granting our famous friends the power to speak directly to their audiences, consumers have a direct line to all the celebrities they find most aspirational when it comes to fitness and overall wellness. TikToks and Instagram stories allow us glimpses into their workouts and lifestyle choices, giving us intel on exactly what our favorite artists do to perform at the highest level and stay looking that dang good. Health Digest conducted a survey asking respondents whether they were most likely to try working out like Kim Kardashian, Adele, Kate Hudson, Jennifer Lopez, Lizzo, or Carie Underwood, and the results might surprise you!
Who are we looking to most for fitness inspo?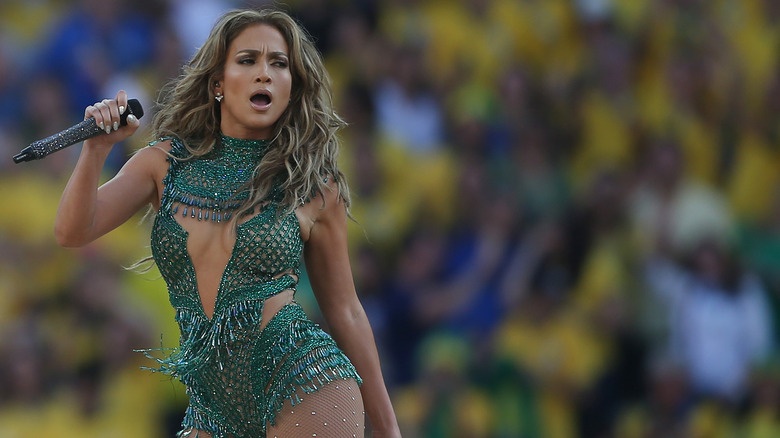 AGIF/Shutterstock
Of the 583 people surveyed, 28.99% of them said they were most likely to try and emulate J-Lo when it came to her fitness routine — awarding her the top spot in this particular poll. Lopez retains her age-defying figure with three to four workouts per week that combine weight lifting and cardio (per Yahoo Sports). She also told HELLO! that when it comes to her mood, dancing is important: "...Taking the time to move my body and do something that's so good for me is key to my happiness." And she never skimps out on her water intake!
Coming in a close second is Carrie Underwood, with 21.96% of the votes. Underwood's trainer told E! News that the country star trains almost every day of the week, incorporating both upper and lower body exercises that work opposing muscle groups. Her workouts feature a great deal of variety so she never gets bored, and she adheres to a strict, mostly plant-based diet.
The survey found that 16.98% of respondents were most inclined to give Kate Hudson's workout a go. People reports that after finding her body wasn't responding to her usual workouts after baby number three, she decided to kick up the intensity of her daily workouts, putting a lot of emphasis on her core. But Hudson notes that when it comes to her diet, she's not "an extremist" and she loves a good cocktail (per People).
Celebrites we're less inclined to look to for workout tips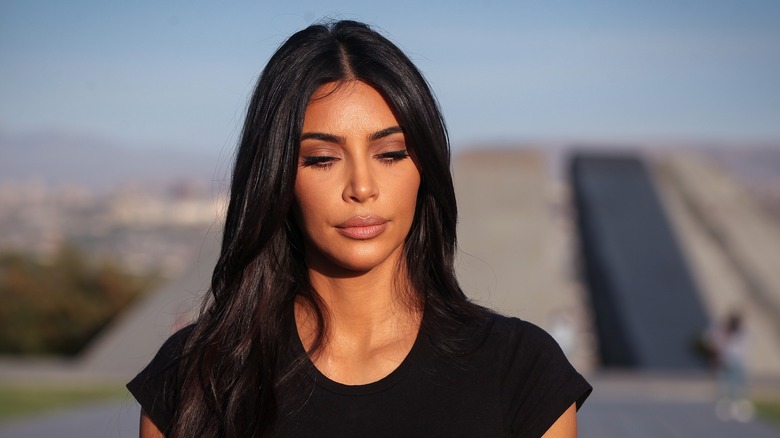 Wirestock Creators/Shutterstock
15.61% of those polled are looking towards Adele for workout inspiration. The singer, who's lost 100 pounds over the last few years, has perhaps the strictest workout routine of the six celebs, including three workouts a day (per Women's Health). Lifting weights in the morning, taking a walk or hike in the afternoon, and finishing off with cardio in the evening, it's projected that Adele spends up to two and a half hours a day working on her fitness.
Lizzo clocks in with 8.58% of the votes, and Kim K. comes in last with 7.89%. Insider notes that Lizzo's social media posts suggest she puts a lot of emphasis on cardio and circuit training, using both equipment and body weight exercises to keep her body strong enough to dance on stage night after night. Kardashian's key to success is consistency, working out at the crack of dawn seven days a week (per Women's Health). With a body builder as a trainer, it's no surprise that 85% of Kardashian's workouts are spent weight training.