Study Shows What A Yoga Practice Can Do To Relieve Osteoarthritis Symptoms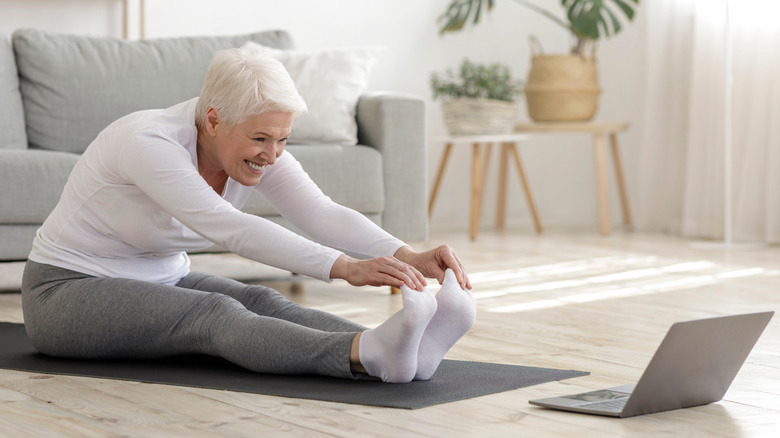 Prostock-studio/Shutterstock
Yoga can help with tension, joint stiffness, and pain associated with arthritis, according to the Arthritis Foundation. However, finding the right classes specific to arthritis can be expensive. A new study in the Annals of Internal Medicine addressed this barrier by providing access to an online yoga program to help people with knee osteoarthritis.
The study recruited 212 participants to receive either access to a weekly online yoga practice or serve as the control group. Both groups received online information about osteoarthritis. The yoga practitioners were instructed to practice a new weekly video three times per week for 12 weeks. The researchers then measured both groups on how much knee pain they felt while walking on a scale from 1 to 10. They also compared both groups on their physical function on a scale from 0 to 68. Yoga participants completed at least two-thirds of the program, according to a press release about the study.
Yoga's effect on pain and function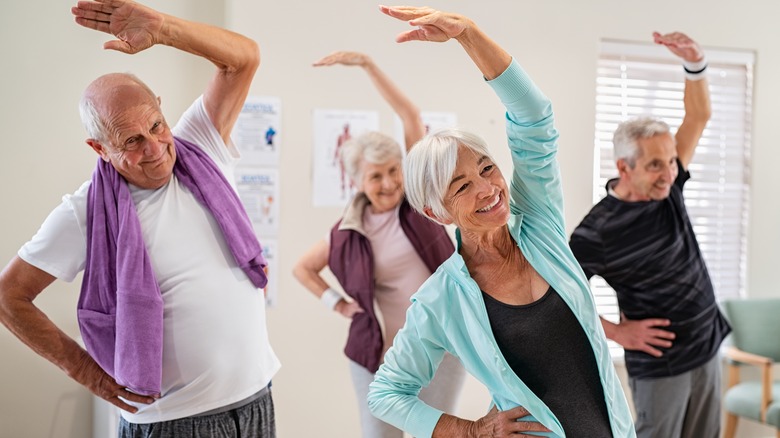 Rido/Shutterstock
After 12 weeks, the yoga participants of the study had significantly better physical function than the control group. The yoga group also saw an improvement in knee stiffness, arthritis self-efficacy, and quality of life. However, there were no differences between groups in knee pain.
Although the study encouraged the yoga practitioners to continue practicing after the initial 12 weeks, this participation was optional. After 24 weeks, the researchers compared the two groups again to see if these differences endured. They did not; the yoga group had similar physical function and knee pain as the control group. The researchers noted that they couldn't determine whether or not the yoga practitioners completed the classes fully or correctly, which might have weakened the effects of the yoga practice (via Healthline).
Other studies have found yoga to help with osteoarthritis. According to a 2018 study in PLOS One, a yoga program specifically designed for knee osteoarthritis did help relieve pain and improve knee function compared to no exercise. The yoga classes in this study were in-person classes.