Can CBD Help With TMJ?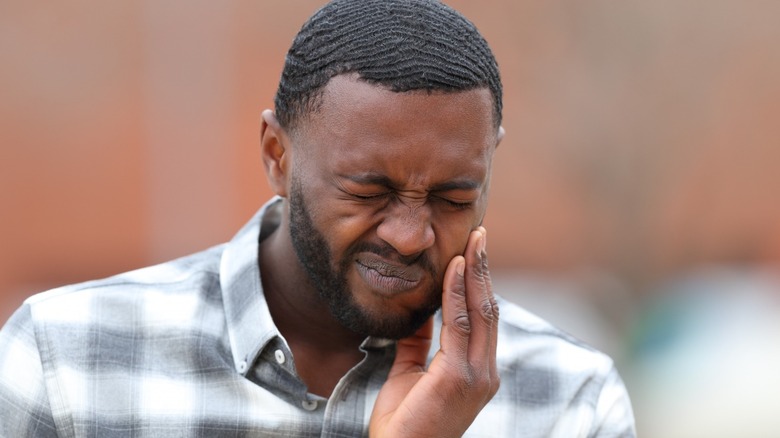 Antonio Guillem/Shutterstock
If you haven't heard about the reputed healing qualities of cannabidiol, or CBD, over the past few years, you've been living under a hemp plant. Since the production of hemp-derived products was legalized as a result of the passage of the Agriculture Improvement Act (2018 Farm Bill), those marketing CBD proclaim that this natural chemical extracted from hemp can help with a wide range of health conditions ranging from depression to migraines to chronic pain, per WebMD.
CBD can come in several forms, such as CBD oil, capsules, and specialty beauty products, among others, though it is most typically found in oil form (via Mayo Clinic). While CBD is found in marijuana, CBD contains little to no THC (tetrahydrocannabinol) the psychoactive chemical that creates the high in marijuana. However, health experts believe more research is needed to verify CBD's effectiveness and safety. Currently, the only Food and Drug Administration (FDA) approved CBD product is called Epidiolex, which is used to treat people who have epilepsy.
If you choose to use CBD, experts at Mayo Clinic advise that you verify the quality of the products before ingesting, as studies have revealed that some CBD products do not contain as much CBD as listed on their label. As of this reporting, the FDA does not yet regulate non-pharmaceutical CBD, per MJBIzDaily.
Why CBD may be able to relieve TMJ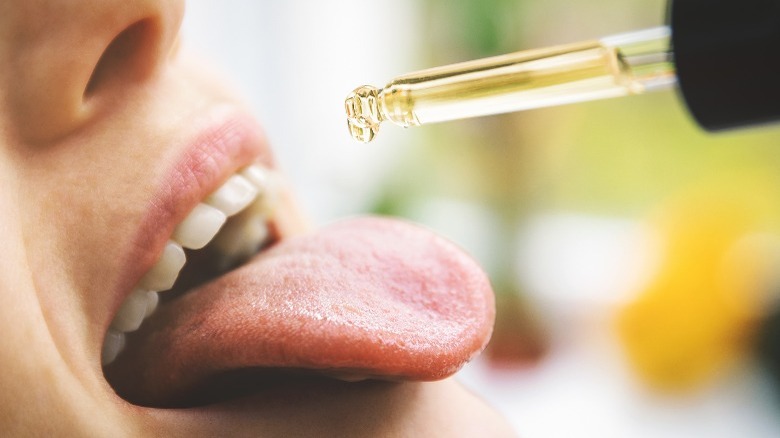 ronstik/Shutterstock
According to the experts at Healthline, TMJ is an abbreviation for your temporomandibular joint. Located on both sides of your head, this joint connects your lower jaw and your skull. While the term "TMJ" is commonly used to describe health conditions related to that area, the more accurate name for such conditions is TMD, or temporomandibular disorders. Discomforts often associated with TMD or TMJ pain include headaches, a clicking jaw, and locking of the jaw, among others.
So, if you are suffering from TMJ pain, should you give CBD a whirl? Results of a 2019 study published in the Journal of Clinical Medicine indicated that CBD helped reduce jaw pain in patients experiencing TMJ pain. In addition, Alex Capano, D.N.P., chief science officer of Ananda Hemp, told Marie Claire that CBD can potentially lower anxiety, which can reduce jaw clenching. However, she added that knowing how much CBD to take is important; the wrong dose may make you relaxed, but not help reduce your pain.
While CBD is generally believed to be safe, side effects can include diarrhea, fatigue, and fluctuations in weight. Before trying to relieve your TMJ pain with CBD, you may want to try other interventions, such as avoiding chewing gum, applying ice, and reducing stress, per Healthline. However, if you want to try CBD, make sure it is legal to possess in your state and consult your doctor on whether it is safe to use in your situation.