Why Aspirin May Do More Harm Than Good When Used As A Blood Thinner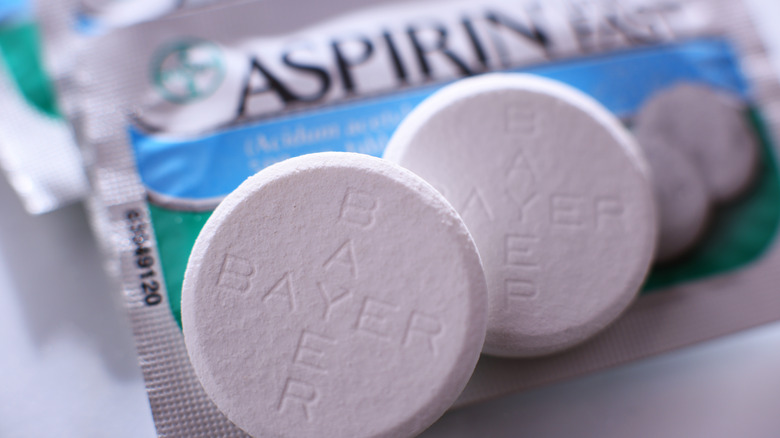 monticello/Shutterstock
Aspirin can offer benefits to those having recently experienced a cardiovascular event, reports Johns Hopkins Medicine. Able to lessen inflammation, fever, pain, and more, aspirin can also block the formation of blood clots, thereby reducing one's risk for heart attack or stroke. According to the World Health Organization (WHO), of the nearly 18 million deaths that occurred worldwide due to cardiovascular disease in 2019, heart attack and stroke accounted for 85% of them.
When it comes to preventative measures, however, a new study published in JAMA Network Open has found that taking low-dose aspirin in an effort to stave off first-time cardiovascular events may be doing more harm than good in terms of the bleeding risk for those who are already prescribed blood thinning medications, reports HealthDay. As per the study, researchers looked at 6,738 heart patients in Michigan who were prescribed the blood thinning drug, warfarin. The study team gathered participant health data, including aspirin usage, at the start and conclusion of two years prior to the study intervention, with an average follow-up period of nearly seven months after the fact.
Reduced aspirin usage may decrease bleeding risk in some patients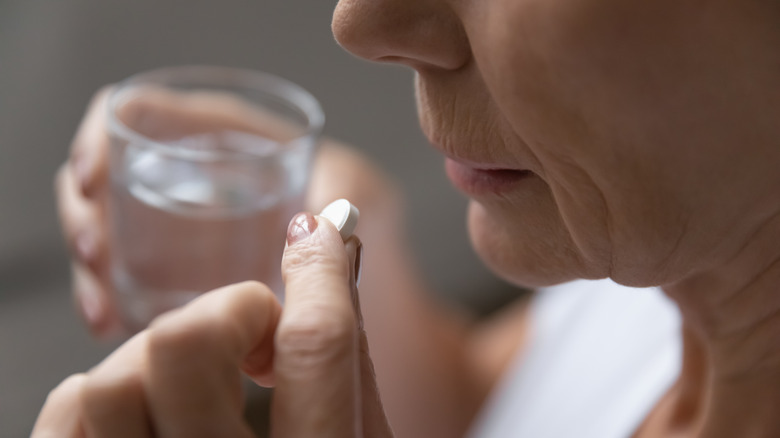 fizkes/Shutterstock
Researchers found that warfarin patients who reduced aspirin use during the course of the study minimized their bleeding risk by nearly one-third, without any observed increase in rates of blood clots, reports HealthDay. Such findings indicate that eliminating unnecessary aspirin usage in people taking blood thinners could reduce the risk of bleeding-related death.
"More and more studies are showing that aspirin for primary preventions show no benefit, but I think there's a lag where the physicians and clinical providers are not recognizing that taking this aspirin for primary prevention has no benefit," Dr. Eugene Yang, chair of the American College of Cardiology Prevention of Cardiovascular Disease Council, told HealthDay. Therefore, while using aspirin as a blood thinner may not be the best means of primary prevention against heart disease for all, the researchers noted that the medication can still be beneficial for cardiovascular patients under certain circumstances. This includes individuals having previously experienced a cardiovascular event. "If you've had a heart attack or stroke, there's no doubt that taking low-dose aspirin is beneficial," Dr. Erin Michos, associate director of preventive cardiology for the Ciccarone Center for the Prevention of Heart Disease, who was uninvolved with the study, told Johns Hopkins Medicine. "But if you don't have heart disease, should you take it just in case? The answer for most individuals is probably not."