When You Can Expect The New Bivalent Booster To Be Available For Kids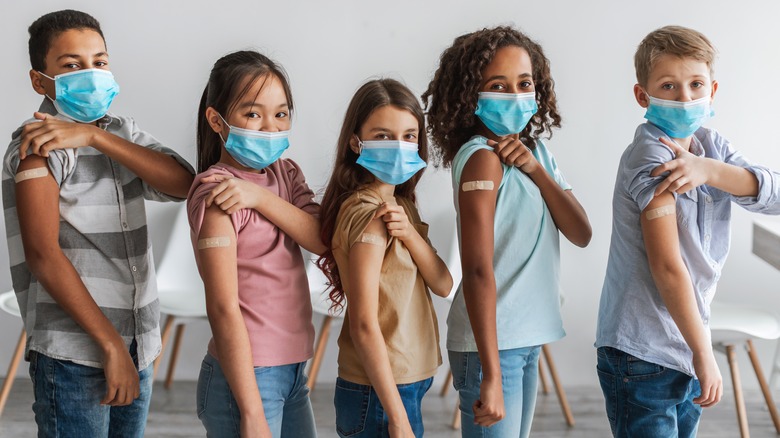 Prostock-studio/Shutterstock
It's back-to-school season and parents are looking to update their children's vaccination records for protection against the coronavirus. This fall, Moderna and Pfizer have released FDA-approved bivalent booster shots to help fight against the Omicron strain (via The Hill). Currently the Food and Drug Administration (FDA) says Pfizer's bivalent booster vaccine is available for anyone who's 12 years of age and up, while Moderna is approved for adults 18 and up. But what about children? When will the bivalent booster become available to them?
Currently, both companies (Pfizer and Moderna) are seeking emergency clearance from the FDA to release bivalent boosters for kids, according to WebMD. "If authorized by FDA, CDC anticipates a recommendation for bivalent COVID-19 vaccine as a booster for pediatric age groups in early to mid-October," explains the Centers for Disease Control and Prevention (CDC) in their Fall Vaccination Operational Planning Guide. 
In order for a child to be eligible for the bivalent boosters once they're available, the child must have completed the primary series doses, points out WebMD. Once they have, kids between the ages of 6 to 17 will be eligible to get Moderna's bivalent booster vaccine, Moderna explained via tweet. In addition, parents should expect to see an updated Moderna booster later this year that's even safe for babies of roughly 6 months old, shares WebMD. To receive Pfizer's bivalent booster once it's approved, children can be as young as 5 years old, says Pfizer. The age range is between 5 to 11.  
What's the difference between the bivalent boosters?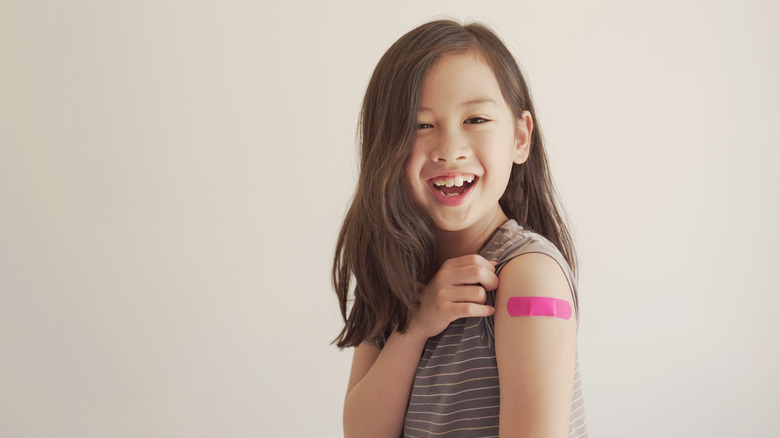 SewCream/Shutterstock
The Moderna and Pfizer bivalent boosters are quite similar to the original vaccines. But what sets these new bivalent boosters apart is that they contain more of the COVID spike protein (per The Hill). Each of the vaccines target the original COVID-19 variant, as well as subvariants of Omicron. Moderna's updated booster has 25 micrograms of the spike proteins for both the original strains of COVID-19 and the Omicron BA.4 and BA.5 subvariants. Whereas Pfizer explains its Omicron-adapted bivalent booster contains 15 micrograms of each protein, which is slightly lower than the Moderna booster. In other words, the two formulas function similarly but have different dosages.
That being said, is it safe to get a different vaccine than before? In short, this depends on your age. The CDC does not recommend mixing your primary vaccination series, but if you're 18 years and older, it's safe to get a different booster than you previously received during your primary series, though only if it's Moderna or Pfizer. One 2021 study suggests that it may even produce more antibodies when mixing older boosters.
Teenagers can also get a different booster than their primary series, but it must be Pfizer, shares the CDC. And children aged 5 to 11 must also get the Pfizer booster if their primary vaccination series was Pfizer. Talk to your doctor if you have any questions or if you're unsure of what booster to get for your child.