Study Suggests A Child's Risk Of Developing Type 1 Diabetes May Change After A COVID Infection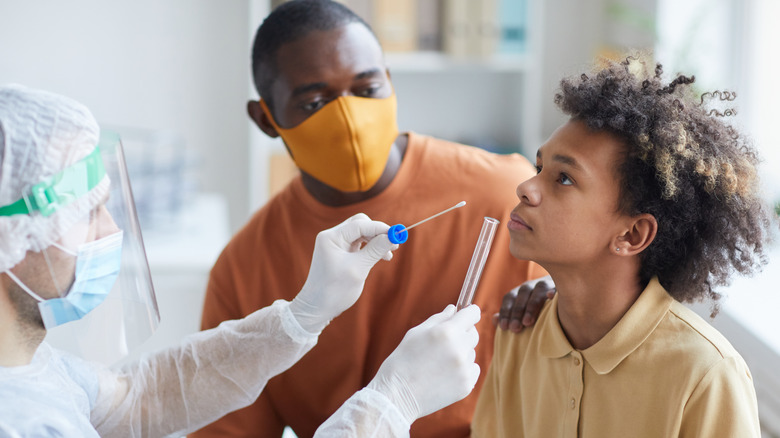 SeventyFour/Shutterstock
Compared to type 2 diabetes, prevalence rates for type 1 diabetes are fewer. The U.S. Centers for Disease Control and Prevention (CDC) reports that roughly 5% to 10% of diabetes cases are those of type 1 diabetes. Often developing in childhood, adolescence, or young adulthood, type 1 diabetes involves an autoimmune response that blocks the body from producing insulin. Although there are no known prevention measures, daily insulin injections allow those with the condition to effectively regulate their blood sugar levels.
A new study published in JAMA Network Open looked at the relationship between COVID-19 infection and subsequent development of type 1 diabetes in children 18 years of age and younger. Using electronic health data from 571,256 pediatric patients across 15 countries, 285,628 subjects had contracted COVID-19 between 2020 and 2021. In comparison, 285,628 patients had developed non-COVID-related respiratory illness during the same time period. Researchers then followed up with patients one month, three months, and half a year following infection.
COVID-19 may slightly increase a child's risk for type 1 diabetes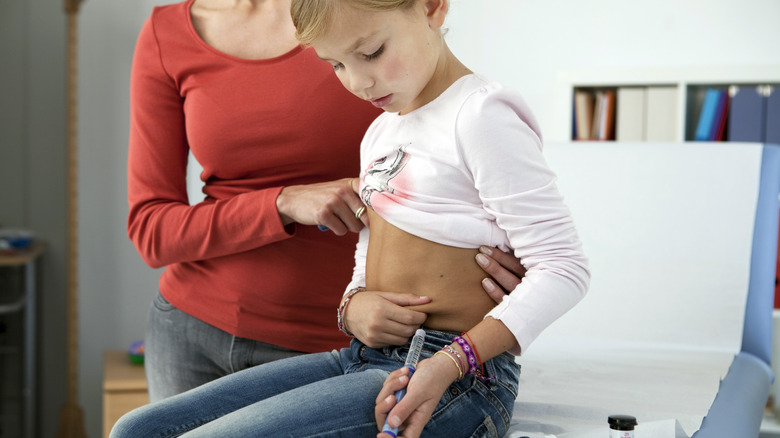 Image Point Fr/Shutterstock
At each of the three designated follow-up periods, it was found that kids having been infected with COVID-19 were marginally more susceptible to a subsequent diagnosis of type 1 diabetes than children with non-COVID respiratory infections, reports HealthDay. Specifically, 0.04% of children with COVID infections had developed type 1 diabetes half-a-year after contracting the virus as opposed to 0.025% of the non-COVID group. Thus illustrating a 72% increased risk between the two cohorts.
While COVID-19 infection cannot be deemed a definitive cause for the development of type 1 diabetes in pediatric patients, the study findings do highlight a possible correlation. As reported via HealthDay, Shuibing Chen, an associate professor at Weill Cornell Medicine in New York City, offers a possible explanation for the relationship, stating that COVID-19 has been linked to pancreatic cell damage that results in reduced insulin production and elevated levels of blood-sugar-raising hormones. Other potential factors include a child's genetic predisposition to diabetes.
A spokesman for the Infectious Diseases Society of America, Dr. Aaron Glatt, commented on the significance of the study findings, stating via HealthDay, "This is yet another reason to protect your kids from COVID."