Can Gestational Diabetes Predict The Risk Of Developing Type 2 Diabetes Later In Life?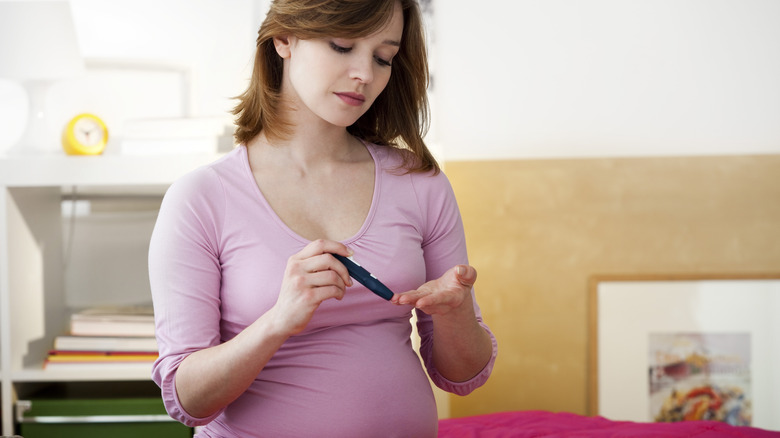 Image Point Fr/Shutterstock
Gestational diabetes is when a person develops diabetes during pregnancy, which can ultimately affect the baby's health and delivery, per Mayo Clinic. Most of the time, the mother's blood sugar levels return to normal after giving birth, and while experts do not know what exactly causes gestational diabetes, some think that being overweight before becoming pregnant might play a role. Another cause might be fluctuating hormones, which make it more difficult for the body to regulate sugar levels. Other risk factors include not being physically active, having prediabetes, having polycystic ovary syndrome, and being Black, Hispanic, American Indian, or Asian American. 
According to the Centers for Disease Control and Prevention, roughly 2% to 10% of pregnant Americans will experience gestational diabetes. Babies born to women with this condition may grow to be too large for vaginal birth and may require a cesarean section. Additionally, your baby may be at risk for other health conditions such as breathing issues linked to preterm birth, low blood sugar, and type 2 diabetes as they get older. 
Modifiable risk factors may play a significant role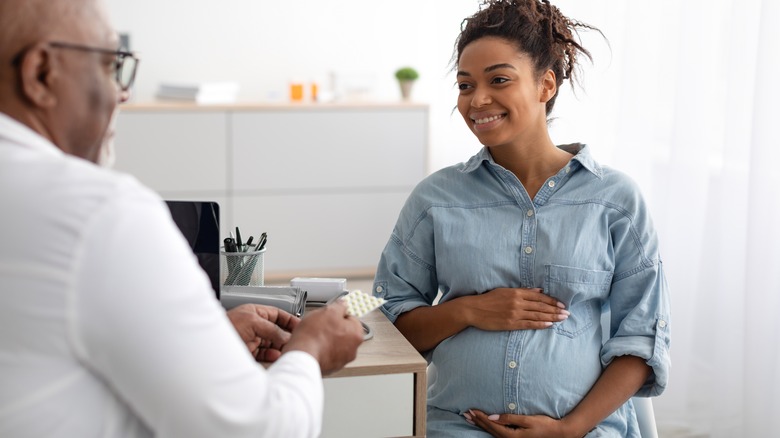 Prostock-studio/Shutterstock
A study published in the BMJ showed that women who were diagnosed with gestational diabetes had a higher risk of developing type 2 diabetes years after giving birth. For the study, 4,275 women who were diagnosed with gestational diabetes took part in the Nurses' Health Study II in the United States from 1991 to 2009. Of those, 924 developed type 2 diabetes.
The study assessed five modifiable risk factors, including being overweight, eating a healthy diet, regular exercise, moderate alcohol consumption, and not smoking. Findings showed that optimal levels in all five categories were associated with "an incrementally lower risk of type 2 diabetes." In fact, risks were reduced by over 90%, according to the findings. The authors note that because the findings were based on observational studies, the results could not presume causality. However, they did state that the risk factors they studied "have been repeatedly shown in previous experimental studies to be associated with diabetes prevention."
For those struggling with things like healthy diet choices during pregnancy, it can help to consult with a diabetic nurse educator or physician to develop an eating plan that works best for you, per Cedars Sinai. Experts also suggest that if you do develop the condition, there can be something positive to be gleaned from the experience. Dr. Tania Esakoff, clinical director of the Prenatal Diagnosis Center, tells Cedars Sinai that this condition can often lead the mother toward healthier eating habits that benefit the whole family and thus, should not be a detractor from the joys of pregnancy.