Study Reveals A Simple Way To Manage Blood Sugar Levels If You Have Type 2 Diabetes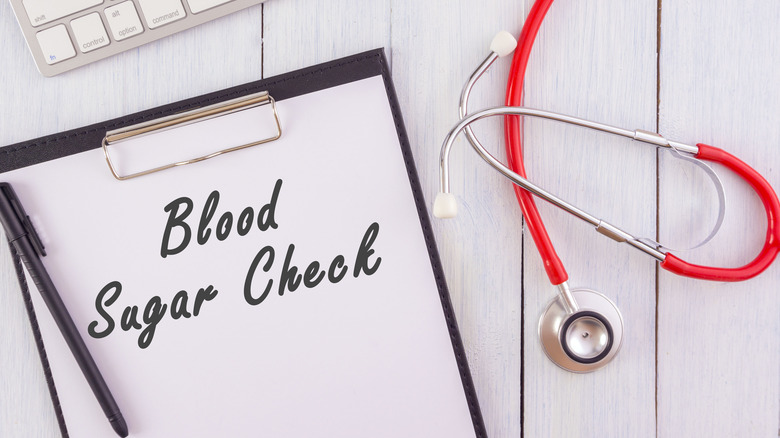 Mr Burger Hut/Shutterstock
If you're among the one in 10 people in the United States who have type 2 diabetes (per Centers for Disease Control and Prevention), you know keeping your blood sugar, blood pressure, and cholesterol levels healthy can be a challenge. Even stress can affect your blood sugar because the body's hormonal response to stress makes your liver produce more glucose. According to the National Institute of Diabetes and Digestive and Kidney Diseases, 30 minutes of daily exercise and a healthy diet can help stave off complications related to diabetes. 
Recent research has suggested there may be another way to keep blood sugar levels balanced — consuming whey powder before each meal. A new study in BMJ Open Diabetes Research and Care found that its participants maintained stable blood sugar levels for up to nine hours per day. This exceeds the current guidelines of keeping those levels under control for six hours a day.
Although the impact of whey protein on type 2 diabetes had been studied before in strict clinical settings, the researchers decided to adopt a real-world setting in this study. After all, it might be challenging to remember to drink a whey protein supplement while out with friends or family.
Whey protein might help stabilize blood sugar
eldar nurkovic/Shutterstock
This study allowed its 18 participants to live their daily lives at home. Ten minutes before each of their three meals, participants in the study drank either a ready-to-drink whey protein supplement with 15 grams of protein or a placebo that had less than a gram of protein. The researchers monitored their blood sugar using a device implanted under their skin. The participants recorded their normal food intake without making any changes to their diet or exercise regimens.
The researchers compared each participant's blood sugar levels when they drank the whey protein versus the placebo. When supplementing with whey protein, the participants reduced their blood sugar and kept them in balance for two hours a day longer than when they drank a placebo drink. They also didn't experience any gastrointestinal side effects.
Because this study's 18 participants were white, the researchers suggested that further research was needed to see if the same results could be found for other ethnic populations. They also recognized that drinking a whey protein supplement three times a day might be feasible for a week, but it might be difficult to sustain over time.
Since supplements can interact with diabetes treatments, experts recommend consulting with your doctor or diabetes dietitian before adding any supplements to your diet (per Livestrong).