The Unexpected Secret Behind Loretta Lynn's Impressive Longevity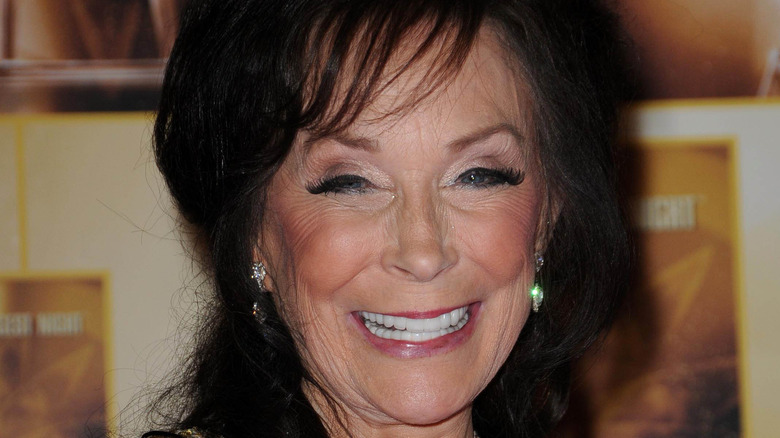 s_bukley/Shutterstock
If one thing is true about the late country music queen Loretta Lynn, it's that she lived unapologetically. Rising to fame in the '60s and '70s with wholesome hits like "Coal Miner's Daughter," she went on to become notoriously beloved for her feminist opinions and sharp tongue – which often got her banned from country music radio stations (per Elle). "Every time a radio station would take it off the air, two more would add it," Lynn said of her songs "The Pill" and "Rated X", which cover topics like birth control and divorce. "It didn't hurt the songs a bit, but it upset me a little bit," she said, adding, "Neither of them was a dirty song. They were just everyday life." Ever a voice for working-class women, she never listened to anyone who wanted her to stay in line.
In October of 2022, the 90-year-old icon passed at her Tennessee ranch, once shared with her late husband Oliver "Doolittle" Lynn (per CNN). In the years leading up to her death, Lynn suffered a stroke and a bad fall that left her with a broken hip (per People). Not one to let life get in the way of her living, Lynn released two more albums, the last being her 50th studio album Still Woman Enough, which was released just a year and a half before she died, according to Country Music Television. So what kept the strong-willed songstress hard at work all that time? Lynn said it was her mindset.
The power of positive thinking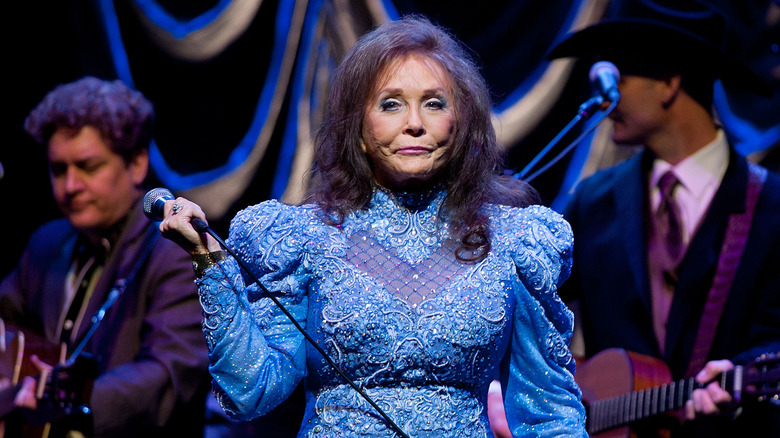 Cooper Neill/Getty Images
Despite her deteriorating health, Lynn told People that rolling over was never an option for her because she wouldn't let it be. "I always had a different mindset — that I can do this. Just keep it up." And that's not the only time she credited her longevity with the power of positive thinking. In 2016, the then-83-year-old was asked if she still felt young and insightful and she replied, "That's right! I sure do. As long as I feel that way, I'll still be recording," adding, "When they put me six feet under, then you can say she's quit singing" (per Elle).
Her refusal to let aging slow her down wasn't just heard, but seen. Lynn was the OG belle of the ball, famously donning "Gone With The Wind"-inspired glittery gowns for her performances — a detail she believed was owed to her fans. Miss Loretta Lynn performed for the last time at Ohio's Lions Lincoln Theater in August of 2021, and you better believe she was dressed to the nines (per Concert Archives).