Red Bull Or Monster? Health Digest Survey Reveals The Most Preferred Energy Drink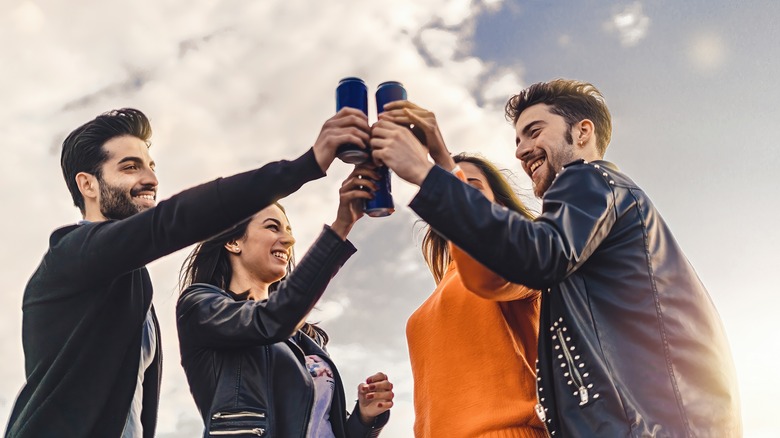 giuseppelombardo/Shutterstock
If you can believe it, not everyone is addicted to coffee. Le gasp! But that doesn't mean that the coffee-averse don't need a little something to put a pep in their step like the rest of us. According to the Centers for Disease Control and Prevention, energy drinks are beverages containing high levels of caffeine, often a lot of added sugars, and other legal stimulants, including guarana, taurine, and L-carnitine.
Guarana — like caffeine – is derived from plants and is used to improve cognitive performance, reduce mental fatigue, and enhance your mood (per Michigan State University). However, taurine and L-carnitine, which are naturally occurring compounds in the body, are produced synthetically in order to be added to beverages like energy drinks for a boost in both physical and mental performance.
Much like a coffee lover has their usual order, energy drink enthusiasts also have a brand they usually reach for when they need a little pick me up. Health Digest conducted a survey asking respondents which energy drink they were most likely to reach for between Celsius, Alani Nu, Red Bull, Zoa, Monster, and 5-Hour energy, and here's what we found out.
Which brand took the number one spot?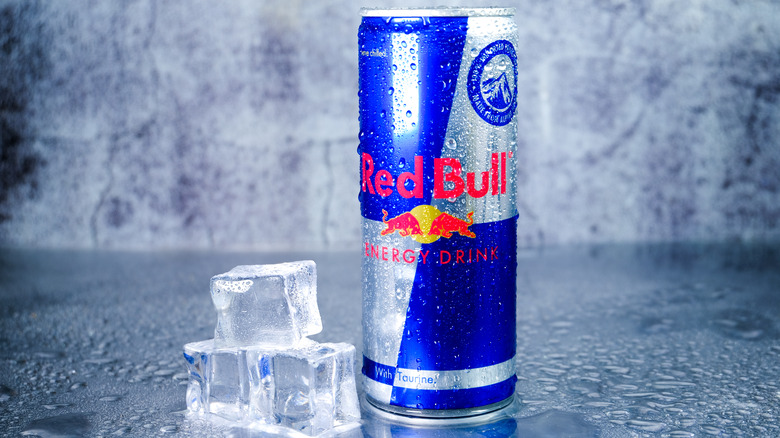 Najmi Arif/Shutterstock
It should come as no big surprise that Red Bull takes the top spot with 28.82% of the vote. Founded in 1984, this Austrian brand rakes in more global revenue than any other energy drink brand on the market, according to Biz Vibe. Sweet and tangy, like tamarind, and pleasantly carbonated, it's no wonder that the drink that gives you wings wins the most popular.
Not far behind is Monster, with 25.04% of voters choosing it as their favorite way to boost energy. While a can of Red Bull is packed with caffeine, taurine, B vitamins, and sugar, Monster has got all that and then some — adding guarana, ginseng root, and L-carnitine, for an extra kick (per Healthline). 
Coming in third is Celsius, which secured 17.84% of the vote. Branding themselves as a healthier alternative with 7 essential vitamins, Celsius skips the added sugar, opting instead for artificial sweeteners like Stevia (per PureWow). 5-hour Energy is the go to for 12.86% of respondents. With its small, shot-like size, it's great for people on the go, looking to get that energy boost in quickly so they can keep moving.
The two newest energy drink brands to hit the market fill the two bottom spots, with Alani Nu garnering 8.06% of the votes and Zoa — created by 10-time world wrestling champion Dwayne "The Rock" Johnson — getting only 7.38% of voters' support.