Which Fitness App Are People Most Likely To Use? - Health Digest Survey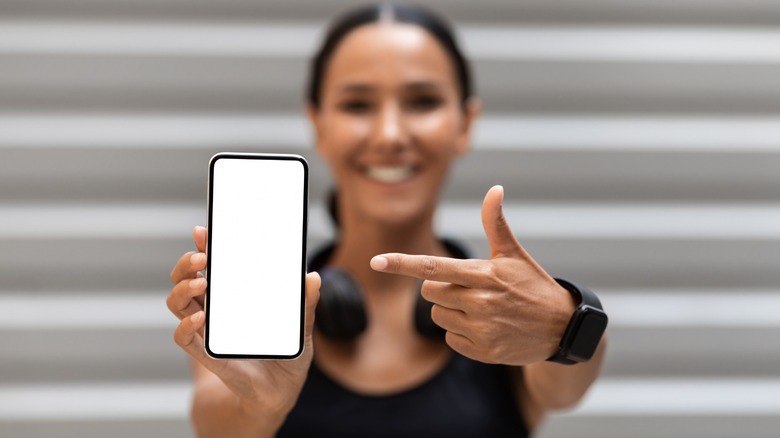 Prostock-studio/Shutterstock
It is no secret that there's a connection between physical activity and health. But it may come as a surprise to learn just how beneficial and wide-reaching the effects that regular physical activity can have on your brain and body — not just for the moment, but for a lifetime. For example, the Centers for Disease Control and Prevention (CDC) states that adults can boost their brain health with a single session of moderate-to-vigorous physical activity as the immediate aftereffects are decreased feelings of anxiety. In the long run, consistent physical activity may also not only lower your risk of developing certain chronic diseases, like cardiovascular disease or type 2 diabetes, but it could also increase the odds of living a longer life. You might wonder, how much physical activity does a person actually need? 
According to the second edition of the Physical Activity Guidelines for Americans, adults seeking health benefits should do moderate-to-intense muscle-strengthening activities two or more days per week, per the United States Department of Health and Human Services. Furthermore, adults should also perform at least 150 minutes of moderate aerobic physical activity per week, or 75 minutes of intense aerobic activity per week. One way that people can hit their exercise goals is through fitness applications. To find out which fitness applications are the most popular, Health Digest conducted a survey asking respondents which one they would most likely try. The results may surprise you.
Do you use this fitness application?
yizhachok/Shutterstock
The results of a Health Digest poll of 583 people showed that 6 people, or 1.03% of respondents say they would like to try the fitness application obé. 44 people, or 7.55% of respondents, report they would like to try the Beachbody on Demand fitness application. The next two fitness apps on the list garnered similar results. While 72 people, or 12.35% of respondents, say they would like to try FitOn, 73 people, or 12.52% of respondents, say they would like to try Peloton. 87 people, or 14.92% of respondents, say they would like to try the Nike Training Club fitness application. The standout winner, however, is the MyFitnessPal application, which 301 people, or 51.63% of respondents, say they would like to try.
MyFitnessPal is a popular application that currently boasts a 4.7 out of 5 rating on the Apple store (via Apple). In 2020, GQ named it a "Best Fitness App" during its Fitness Awards. The application offers a number of features that enable the user to track their physical activity, log their food intake, scan and upload barcodes, set custom goals, and get a customized meal plan from a registered dietician. There is even a free version that users can access. According to a 2020 study published in the Journal of Medical Internet Research, the MyFitnessPal application was found to be accurate for analyzing dietary measures like total energy intake, fiber, macronutrients, and sugar, but not for cholesterol and sodium.