An Exercise Physiologist Offers Tips On How To Run Safely During The Cold Winter Months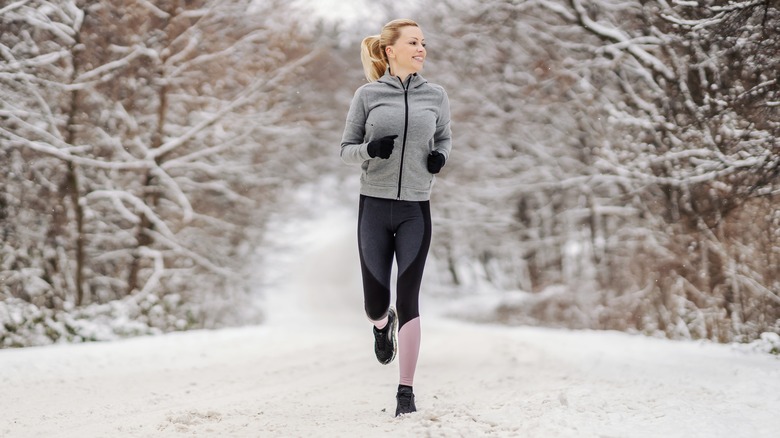 Dusan Petkovic/Shutterstock
We may receive a commission on purchases made from links.
As the winter months approach us, you might dread heading indoors to the hamster wheel for your morning run. Even in freezing temperatures, you can still run safely if you know how to properly prepare for the cold temps. In an interview with Health Digest, Joe McConkey, Boston Running Center Cofounder and author of "Pliability for Runners," tells us why running in the cold can be a challenge compared to other seasons.
"Air molecules in cold temperatures are more densely packed together than in warm temperatures," McConkey says. "This means they are harder to move, and thus harder for runners to breathe." This makes it harder to run your PR, especially when you're running with heavier winter gear. McConkey suggests modifying any pace goals to account for the added effort of running in the cold.
"Most of the time, though, [people] avoid running in the winter simply because they do not know how to properly layer their clothing, and/or are uncomfortable for the first 5 minutes or so," McConkey explains.
Dressing for the cold weather run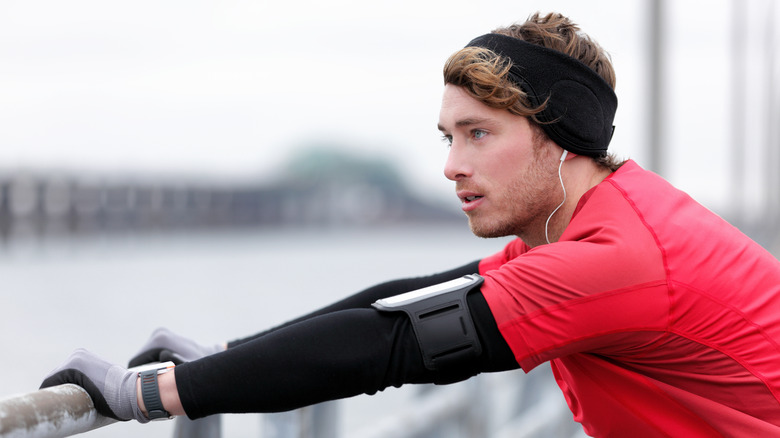 Maridav/Shutterstock
McConkey tells us that running outdoors involves knowing what to wear with each 6-degree range of temperature. For example, you might include a combination of layers that suit temps 18 to 24 degrees, but a different combo for the six to 12-degree range. He suggests that the first layer of clothing should have wicking properties to pull the sweat from your skin. The second layer serves to hold heat near the body, and this layer could have two pieces when it's extra frigid. The third layer should help block out the cold and wind. 
McConkey says that these layers aren't just for the upper body. You'll probably need extra layers for your legs, hands, and feet as well. "If you dress well and work through the first mile of feeling a bit cold, the body should heat up, and running becomes comfortable in most winter environments," he states.
Other considerations for winter runners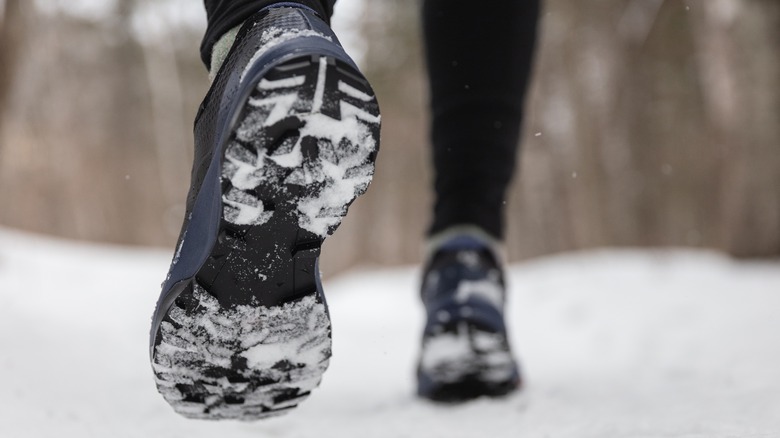 Maridav/Shutterstock
Even with proper layering, some people should avoid running in cold conditions. "Folks with certain underlying conditions, such as winter asthma, respiratory illness, and COPD, would be better off staying indoors," McConkey suggests.
McConkey says that frigid temps make some injuries more common. "Typically strains [happen] in areas with less muscle mass and circulation... like the Achilles, groin, and IT band," he explains. Therefore, taking a little more time for your warm-up to prepare the body for cold weather running is a good strategy.
If all of this sounds like too much work, McConkey says that the extra effort will reap great rewards for your spring racing season. "If runners train consistently through the winter, there can be a positive training effect, as the legs and lungs have now adapted and become stronger," McConkey states. "This will make the return to spring running that much easier, and likely faster!"
To learn more winter training tips, head to the Boston Running Center website. You can also purchase his book, "Pliability for Runners."