Can Having Dry Eyes Cause Headaches?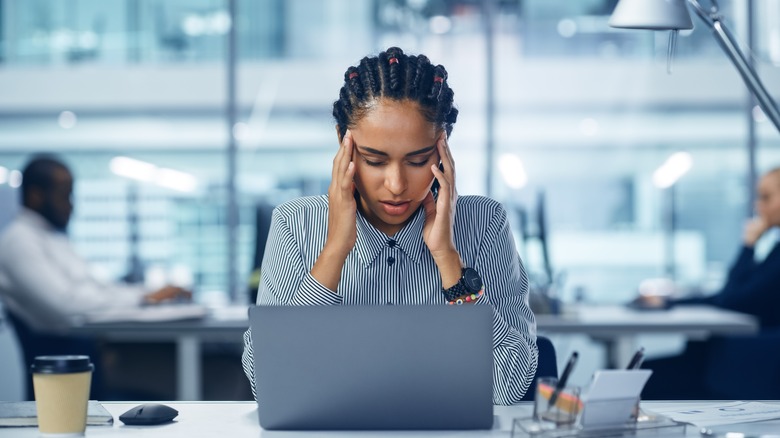 Gorodenkoff/Shutterstock
Struggling with dry eyes and headaches? As it turns out, there might be a connection between the two. Dry eye is a common condition that affects nearly 15 million Americans, causing blurry vision, redness, and sensitivity to light. Anyone can experience these problems, but some groups are at higher risk than others, notes the American Eye Institute.
Women and individuals over the age of 50, as well as those who wear contact lenses, are more likely to get dry eyes. Another risk factor is Sjögren syndrome, an autoimmune disease that causes dryness of the mouth, throat, eyes, and skin, explains the U.S. National Library of Medicine. Spending long hours in front of a screen, whether it's your TV, smartphone, or laptop, may worsen your symptoms. This habit can lead to digital eye strain, a common cause of dry eyes, headaches, ocular discomfort, and blurred vision, according to clinical research published in BMJ Open Ophthalmology.
As scientists note, excessive screen time may cause a headache behind the eyes. Some people also experience dizziness and vision problems after staring at a screen for too long. But what's the link between dry eyes and headaches — and what can you do about it? Let's find out. 
The complex link between dry eyes and headaches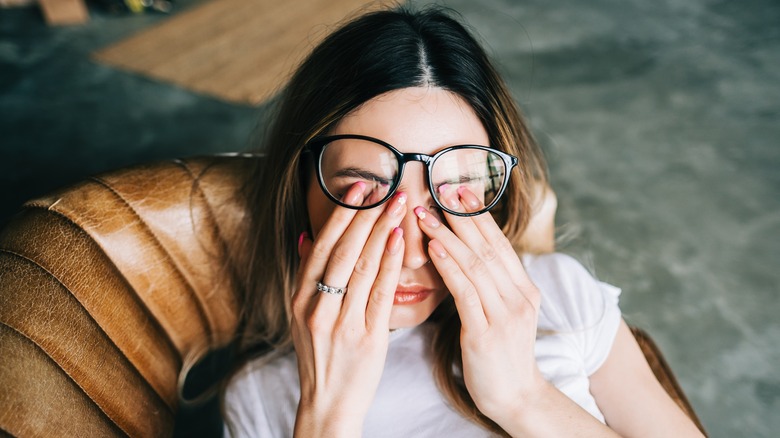 Nikkimeel/Shutterstock
Dry eyes may be a risk factor for headaches and migraines, according to the American Journal of Managed Care. A possible explanation is that people with dry eyes are more sensitive to light, which may trigger or worsen their headaches. Inflammation and corneal nerve abnormalities might play a role, too.
A recent study presented in JAMA Ophthalmology found that individuals diagnosed with migraine headaches were 20% more likely to have dry eye disease than the average population. Researchers don't fully understand the link between the two, but they suspect it has something to do with inflammation. What's more, men aged 55 to 64 years and women, in general, are at higher risk of experiencing both dry eye disease and migraine headaches.
Another explanation is that both symptoms may be due to convergence insufficiency (CI), a misalignment of the eyes that occurs when you look at close objects. This condition can cause eye strain, vision problems, dry eyes, neck pain, or even chronic headaches, explains Healio. If that's your case, you may feel pain in the back of your head. CI doesn't respond to conventional treatment, but it can be corrected with neurolenses, reports the journal Review of Optometry. 
What's the best treatment for dry eyes?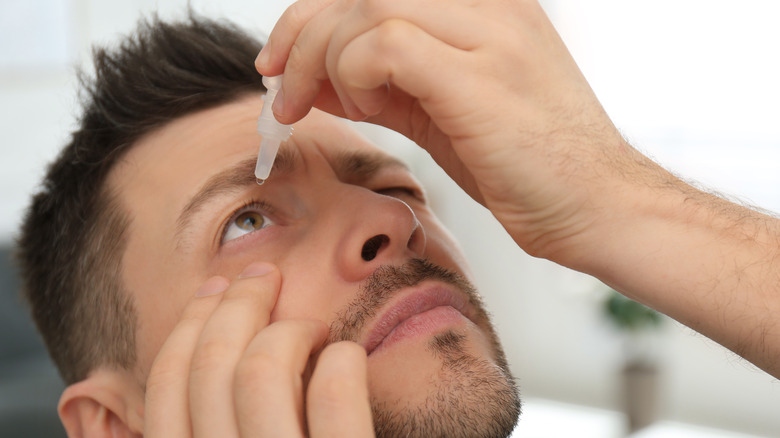 New Africa/Shutterstock
Dry eye disease isn't always a direct cause of headaches. When these symptoms occur together, the culprit may be an underlying condition, such as convergence insufficiency. In such cases, artificial tears and other standard treatments will most likely fail, explains optometrist Paul M. Karpecki (via Review of Optometry). But, as mentioned earlier, it's possible to experience dry eyes and migraines because of too much screen time, among other factors. Certain diseases and medications can cause dry eyes, too, says the American Academy of Ophthalmology. For example, antidepressants and diuretics may affect tear production, causing your eyes to dry out.
As you might expect, treatment depends on the cause. Your ophthalmologist may recommend prescription eye drops, artificial tears, eyelid cleaners, or dietary changes, such as upping your intake of omega-3s. Excessive tearing, a risk factor for dry eyes, can be addressed through surgery, notes the AAO. The doctor will either seal your tear ducts or insert tiny plugs into them to preserve your tears, which may relieve the dryness.
Apart from that, you may use prescription ointments or apply warm compresses to your eyes to soothe the itching and other symptoms. The Icahn School of Medicine at Mount Sinai also suggests quitting smoking and avoiding second-hand smoke. Try to blink more often and limit your screen time as much as possible. Also, note that cold medicines, antihistamines, sleeping pills, and antacids can worsen your symptoms, so you should only use them when needed.