Here's What A Cardiologist Eats For A Healthy Heart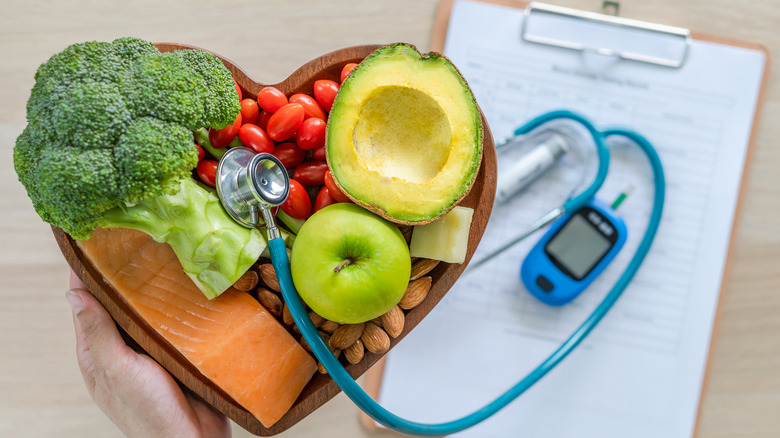 Chinnapong/Shutterstock
Across the country, somebody dies from heart disease approximately every 34 seconds, reports the U.S. Centers for Disease Control and Prevention (CDC). Yet some experts say this does not have to be the case. Elizabeth Klodas, MD FACC, is a board-certified cardiologist, author, speaker, founder of the Preventative Cardiology Clinic near Minneapolis, Minnesota, and the founder and chief medical officer of Step One Foods. In an exclusive interview with Health Digest, Dr. Klodas states, "80% of heart disease does not need [to] exist, that's not a wish, it's a fact."
Referencing what's known as "Blue Zones" around the globe, where heart disease nearly doesn't exist, Dr. Klodas highlights what sets these regions of the world apart from others. "The biggest difference between them and us is what they eat," she says. "Five of the major modifiable risk factors for heart disease (high cholesterol, high blood pressure, high blood sugar/diabetes, excess weight, poor diet) are driven in part, or in whole by food. What we eat has an immense impact on heart health."
Picking nutrient-rich food items to support heart health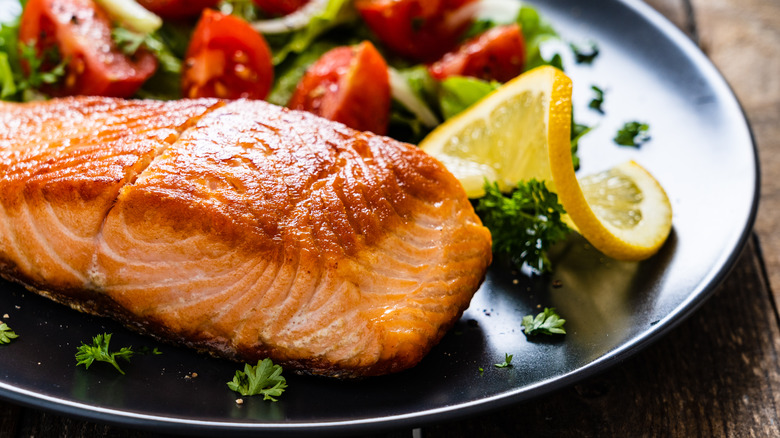 Jacek Chabraszewski/Shutterstock
Taking a holistic approach to patient health, Dr. Klodas shares that she started Step One Foods, a food company dedicated to addressing patient food-related health issues in lieu of additional prescription medications. 
Dr. Klodas explains that she herself consumes her company's food products on a daily basis, as they are both tasty and quick, making them easy to fit into her busy schedule. "I eat these products every day myself because they're purposefully packed with nutrients known to improve cardiovascular health and improve health outcomes," Dr. Klodas tells Health Digest. "Other foods that are regularly on my menu are leafy greens, hummus, and other beans-legumes, low-fat yogurt, seasonal fruits and vegetables, whole grains, such as farro and barley, and fish, especially salmon." She explains that together, these food items contain a host of nutrients specific to cardiovascular health. "These foods, in combination, are great sources of whole food fiber, healthy omega-3 fatty acids, antioxidants and plant sterols (natural plant components that reduce cholesterol absorption in the intestines)," Dr. Klodas states. 
She goes on to explain that the products offered by Step One Foods are also designed to offer the greatest amount of nutrients in the least amount of servings. "Step One Foods were purposefully formulated to deliver these nutrients in high levels in just two servings per day," she says.
What makes these foods heart healthy?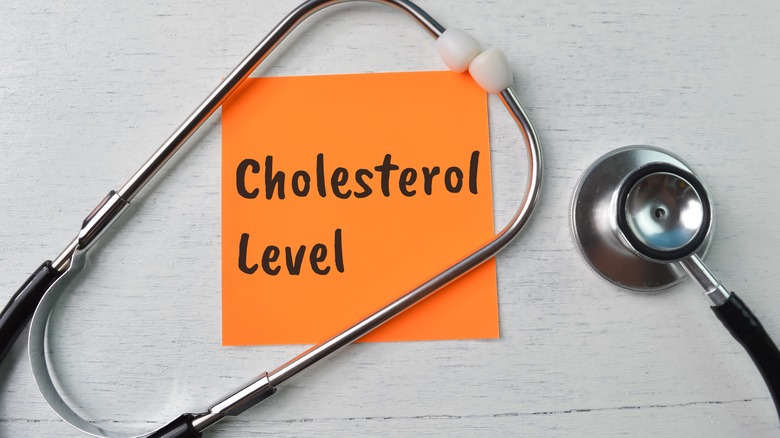 Teacher Photo/Shutterstock
Demonstrating just how heart-healthy Step One Foods can be, Dr. Klodas points to a 2022 clinical trial conducted by researchers from the Mayo Clinic and the University of Manitoba on the heart-health effects of Step One Foods snacks. Dr. Klodas was a member of the study team. Participants included 36 women and 18 men. In place of a food item they were already regularly consuming, participants were to swap that item with various ready-to-eat snacks twice a day. Snack items included fruit smoothies and chocolate bars from Step One Foods, reports EurekAlert!
Commenting on the outcome of their findings, Dr. Klodas tells Health Digest, "Eating two servings of Step One per day while changing nothing else about diet or lifestyle yielded a 9% reduction in LDL (bad) cholesterol in just 30 days." For some participants, Dr. Klodas shares that the results were even more significant. "Some people even saw 20%, 30%, close to 40% LDL reductions during this time! Those are medication level effects attained with food, proving that what we eat has tremendous impact on our health," she states. Dr. Klodas concludes by saying that when it comes to eating foods that support heart health, the goal is improvement, not perfection. "When it comes to diet you don't have to be perfect to achieve a health improvement. You just have to be better."
To learn more about Dr. Klodas and her work, you can visit Step One Foods or Preventive Cardiology Clinic.