New Study Suggests Age Matters When It Comes To Quitting Smoking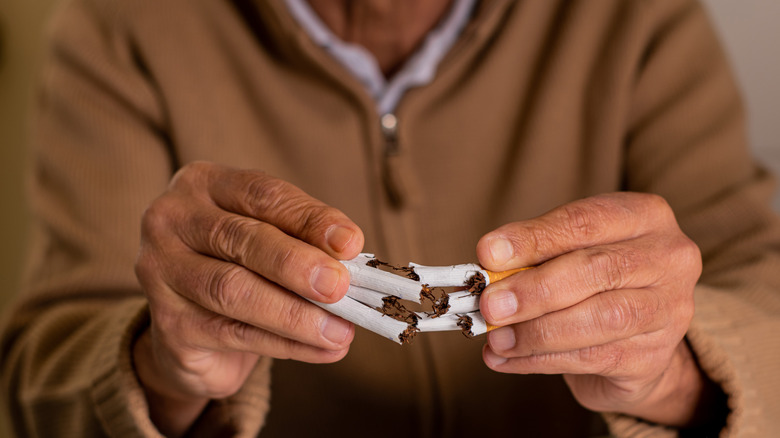 Juan Brian Diaz Hernandez/Shutterstock
The damage inflicted on our bodies from smoking cigarettes extends to just about every one of our organs, reports the U.S. Centers for Disease Control and Prevention (CDC). In 2020, it was reported that roughly 30.8 million Americans were active cigarette smokers. Smoking-related disease, disability, and death is preventable, and experts report that many people who smoke express a desire to quit. Now, a new 2022 study published in JAMA Network Open suggests that quitting smoking by a certain age can majorly reduce one's risk of all-cause death.
As per the study, the researchers recruited more than 551,300 adults across the country. The study team gathered survey health data spanning more than two decades between 1997 and 2018 from men and women from diverse racial and ethnic backgrounds. Taking note of participants' smoking status at the onset of the study, the age at which they quit, and the years since having quit, researchers tracked participants through December 2019 to assess the cause of death. Study findings revealed that quitting smoking at an earlier age had the greatest impact on reducing one's risk of all-cause mortality, as reported via WebMD. However, it appears there are still health benefits to be gained even if individuals were to quit in their later years. The study results showed that participants who quit smoking between the ages of 45 and 64 lowered their risk of death by 66% (per WebMD). Those who quit before turning 45 were at a 90% lower risk.
Quitting smoking before the age of 35 shown to reverse risk of all-cause death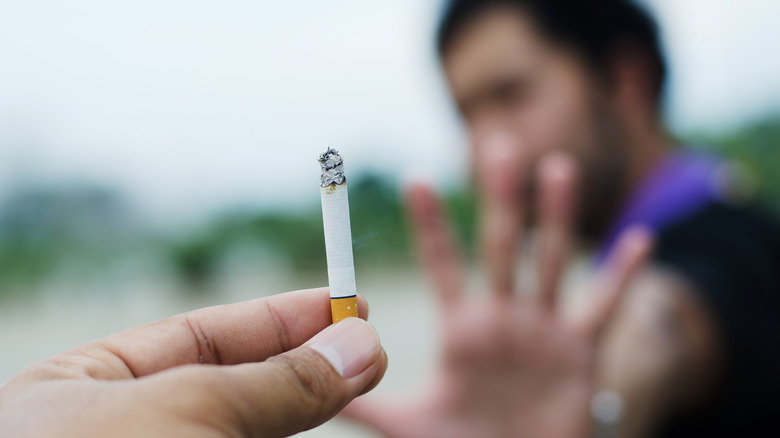 DANAI KHAMPIRANON/Shutterstock
Finally, those who kicked smoking to the curb before the age of 35 were observed to have reduced their risk of smoking-related all-cause death entirely in comparison to non-smokers (via WebMD). Such findings are particularly relevant to the roughly 1,600 youth every day who try smoking for the first time, reports the CDC.
In breaking the data down further, researchers saw these risk-reduction findings held true across race, ethnicity, and sex. "Among former smokers in each racial and ethnic group, whether male or female, quitting was associated with reductions of approximately 80% of the excess mortality associated with continued smoking," the study team noted via WebMD. However, in a public statement regarding the study made via JAMA Network Open, Dr. John P. Pierce of the Cancer Control Program at Moores Cancer Center in California, emphasized that smoking cessation continues to be a challenge for many people. "Although approximately 30% to 50% of US smokers make a quit attempt in any given year, success rates are low, with only 7.5% managing to succeed." The study researchers also noted that rates of quitting differ across demographic groups, highlighting the need for smoking prevention programs to work towards serving those most affected (per WebMD).
If you or anyone you know needs help with addiction issues, help is available. Visit the Substance Abuse and Mental Health Services Administration website or contact SAMHSA's National Helpline at 1-800-662-HELP (4357).