This Is How Long It Takes For Viagra To Start Working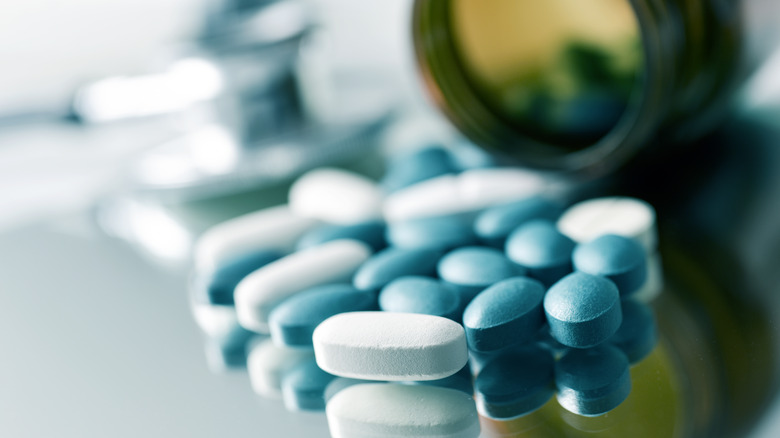 nito/Shutterstock
Viagra, also known as sildenafil, is a prescription drug used for erectile dysfunction (via MedlinePlus). This condition is characterized by the inability to keep an erection during sex (via the Mayo Clinic). As of 2019, the global prevalence of erectile dysfunction is about 3% to 76.5%, as estimated by a 2019 review published in the journal BJU International.
According to Healthline, an erection usually begins after the body releases a protein called cyclic guanosine monophosphate (cGMP), which causes blood flow toward the penis. Another natural protein called phosphodiesterase-type 5 (PDE-5) is usually released to stop the erection after sex. Unfortunately, PDE-5 usually works too quickly in people with erectile dysfunction. This is when Viagra comes in. It works to block the action of PDE-5, sustaining blood flow to the penis for Viagra users to sustain an erection.
Viagra is usually prescribed for oral use and comes in both tablet and liquid forms. According to Drugs.com, the medicine moves rapidly from your stomach and enters the bloodstream, where the mechanism of the action takes place. So how long does it take for Viagra to start working?
How long does Viagra take to work?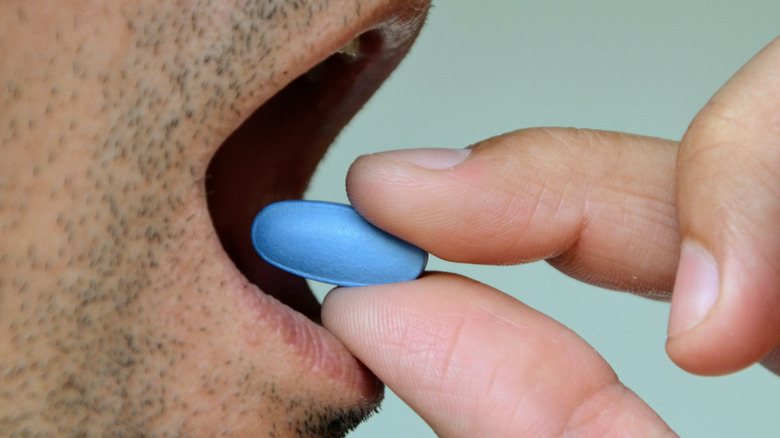 PaulSat/Shutterstock
Viagra works differently for everyone. When taken orally, the blood rapidly absorbs Viagra, with concentration peaking between 30 to 120 minutes after (via Medical News Today). Several other aspects can determine how long it takes to work. Your overall health is one key factor. However, some underlying conditions like diabetes and multiple sclerosis can interfere with the drug's onset of action, per Healthline. Other factors that can increase or reduce Viagra's onset of action are your age, diet, lifestyle, and even how anxious you are before sex.
Besides these factors, your prescribed dosage can also affect the drug's effectiveness. According to Drugs.com, a 50 mg dose once daily is the recommended dose. However, your doctor might increase the dose to 100 mg or decrease it to 25 mg, depending on the drug's effectiveness and how well you tolerate it. Your prescribed dosage can also determine how long the effects of Viagra last. A 25 mg dosage might wear off after 2 hours, and usually doesn't last as long as a 100 mg tablet, according to Healthline.
When taking the tablet, it's vital to stick to your doctor's instructions and what's written on the medication's packaging. National Health Services (NHS) recommends swallowing tablets whole with water or juice for effective results. The source advises against taking liquid Viagra with any measuring device other than the one attached to the medicine's package. That way, you can be sure you're taking the right amount.
Common side effects of Viagra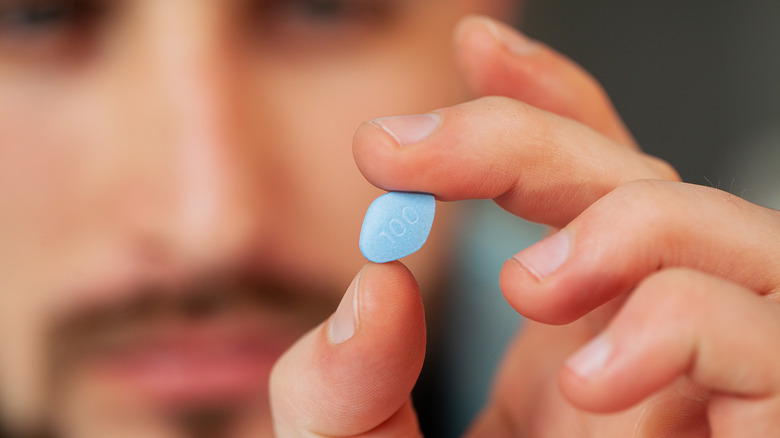 Yuriy Maksymiv/Shutterstock
Some people may experience unwanted side effects when taking Viagra. According to Mayo Clinic, some are common and may not require medical attention. Typical examples include muscle aches and a runny nose. Viagra use sometimes comes with blurred vision, increased sensitivity to light, and hearing loss — but these side effects are uncommon, according to WebMD. Nevertheless, they demand immediate medical attention if experienced.
Overall, Viagra use should be pain-free. However, some people experience long-lasting and painful erections, according to Medical News Today. These are often symptoms of priapism, a medical emergency that can bring complications like tissue damage in the penis and irreversible erectile dysfunction.
Despite these side effects, most people often report satisfaction after using Viagra. According to the NHS, only 1 in 100 people experience common side effects. The incidence reduces to 1 in 1000 when concerning rare side effects. However, the rare side effects of the drug can lead to severe complications. So it's important not to overdose on Viagra when seeking long-lasting sexual episodes.