Dairy Allergens Found In Chick-Fil-A Menu Items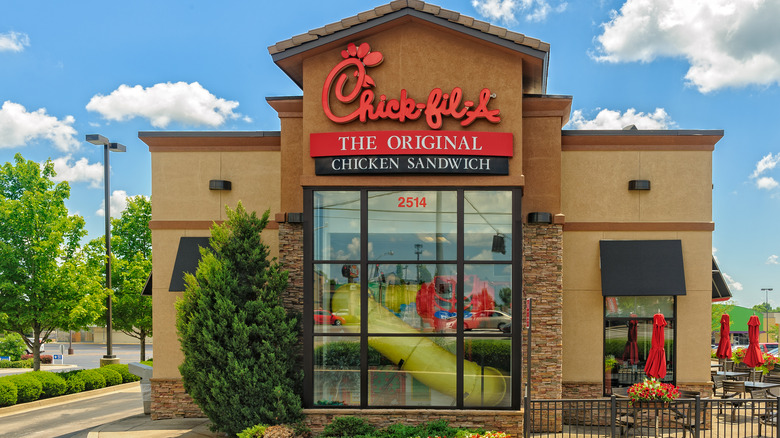 Barry Fowler/Shutterstock
Many people are affected by food allergies, especially dairy. According to the U.S. Food & Drug Administration (FDA) there are nine major food allergens in the U.S. — shellfish, fish, wheat, soybeans, sesame, tree nuts, peanuts, eggs — and milk is one of them. According to WebMD, it's one of the most common allergies, with children and babies being the most likely to have it. This may explain why many fast food companies like Chick-fil-A take food safety and quality very seriously.
Chick-fil-A is a family-owned business that prides itself on using quality ingredients and serving chicken only made from the breast meat (per Chick-fil-A). According to the company's website, their chicken contains no hormones, additives, preservatives, or fillers. When it comes to dairy allergens found in the Chick-fil-A menu, customers can take a peek at the nutrition and allergen page to find out exactly what allergens each entrée contains. Unsurprisingly, many entrées that contain milk are either topped with cheese or are milk-based. Take the mac and cheese or a Chick-fil-A deluxe sandwich with cheese for example, as each of these items is labeled as containing dairy allergens (via Chick-fil-A). However, there were some surprising Chick-fil-A menu items that contained the dairy allergen. What were they?
Both the grilled nuggets and grilled filets briefly contained dairy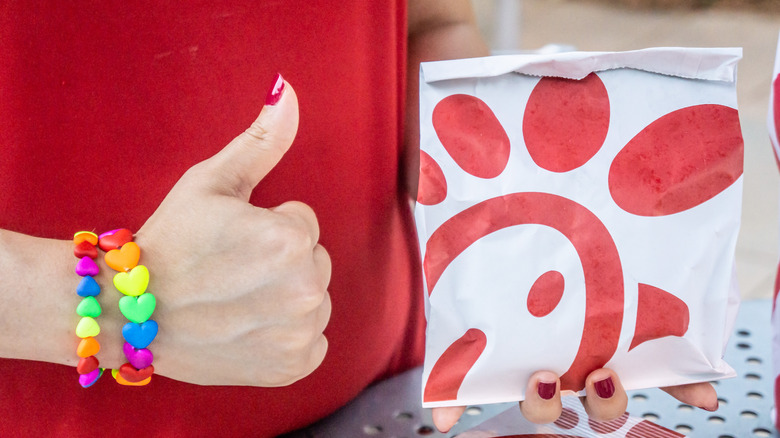 Jaimieandkyleshootstock/Shutterstock
Some of the most beloved items on the Chick-fil-A menu items include the grilled nuggets and grilled filets. While these entrées are popular, Kids With Food Allergies explains that Chick-fil-A changed their recipe on August 23 so both the grilled chicken nuggets and filets contained milk. The company commented that they were notified that "a supplier had unintentionally added an undeclared ingredient containing a dairy allergen in the recipe for our grilled filets and grilled nuggets" (via Chick-Fil-A). The milk allergen was found in the modified corn starch, explains Kids With Food Allergies. Chick-fil-A apologized for the situation and actively started working to fix the problem.
As of Friday, October 28 Chick-fil-A removed all dairy allergens from the grilled filets and grilled nuggets, reports Kids With Food Allergies. Now the warning label located on the Nutrition and Allergen section of the website has been updated to ensure that all guests are fully aware of its removal. In the statement, the company also assures that corrective actions are in place to prevent this from happening in the future. So whether you have a dairy allergy or you're ditching dairy for other reasons, Chick-fil-A welcomes everyone back to dine with them again.