Foods To Eat To Boost Your Prostate Health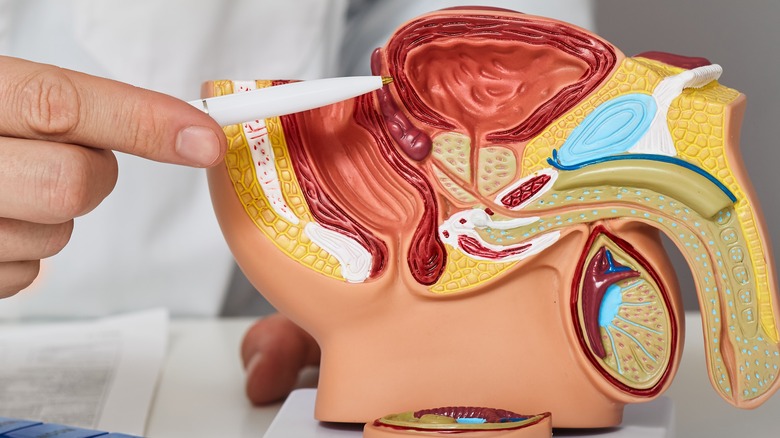 Peakstock/Shutterstock
The prostate is a small male gland presented below the bladder and ahead of the rectum, according to the National Institute on Aging (NIA). It is responsible for producing semen. Since the urethra is located in the middle of the prostate, the gland plays a vital role in carrying urine out of the body (via WebMD). The experts at NIA reveal that men over the age of 50 years often experience prostate problems. Typically, the prostate gland becomes large after a certain age. This increases the risk of prostate problems, such as prostate cancer (per WebMD). 
Luckily, there's a lot you can do to prevent prostate problems in the later years, according to Harvard Health Publishing. Experts advise maintaining your weight and exercising regularly to keep the prostate in top form. In addition, they suggest going for screening tests, particularly after discussing it with a doctor. The screening can help identify any signs of cancer or prostate issues early on. And besides cutting down on alcohol and ditching any smoking habits, it's also advised to pay attention to your diet (via Men's T Clinic). Typically, doctors recommend following the Mediterranean diet, which contains heavy plant consumption to keep the prostate healthy.
Best foods to consume for a healthy prostate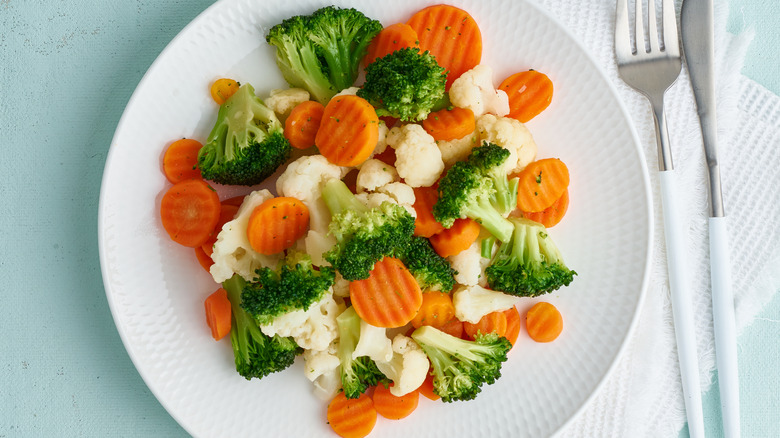 Nata Bene/Shutterstock
Tomatoes, for one, are among the best foods for prostate health thanks to the abundant antioxidant called lycopene, which can protect you from being at risk of prostate cancer, per Healthline. In fact, a 2012 study published in the Journal of Oncology reported that lycopene remarkably decreases cancer cell production. Another incredible food recommended by Healthline to add to your daily healthy-prostate diet is green tea. The experts at MedicalNewsToday report that green tea leaves contain polyphenols, which hold potent value against benign prostatic hyperplasia or prostate enlargement. Plus, since a healthy prostate depends on weight, green tea can work wonders in reducing the risk of obesity.
Keep in mind, all green cruciferous veggies, such as broccoli, bok choy, cauliflower, and Brussels sprouts, are also exceptional foods for good prostate health, as per the Prostate Cancer Foundation (PCF). Broccoli contains glucoraphanin, a compound that scientists have found to be anticancerous. Similarly, the American Institute for Cancer Research states that Brussels sprouts are rich in fiber and essential nutrients that are helpful against cancer. In addition, certain veggies reduce inflammation, which prevents prostate cancer (per PCF).