Study Finds COVID-19 Rebound Isn't Just For Those Who Have Been Treated With Medication
Cat Box/Shutterstock
The subject of COVID rebound has been increasingly discussed amongst the scientific community when studies earlier this year showed that some patients experience a resurgence of symptoms following treatment with the antiviral drugs Paxlovid and molnupiravir (via The New York Times). One such study, which has yet to be peer-reviewed, was issued as a preprint in MedRxiv in June 2022. The research showed that risk for COVID rebound appeared to increase with time following treatment, particularly in those with underlying health issues.
However, a new study published in JAMA Network Open has found that the risk for COVID rebound also appears to be present in patients who received no antiviral drug treatment for infection. For 29 days, researchers followed more than 150 study participants who had contracted COVID-19 between August and November of 2020 (per The New York Times). With a mean age of 47, the 79 women and 79 men in the clinical trial were treated with a placebo in place of an antiviral drug treatment. Participants were asked to use a diary to track their symptoms on a daily basis.
Recurrent symptoms were not found to be severe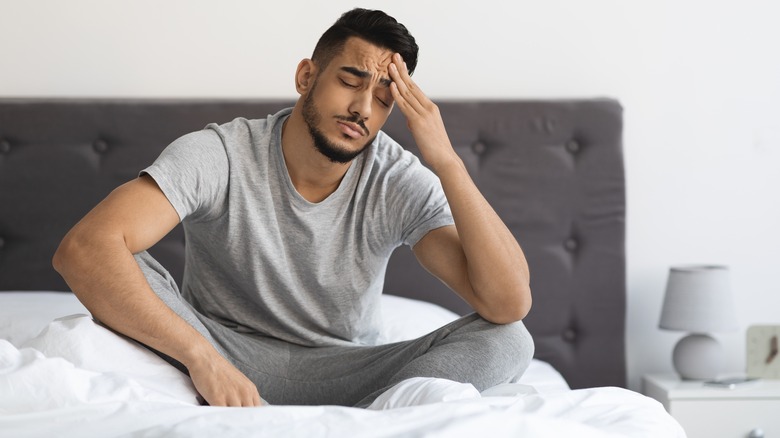 Prostock-studio/Shutterstock
Out of the 108 participants whose symptoms had resolved on their own and who had been deemed symptom-free for a period of 48 hours or more, 48 of these individuals noted that symptoms returned in the weeks that followed, reports The New York Times. Headaches, cough, and fatigue were amongst the most frequently returning symptoms reported. The researchers emphasized that the bulk of recurrent symptoms in patients proved to be mild. Rates of complications were also low, with eight individuals requiring hospitalization and no deaths reported, as per the research.
The study team also pointed out that these findings are not the same as experiences of long COVID, which last longer than the 29-day follow-up period used in the study (via HealthDay). John Donnelly, a research investigator with the department of learning health sciences at the University of Michigan Ann Arbor who was not a member of the study, tells HealthDay that individual risk factors for COVID-19 rebound are not yet known. Yet those who have been treated or untreated for the virus seem to share some similarities when it comes to recurrent symptoms. "Although this study focuses only on individuals who were not treated, luckily it seems as though most of the time, both among treated and non-treated individuals, the symptoms that occur on recurrence seem to be mild," Donnelly tells the publication.