Paralympic Gold-Medalist Susannah Scaroni On How To Reach Your Athletic Goals - Exclusive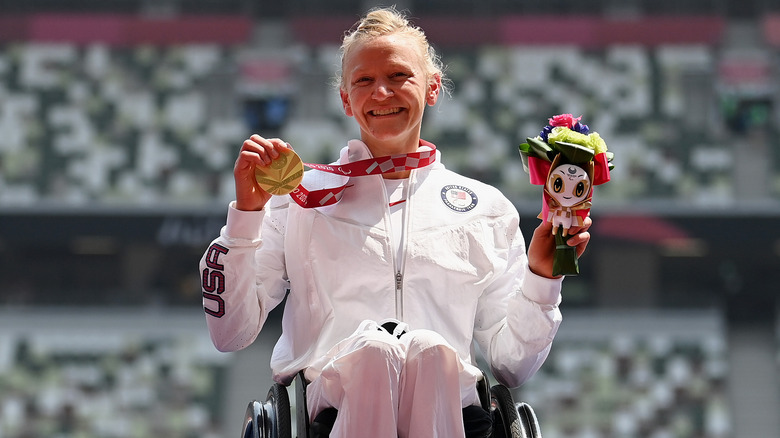 Alex Davidson/Getty Images
When Susannah Scaroni was only 5 years old, she was riding in a car that slipped on ice and coasted into oncoming traffic. After that accident, she was paralyzed from the waist down. But that didn't stop her from living her life to the fullest. 
In an exclusive interview with Health Digest she said, "I got to learn how to be creative about how to play," says Scaroni. "If we were going to tumble down the hill in recess, I had to be able to get back in my wheelchair ... I existed that way ... I don't think I even could tell I was in a wheelchair until I was in third grade when everybody gets to play basketball. I also played basketball, but that's when I learned I was slower than everybody else."
Scaroni's family encouraged her to try wheelchair sports. They'd take her to wheelchair basketball practice and wheelchair track. She spent numerous hours training and exercising in her wheelchair — she loved it — and eventually was offered a full-ride scholarship to the University of Illinois. Since then, Scaroni has competed in countless competitions and in the 2020 Paralympics in Tokyo, her ambition paid off — she won both the gold and bronze medals. Susannah Scaroni told Health Digest about her journey to the Paralympics and beyond, and gave us some advice on how to reach your own athletic goals.
You can always pursue your dreams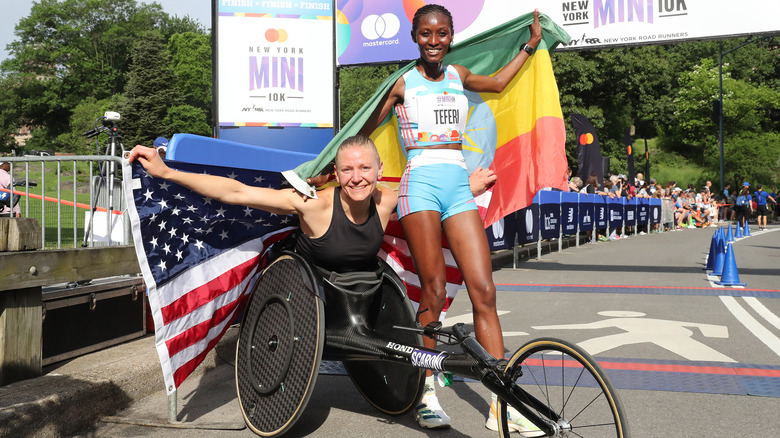 New York Road Runners
In September 2021, soon after the Paralympics, Scaroni was hit by a car while training, suffering a fracture in her vertebrae that forced her to rest and recover for the rest of the year. As someone familiar with life-threatening car accidents, Scaroni shared that she's already thankful to be alive. But this accident was a different experience for her. 
"It really has changed my perspective when I'm at a race because I feel almost like I was given this chance to be here again," says Scaroni. "It highlights the role that we have as athletes, and as people with disabilities, to represent what you can do and that you can always go after what you want to do. I cherish the ability to do that. I'm so thankful that I've gotten to recover successfully and that I keep getting that opportunity to be a role model."
And Scaroni is indeed quite the role model – determined to get back to competing, she came back stronger than ever. In June 2022, she won her fourth Mini 10K in a world-best time and broke the 5,000-meter world record. Then, in September and October 2022, she won first place in the Chicago Marathon, second at the London Marathon, and third in Berlin (via The New York Times).
Set small goals to achieve big dreams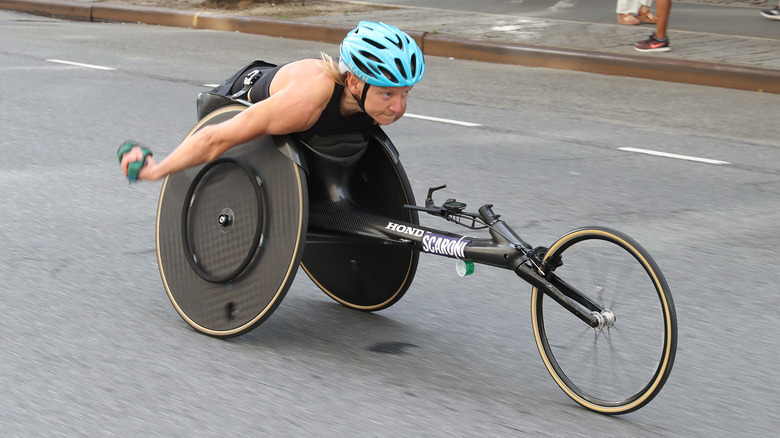 New York Road Runners
So what is Scaroni's secret to success? Making small, accessible goals. Small goals are easier to set and reach on a regular basis. According to Scaroni, having too many goals can feel overwhelming. "If you need to change what you're eating, or what time you're getting up and how active you are, that can be a little disheartening sometimes. Starting off simple with one thing at a time is [how to be] successful," advises Scaroni. 
She suggests breaking tasks into smaller ones. For example, if your goal is to be more active, maybe start with a 15-minute morning walk. Plan to walk briskly for two minutes, then casually for one minute or take a break, then walk briskly again for another two minutes. "Break it up into small chunks and build off of those." As they say — we all have to start somewhere.

Watch live coverage of Susannah Scaroni at the TCS New York City Marathon on November 6 from 8:30–11:30 a.m. ET on ESPN2 and via the ESPN App.