Is It Safe To Use Rice Water On Your Face?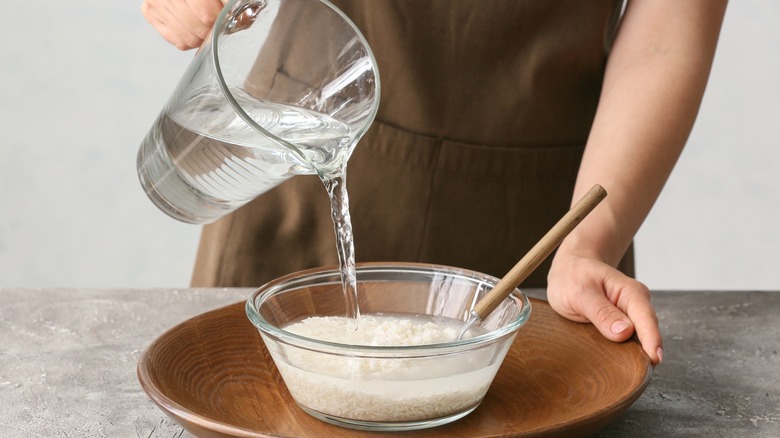 Pixel-Shot/Shutterstock
In recent years, the majority of popular skincare trends, like glass skin and double cleansing, have been imported from South Korea (per Shondaland). However, you don't need to ship skincare products from overseas to achieve the healthy, glowy complexion Korean beauty is known for. Instead, you can grab rice from your pantry to make an easy concoction for your face.
Esthetician and founder of K-beauty brand Peach & Lily, Alicia Yoon, told Bustle, "Rice is a traditional beauty ingredient that's been passed down through the generations, very much a part of Korea's beauty legacy." The humble grain comes to life when made into the rice water. According to Healthline, you can make rice water at home by first rinsing the rice of your choice. Then, choose from boiling rice and water together, soaking rice in water, or fermenting rice in water at room temperature until the mixture starts to produce a sour smell.
Though it's commonly applied to the skin, you can also use rice water on your hair. Clearly, this DIY tonic is simple to make, but is it safe and effective for the face?
Benefits of rice water for skin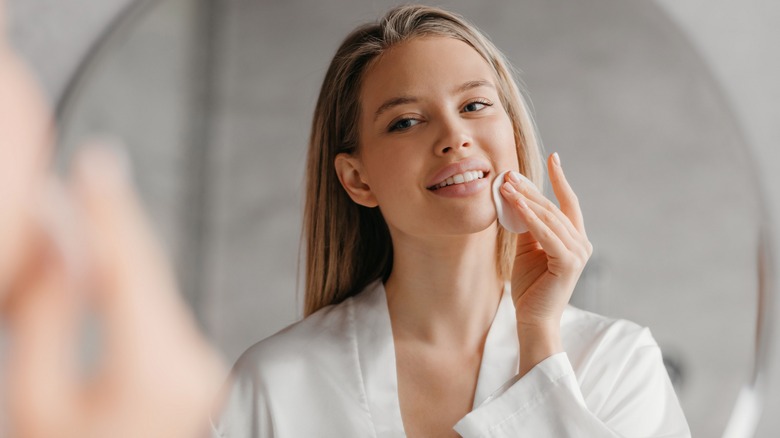 Prostock-studio/Shutterstock
Rice water continues to be a go-to ingredient in K-beauty, likely because of the many potential skin benefits it offers, explains Alicia Yoon to Bustle. After all, rice contains natural antioxidants that protect the skin from free radical damage, according to Medical News Today. These antioxidants and other chemicals in rice are believed to help fight signs of aging and skin deterioration. In fact, one 2018 study published in the journal Cosmetics suggested that rice water actually contains anti-aging properties and is suitable for the skin. Additionally, a 2001 study published in the Journal of the Society of Cosmetic Scientists of Korea also pointed to inositol, an ingredient found in rice, as a natural wrinkle smoother.
Keep in mind, rice water could help protect the skin barrier and reduce irritation, according to a 2002 study published in Acta Dermato-Venereologica. Although these assertions haven't been extensively researched, some skincare enthusiasts also claim that rice water is effective at soothing itchy eczema, inflammation, rashes, and acne blemishes (per Healthline).
Risks of using rice water on the face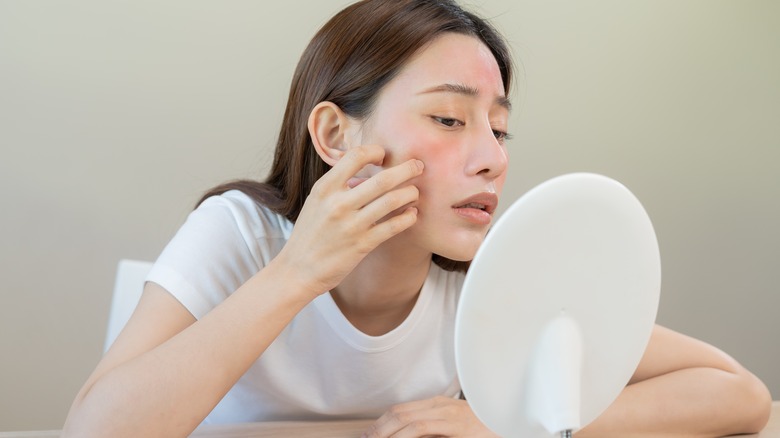 Kmpzzz/Shutterstock
Rice water is generally considered to be safe and gentle on the skin. However, there are a few risks to be aware of (per Medical News Today). Even though rice water is known to soothe irritation, it could also cause dry, flaky, or itchy skin for some people, just like with other topical solutions or skincare products. Therefore, start by testing rice water on a small patch of skin before applying it to the entire face.
Those with rice allergies should not apply rice water to their skin. If you use rice water on your face and notice an adverse reaction, such as hives or a rash, contact a doctor.
Finally, be careful when using homemade fermented rice water. Though some recipes may recommend leaving water out at room temperature for two or more days, dermatologist Dr. Jaishree Sharad told Health Shots that it's best to place it in the refrigerator within 24 hours for best results.