Microneedling Aftercare Tips To Follow To Keep Your Skin Healthy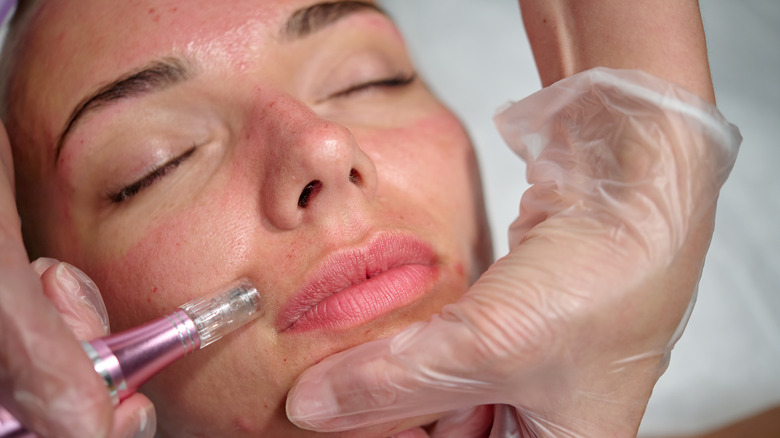 Konstantin Goldenberg/Shutterstock
Keeping up with the latest trends in health and skincare can be daunting. With new miracle serums and progressive treatments being announced regularly, it can be difficult to know which treatments you should try and more importantly, which ones are best for you and your skincare regime. One currently popular skincare trend is microneedling. But what is microneedling?
The experts at WebMD explain that microneedling is a cosmetic procedure, in which tiny disinfected needles are used to prick or poke the skin to produce the desired results. Microneedling is said to encourage the development of collagen and elastin, which can create a more invigorated, youthful appearance on the skin. While microneedling is a cosmetic procedure designed to help individuals turn back time on their faces, it can also be helpful for other conditions, such as excessive sun damage.
In fact, the procedure is often selected because the process can help to improve the skin's look and texture (via Healthline). But what are the benefits of microneedling?
Microneedling benefits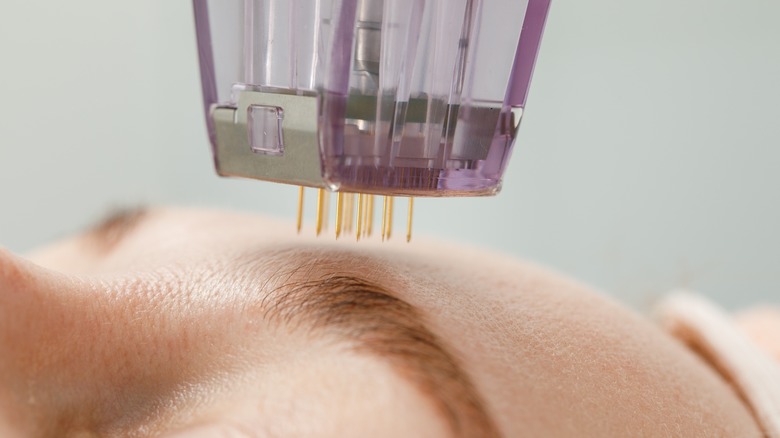 Aleksandr Rybalko/Shutterstock
In most cases, microneedling can be performed in a dermatologist's office during a regular appointment, according to the Cleveland Clinic. The procedure is considered minimally invasive and helps to improve the youthful look and feel of the skin, such as around the face and neck. However, the procedure can also be done on the legs, neck, back, or any surface of the skin that is showing signs of aging. Keep in mind that for the most part, multiple treatments are needed to produce the desired effects.
While many individuals may opt for microneedling treatments to help their skin appear more youthful, it may also help to reduce acne scars and stretch marks. In addition, it can provide positive results for individuals who have been diagnosed with alopecia or hyperhidrosis, also known as excessive sweating. Nonetheless, if you're considering microneedling procedures, there are a few aftercare tips you may want to consider.
Aftercare for microneedling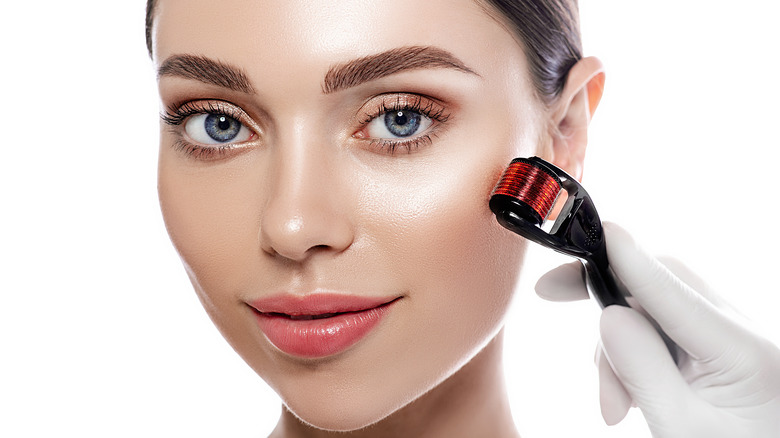 Peakstock/Shutterstock
Before booking your appointment, you should know that some side effects can occur. In fact, Healthline explains that redness and swelling are common and expected during the 48 hours following treatment. The treated skin may feel similar to having a mild sunburn. While minimal, the discomfort can be somewhat lessened with proper aftercare techniques and tips.
The first rule is to stay out of the sun. The freshly irritated skin can be more susceptible to sun damage or sunburn for up to two weeks following the procedure. In addition to avoiding the sun, you'll need to apply the antibiotic cream prescribed by the physician. It's important to avoid further irritating the skin in the first 72 hours following the procedure. In other words, be sure to wash your hands prior to touching your face or applying creams and not use old or previously used makeup brushes and sponges during the healing phase.
Keep in mind, some side effects, such as peeling skin or bruising, are considered normal and to be expected, according to WebMD. Overall, it's important to keep the skin clean to minimize the risk of infection.