Colgate Or Crest? Health Digest Survey Finds Out People's Favorite Brand Of Toothpaste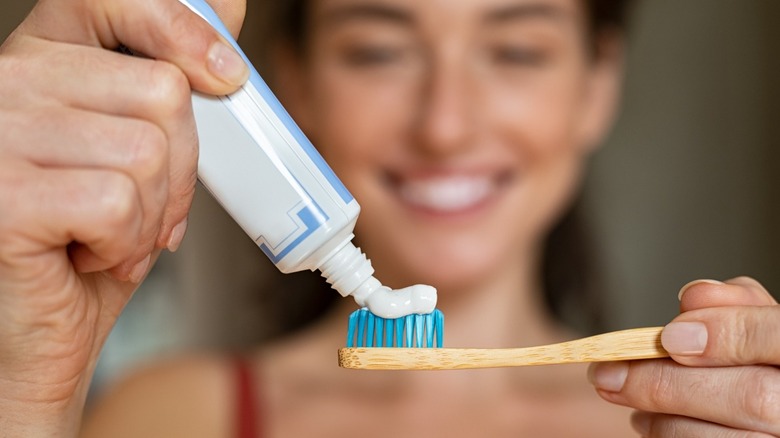 Ground Picture/Shutterstock
Toothpaste — medically referred to as dentifrice — is a formula that helps get rid of debris on your teeth and can help your pearly whites stay healthy (via Ala Moana Dental Care). By that definition, the first recorded toothpaste formulas came from the ancient Egyptians, who used a paste made up of ingredients like eggshells, myrrh, oxen hooves, and water, according to Delta Dental. Modern toothpaste as you recognize it — in a tube — was invented in 1892 by an American dentist by the name of Dr. Washington Sheffield.
Toothpaste formulas have two primary ingredients. While abrasives like baking soda help to remove food, plaque, and tartar, surfactants assist in evenly spreading out the abrasives in addition to ingredients like fluoride (via Ala Moana Dental Care). Fluoride is a mineral that may help prevent tooth decay. Toothpastes with a seal of approval from the American Dental Association (ADA) contain fluoride, but do not contain flavoring agents like sugar because they could contribute to tooth decay. Two popular toothpaste brands that have the ADA seal of approval are Crest and Colgate. To find out which toothpaste brand is the most popular, Health Digest conducted a survey asking respondents which toothpaste brand they prefer. 
And the winner is...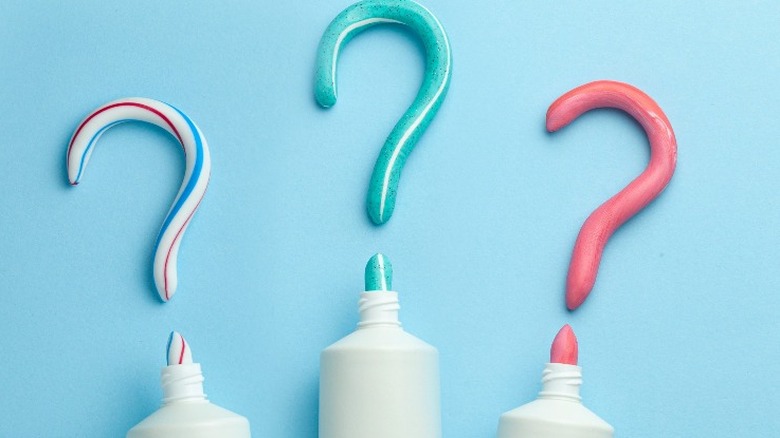 ADragan/Shutterstock
The results of a Health Digest poll of 610 people show that 12 people, or 1.97% of respondents prefer Oral-B toothpaste. 21 people, or 3.44% of respondents say they prefer Aquafresh toothpaste. Arm and Hammer toothpaste is preferred by 43 people, or 7.05% of respondents. 126 respondents, or 20.66% of people say they tend to use Sensodyne toothpaste. Both Colgate and Crest garnered the majority of respondent choices. 199 people, or 32.62% of respondents say they prefer Colgate toothpaste. 209 people, or 34.26% of respondents say they prefer Crest toothpaste, making it the winner by a slim margin. You might wonder why people tend to prefer Crest.
In 2006, Crest's Pro-Health Toothpaste made history by becoming the first brand to get the ADA Seal of Acceptance for a toothpaste that protects against gingivitis, plaque, cavities, sensitivity, and stains (via P&G News). The ADA Seal of Acceptance shows that an approved product is safe and effective, reports the ADA. Further, Crest claims that it has a total of eight toothpastes with the ADA Seal of Approval. Brushing your teeth with a safe and effective toothpaste can be an important part of oral hygiene. With these qualifications, it is no wonder that so many people use Crest.