Comedian Gallagher's Cause Of Death Explained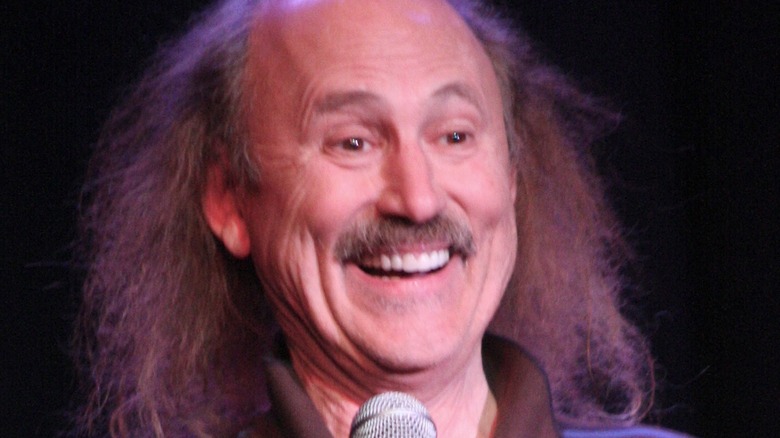 John Atashian/Getty Images
Comedian Gallagher has died at the age of 76, according to The Sun. Leo Anthony Gallagher Jr. was known for his trademark watermelon-smashing, props, and observational comedy. His comedy library includes several HBO specials and 13 one-hour specials on Showtime. Gallagher ran for governor of California in 2003 with the tongue-in-cheek slogan, "Finally, a governor you can get drunk with." His jokes were sometimes considered politically incorrect, pushing political and social boundaries with jokes that some deemed offensive. But Gallagher had a big enough following to hold 100 outrageous performances a year for 30 years, smashing an estimated 15,000 watermelons. 
Gallagher gained fame with the first standup comedy special to air on Showtime in 1980. According to Variety, the show, titled "An Uncensored Evening," introduced America to his "Sledge-O-Matic" routine, where he used a sledgehammer to smash food, especially watermelons, into bits that showered the first unsuspecting audience. Despite health problems, Gallagher continued touring until the COVID-19 pandemic. He also appeared in a movie, "The Book of Daniel." Gallagher held his farewell tour, the "Last Smash," in 2019.
Gallagher struggled with poor health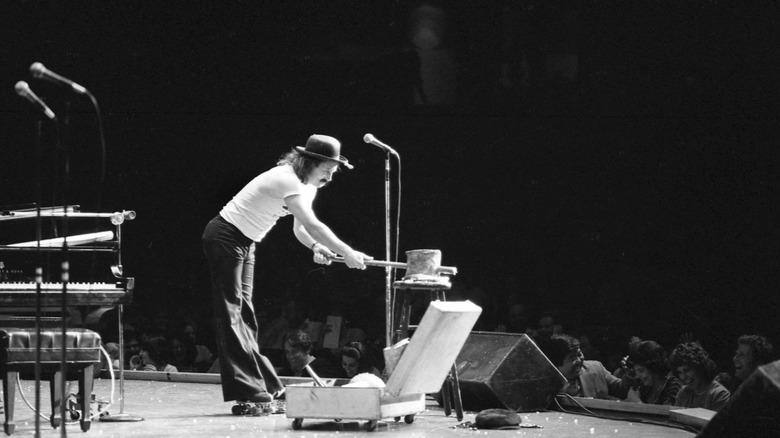 Michael Ochs Archives/Getty Images
Gallagher had suffered from health problems for years, after passing out on stage at a live show in Minnesota in 2011 (per The Sun). In 2012, he suffered a heart attack before a show in Texas. He endured multiple heart attacks in the following years but continued to tour. Gallagher's longtime manager told TMZ, "Gallagher stayed on the road touring America for decades. He was pretty sure he held a record for the most standup dates, by attrition alone. While Gallagher had his detractors, he was an undeniable talent and an American success story." 
NBC News reports that Gallagher died of massive organ failure while under hospice care at his home in Palm Springs, California. The Sun says it is unclear whether the comedian ever married, but Gallagher is survived by his two children, daughter Aimee, and son Barnaby. The self-titled "Wizard of Odd" was the top comedian in tickets and ratings for years, and whether you like him or not, his legend lives on in his massive catalog of live shows and specials.