Neutrogena Or Banana Boat? Health Digest Survey Finds People's Go-To Sunscreen Brand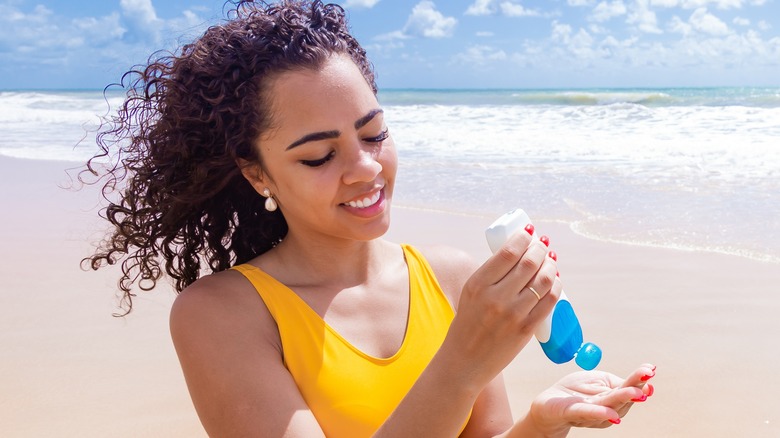 Bernardo Emanuelle/Shutterstock
A sunny day at the beach isn't the only time we should be applying sunscreen. According to experts at Mahoney Dermatology, daily sunscreen use can help protect us against a number of skin issues both in the short-term, as well as later in life. For example, regular sunscreen usage can make us less susceptible to sunburns from the sun's UV rays. By reducing our risk for sunburns, we also lessen our risk for premature wrinkling, liver spots, inflammation, and skin cancer down the line. But we don't want to slather on just any old sunscreen. It's important to choose a product that offers adequate protection. Experts at Johns Hopkins Medicine suggest utilizing sunscreen with a sun protection factor (SPF) of 30 or more on a daily basis. For those who spend ample time outside, experts suggest stepping up to an SPF of at least 60.
Head into any drugstore and you'll find rows upon rows of sunscreen brands on the shelves. To find out which sunscreen brand is preferred by most people, we surveyed 610 readers of Health Digest. The top answer came down between Neutrogena and Banana Boat. Here's the brand our readers crowned as the winner.
Neutrogena proves to be most popular amongst readers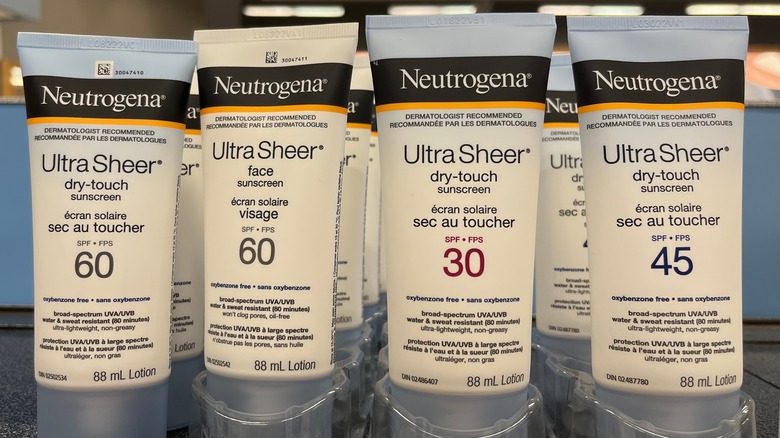 Jenari/Shutterstock
Out of six possible answer options, the response with the least amount of votes was Supergoop! with 42 selections, making up just shy of 7% of total responses. With six more votes was Sun Bum, accounting for 7.87% of total answers. Brand popularity increased significantly after that, with Coppertone garnering 103 votes, making up nearly 17% of total responses. With just four more votes was Aveeno, earning 17.54% of total respondent answers.
The top two preferred sunscreen brands amongst readers came out to be Neutrogena and Banana Boat. In second place was Banana Boat with 119 answer selections. Offering mineral-enriched sunscreen products, as well as products specific to kids and sports fans, Banana Boat states via their website that they're dedicated to providing safe and trusted sunscreen products with high-quality ingredients. In first place, 191 participants selected Neutrogena as their go-to sunscreen brand. The winning answer made up 31.31% of the total responses. As the top recommended brand of sunscreen by dermatologists for day-to-day use, Neutrogena offers products in the form of mists, sprays, lotions, and more — all of which are designed to protect the skin from UVA/UVB rays.