How Apple Watches Are Being Used To Recognize Heart Failure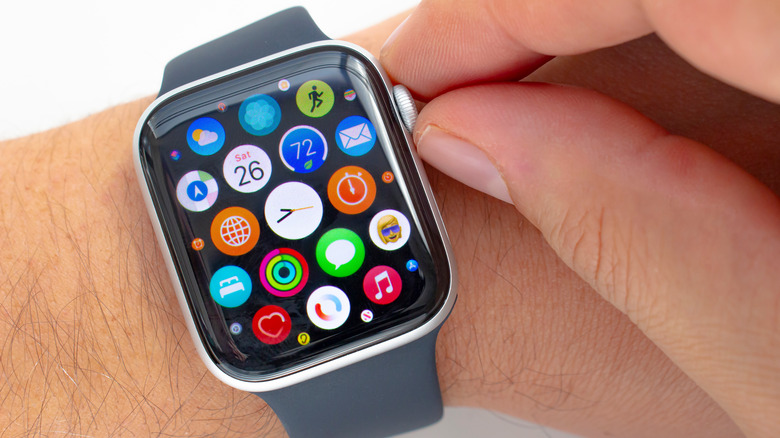 oasisamuel/Shutterstock
Heart disease is the number one killer in the United States, accounting for one out of every five deaths, according to the Centers for Disease Control and Prevention (CDC). Heart disease is often called "silent" because people often don't get diagnosed until they experience symptoms of a heart attack, arrhythmia, or heart failure, also per the CDC. According to the American Heart Association, one test used to detect heart problems is an echocardiogram (ECG), which can provide information about your heart's movements, if its valves work correctly, and your heart's pumping strength. But now, modern technology may make it easier to diagnose heart issues on the go before they become problematic, all from your smartwatch. A recent study published in Nature Medicine found that combined with artificial intelligence, the single-lead ECG found in the Apple Watch can detect signals of a weak heart pump, a condition which often shows no symptoms but can be life-threatening if not treated.
The study recruited more than 2,400 people to download an app designed by the Mayo Clinic to record their data for analysis. The Mayo Clinic algorithm was able to accurately predict a low ejection fraction in 16 out of the 421 participants who had an echocardiogram; an ejection fraction is a percentage of how much blood leaves the left ventricle of the heart with each heartbeat, measuring how well your heart is pumping (per American Heart Association).
Combining AI and wearable technology can help early detection
PopTika/Shutterstock
The first author of the study, Dr. Zachi Attia, is the lead AI scientist in the Department of Cardiovascular Medicine at Mayo Clinic. He says that the results of this study show that screening for health conditions can become more convenient for people. "Through technology, we can remotely gather useful information about a patient's heart in an accessible way that can meet the needs of people where they are," Attia said in a news release.
Dr. Paul Friedman, chair of the Department of Cardiovascular Medicine at Mayo Clinic in Rochester and senior author of the study, added that these wearable devices can quickly and remotely help detect life-threatening diseases. The news release said that detecting a weak heart early allows patients to get treatment to reduce the risk of heart failure and death.
According to the University of California San Francisco Health, symptoms of heart failure include shortness of breath, fatigue, swelling, coughing, loss of appetite, and mental confusion. The American Heart Association says you can reduce your risk of heart disease by reducing your cholesterol, monitoring your blood pressure, and managing your risk of diabetes.