What's People's Preferred Over-The-Counter Cough Medicine? - Health Digest Survey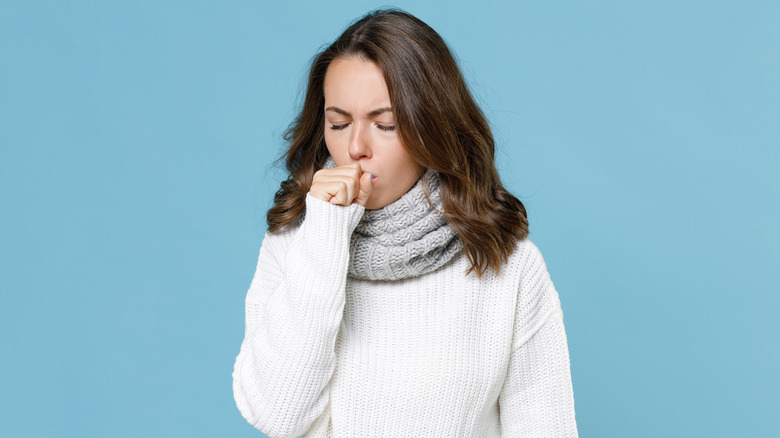 ViDI Studio/Shutterstock
Ahh, the sounds of the holiday season: children's laughter, sleigh bells, and... incessant coughing? We're unsure who to take this up with, but the fact that "the most wonderful time of the year" and cold and flu season coincide seems like a massive oversight.
The peak of cold and flu season occurs between the months of December and February — right smack in the middle of all the holiday festivities (per Good RX). There are over 200 viruses that can cause the common cold, according to Johns Hopkins Medicine, and these viruses can lead to more serious conditions like bronchitis, pneumonia, and whooping cough. Over-the-counter (OTC) cough medicine can be helpful in managing an acute cough, allowing you to get back to your party plans faster. But we all know that not all cough medicines are created equal, and through trial and error, most of us have established a clear-cut favorite.
Health Digest conducted a survey asking 610 respondents which OTC cough medicine they are most likely to reach for when they are feeling under the weather and here's what we found out.
What people are saying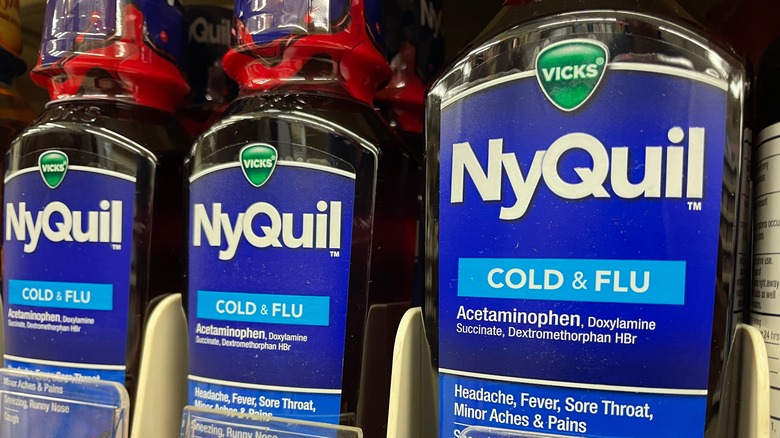 Billy F Blume Jr/Shutterstock
NyQuil takes the top spot for the most popular cough medicine, with 25.57% of respondents saying it's their go-to. NyQuil is used to treat an array of cold and flu symptoms ranging from a runny nose to cough, sneezing, body aches, and sore throat. Good RX explains that NyQuil Cough contains dextromethorphan– which suppresses the need to cough, and doxylamine, a common antihistamine and sleep aid.
Mucinex garnered 21.15% of the vote, making it the second most popular OTC cough medicine. Unlike NyQuil, which is classified as a suppressant, Mucinex is an expectorant (per Drugs.com). In the case of "wet" coughs where chest congestion is present, Mucinex hydrates the mucus, increasing its volume and decreasing its thickness, making it easier to cough up.
Robitussin and Vicks were neck and neck for the third spot, securing 18.36% and 18.20% of the votes, respectively. Delsym, which VeryWell Health says has the same active ingredient as Robitussin, was the fifth choice with 11.48% of the votes. Dimetapp, which, according to Good RX is best known as a nasal decongestant, received only 5.25% of the votes.