Dr. Fauci Shares One Crucial Piece Of Advice For Americans As He Retires From Public Service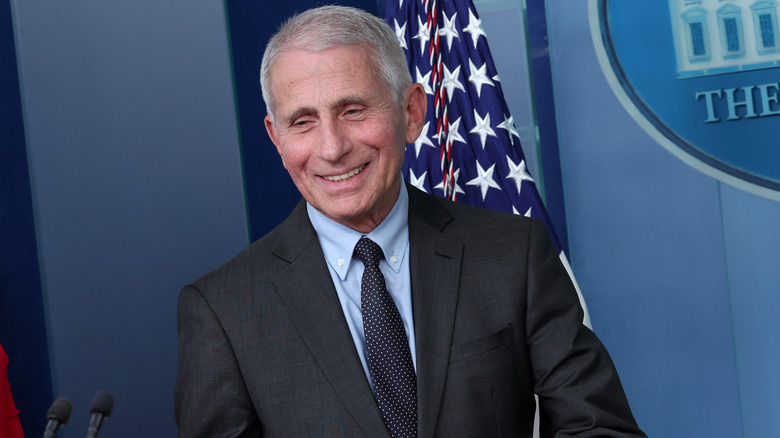 Win Mcnamee/Getty Images
After nearly 50 years of public service, infectious disease expert Dr. Anthony Fauci is stepping down from his position as a federal public health official. In his final White House press briefing on Tuesday, Fauci announced his departure from the government at the end of the year and gave one last piece of advice to Americans regarding the COVID-19 pandemic (via ABC News). Ahead of a potential spike in COVID-19 cases during the holiday season, Fauci urged Americans to protect themselves against the virus by staying up-to-date on their COVID-19 shots.
"My message and my final message — maybe the final message I give you from this podium — is that please, for your own safety, for that of your family, get your updated COVID-19 shot as soon as you're eligible to protect yourself, your family and your community," Fauci said (via U.S. News & World Report). He also said that he has an optimistic outlook on the future of the pandemic, predicting that COVID-19 cases will continue to fall in the U.S. However, he did note that this could be accomplished much faster if more Americans got vaccinated and boosted.
Fauci encourages Americans to get boosted and follow safety measures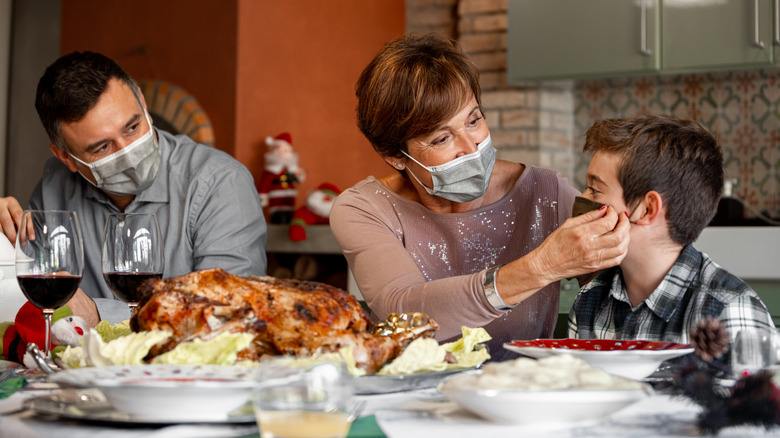 Basilico Studio Stock/Getty Images
In addition to staying up-to-date on their COVID-19 booster shots, Fauci said there are many other things Americans can do to help protect themselves against the virus, including testing and wearing a mask (via ABC News). According to Fauci, it might be a good idea to wear a mask around older adults and people who are immunocompromised during the holiday season, since they are most susceptible to experiencing severe illness if they contract the disease. He also recommends testing yourself for COVID-19 at least a day before going to an in-person gathering to make sure you don't unknowingly infect someone.
"Now, we're not talking about requirements or mandating," Fauci said during the briefing. "We're talking about if you are in a situation and each individual person evaluates their own risk and that in the risk of their family member." White House Coronavirus Response Coordinator Dr. Ashish Jha echoed these sentiments and even went a step further, saying that following these safety precautions and getting boosted can help prevent the overwhelming majority of COVID-related deaths, particularly during the holidays when get-togethers are more common (per U.S. News & World Report).