Are You Eligible For The New Omicron Booster Shot?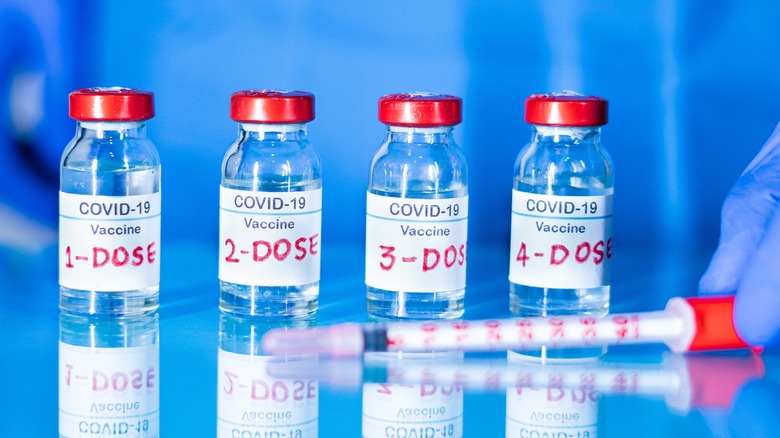 Westock Productions/Shutterstock
On Thursday, September 1, the U.S. Centers for Disease Control and Prevention (CDC) issued its formal recommendation for use of Pfizer and Moderna's new updated bivalent COVID-19 booster vaccines, as announced in a press release. The decision comes following emergency use authorization for the drug from the U.S. Food and Drug Administration (FDA) on August 31.
Different from the current monovalent mRNA vaccines, the bivalent vaccines are a blend of the original vaccine makeup, along with spike protein components from the presently-circulating BA.4 and BA.5 Omicron subvariants, as explained in the public statement. The bivalent vaccines are more equipped to target the Omicron variant. CDC representatives added that the updated boosters will also offer increased protection against waning immunity.
"This recommendation followed a comprehensive scientific evaluation and robust scientific discussion," CDC director Dr. Rochelle Walensky said via the press release. If you are eligible, there is no bad time to get your COVID-19 booster and I strongly encourage you to receive it."
How should you space out the new booster dose?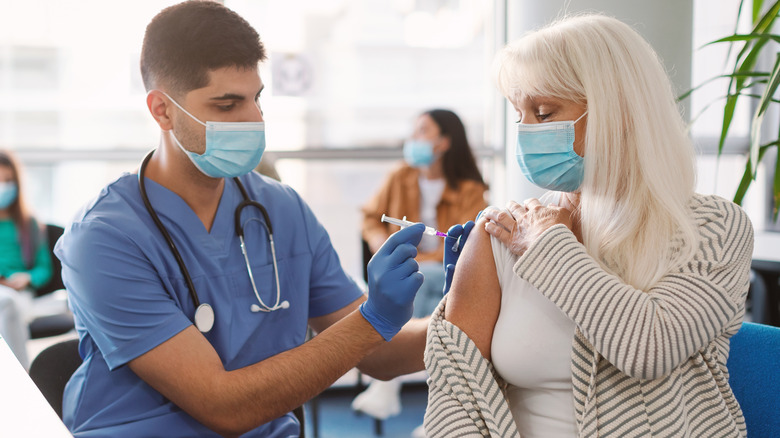 Prostock Studio/Shutterstock
Those who are currently eligible to receive the updated booster shot will need to meet certain requirements. As per the press release, the Pfizer booster vaccine has only been approved for those ages 12 and up, and the Moderna shot is approved for use only in those 18 or older at this time. In regards to updated boosters for younger age groups, the CDC announced that it will promptly make a decision once data has been reviewed and the updated vaccines have been authorized for use by the FDA.
In addition, NBC News notes that recipients will need to have completed their primary vaccinations and are advised to wait at least two months from the date of their last shot before seeking out the updated booster. Experts explain that more vulnerable individuals, such as older adults, would benefit from receiving their booster shot as soon as possible. However, younger people may want to consider leaving more time between vaccinations. "The longer you wait to get the boost, the more potent of a boosting effect it's going to have," David Montefiori, professor at the Human Vaccine Institute at Duke University Medical Center, told NBC News. For those who have completed their primary vaccinations and have already received at least one booster, the updated booster shots will account for a fourth, fifth, or sixth dose.