Health Digest Survey: What Is People's Preferred Over-The-Counter Immune Support Supplement?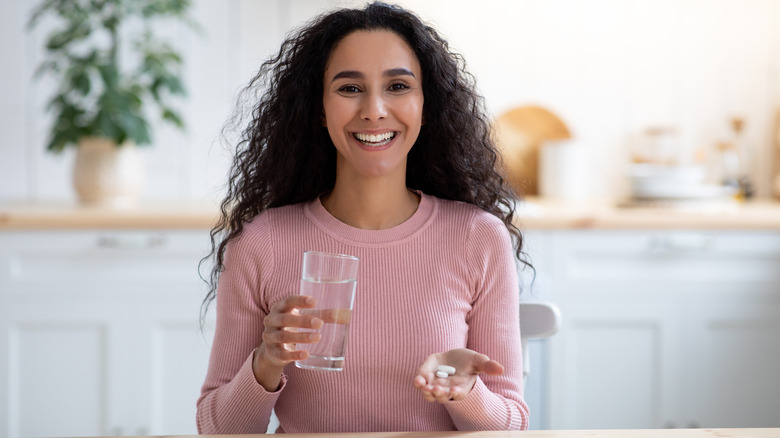 Prostock-studio/Shutterstock
Working alongside one another, a combination of cells, organs, and proteins is what makes up our body's immune system (via Johns Hopkins Medicine). Critical to our ability to fight off infection from viruses, bacteria, fungi, and more, our body develops two forms of immunity. The first we come into the world with is known as the innate immune system. Our second immune system — the adaptive immune system — is built up as we become exposed to germs.
In order to thrive, our immune system requires a variety of micronutrients, such as vitamin A, vitamin C, folate, zinc, copper, iron, and more, according to Medical News Today. However, factors, such as stress or illness, can negatively impact immunity by diminishing levels of nutrients within the body. Although evidence supporting the benefits of immune support supplements is minimal, some people still turn to supplementation to ensure their body is getting enough of what it needs. To find out which over-the-counter (OTC) immune system support supplement is most preferred by readers of Health Digest, we offered five different popular supplement answer choices and gathered survey responses from 612 total participants.
Vitamin C versus Emergen-C for the top spot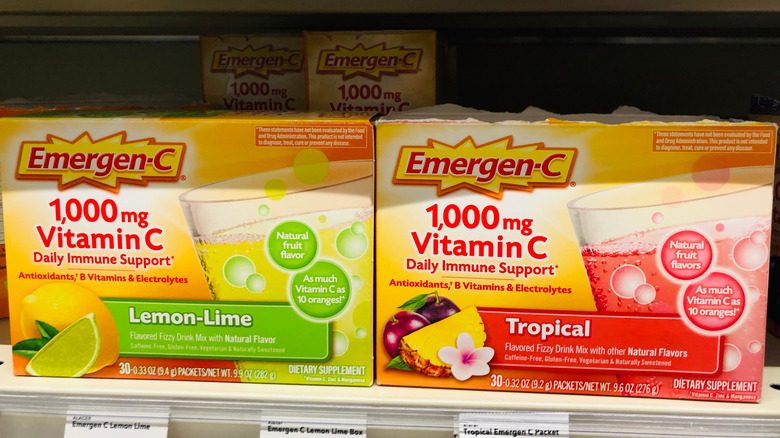 ZikG/Shutterstock
The answer with the least amount of selections was elderberry supplements with 54 votes. This answer choice made up a little less than 9% of the total responses. As per WebMD, the antioxidants and vitamins found in elderberry plants may help support immune system health. Next, with 86 votes, was vitamin D3 supplements, which accounted for just over 14% of total answers. A 2022 study published in Frontiers in Immunology showed vitamin D3 has the potential to boost immunity, although these findings did not hold true for vitamin D2. With nine more votes was Airborne, making up 15.52% of total responses. Made with a variety of vitamins, minerals, and herbs, such as ginger and echinacea, the company states via their website that their unique product formula enhances immune system health.
With 186 answer selections, vitamin C supplements came in second place, accounting for 30.39% of total participant responses. Unable to be made naturally within the body, vitamin C can alternatively be obtained through our diet. The essential vitamin helps support the function of white blood cells, further enabling the body to combat illness (via Healthline). Overall, however, the most preferred over-the-counter immune support supplement chosen by participants was Emergen-C with 191 votes. This answer made up 31.21% of the total responses. Offered in powder form, the supplement is said to boost immunity and increase energy, as per their website. Regardless of which supplement you choose, remember to consult with your doctor beforehand.