A Dermatologist's Best Recommendations For Taking Care Of Dry Skin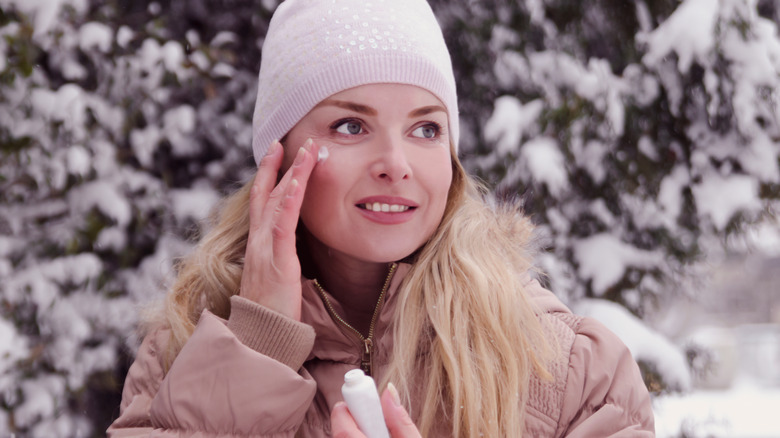 Pearl PhotoPix/Shutterstock
Dry skin can often plague many of us in the winter months. That's because the low humidity, heavy wind, and harsh temperatures can rob us of the natural moisture in our skin (via Medical News Today). If you already have dry skin or suffer from rough or itchy patches during the winter, you can follow a few recommendations from Board-Certified Dermatologist Dr. Aanand Geria. In an exclusive interview with Health Digest, Dr. Geria gives us some advice for the upcoming winter season. "Although dry skin is not entirely preventable and can be activated, especially in the winter months, there are steps and precautions one can take to help avoid this problem," he says.
First of all, you might think that a nice hot bath or shower might help warm you up in the winter, but Dr. Geria suggests avoiding baths and long showers. After bathing, he advises to apply moisturizer immediately. He also recommends lip balm.
As for skincare, Dr. Geria suggests a non-foaming cleanser. "Products that don't foam remove dirt and oils on the skin without disturbing the outer layer," Dr. Geria says. "After cleansing, apply a product containing Vitamin C serum and hyaluronic acid; this will help keep your skin fresh and moisturized. After this, protect yourself with SPF. The sun can cause damage to our skin, such as premature aging, dryness, and skin cancer."
Products best for dry skin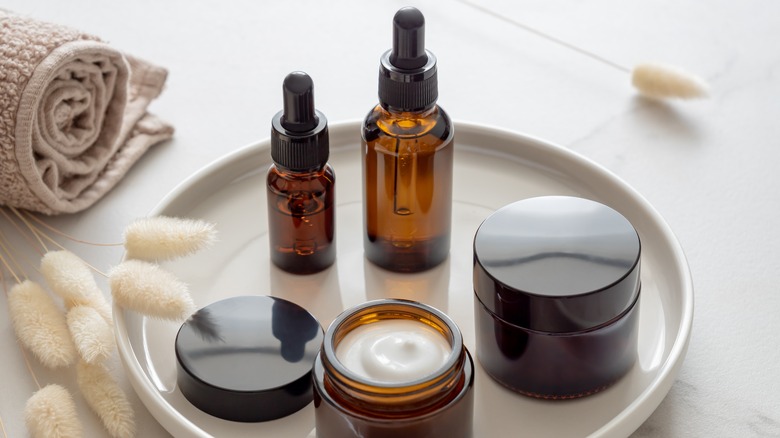 Irina Kvyatkovskaya/Shutterstock
Dr. Geria has several favorites that he recommends for dry skin. The first is CeraVe Moisturizing Cream, which is beneficial due to its ceramides and hyaluronic acid, which both soothe dry and irritated skin. For dehydrated skin, Dr. Geria says Avene XeraCalm Lipid-Replenishing Cream is the way to go. This cream helps with cracked and split skin, plus it's fragrance-free. If you're looking for a lighter moisturizer, Dr. Geria suggests Neutrogena's Hydro Boost Water Gel. "This moisturizer is light, quickly absorbing into the skin while the gel produces feelings of a cooling sensation," Dr. Geria said. "The product contains a hefty dose of hyaluronic acid, which keeps the skin moisturized throughout the day."
Dr. Geria also advises staying away from certain formulas. "If you have dry skin, avoid using products that contain ingredients such as salicylic acid, alcohol, fragrance, and benzoyl peroxides," Dr. Geria said. "Using products that contain these ingredients will only intensify the dryness."
To find out more about Dr. Geria and his practice in Verona, NJ, head to his website at geriadermatology.com.