Why Counting Carbs Trumps Counting Calories When Controlling Type 2 Diabetes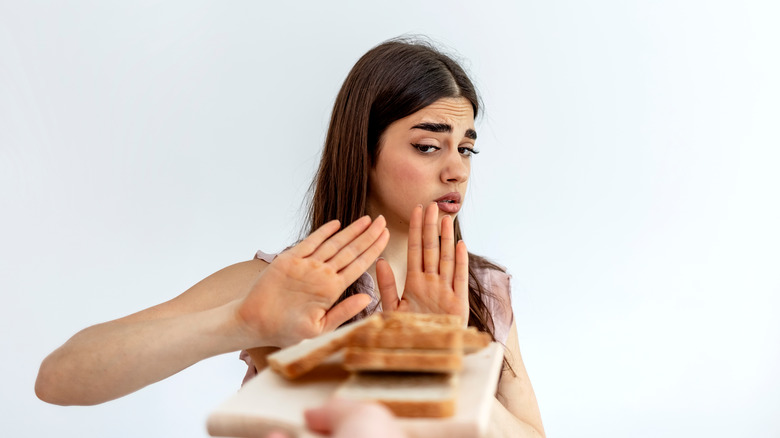 Jelena Stanojkovic/Shutterstock
People trying to manage type 2 diabetes take note: Calorie counting is out and carbohydrate counting is in, according to a new study published in the Annals of Internal Medicine.
As it stands, 480 million people worldwide are living with Type 2 diabetes (T2DM), according to the American Journal of Managed Care. To treat T2DM, doctors typically encourage patients to lose weight, which helps to improve glycemic control. To date, calorie counting has played a major role in that. Low-calorie diets often wind up coinciding with low-fat diets, as a gram of fat contains more than double the amount of calories as a gram of carbohydrate or protein (per Diabetes Meal Plans).
Unfortunately, calorie-restricted diets leave much to be desired, literally, as those who follow them often complain of hunger pangs. Dr. Camilla Dalby Hansen, author of the study wrote, "Calorie-unrestricted diets may be a better alternative to achieve long-term maintenance," (per JNews).
So, she and her research team set out with the intention of examining how a calorie-unrestricted diet that focused on limiting carbohydrates compared to a typical high-carb, low-fat diet (HCLF) in regard to the treatment of T2DM.
Low-carb vs. low-fat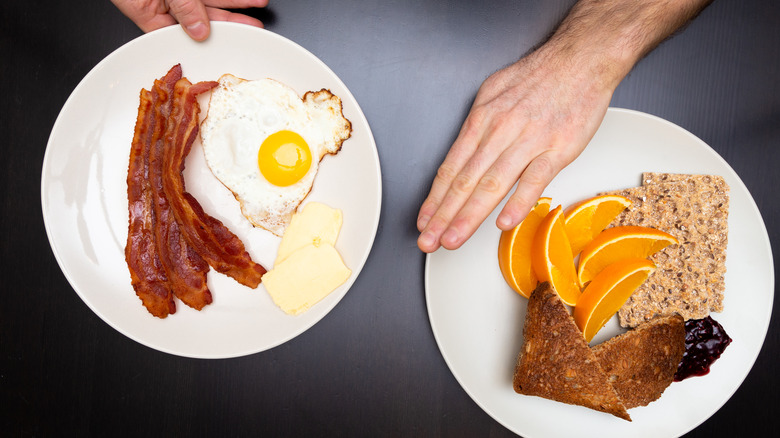 Adam Melnyk/Shutterstock
Over the span of 6 months, participants either followed a HCLF diet, or a low carb, high fat (LCHF) diet — and neither group was instructed to limit their calorie intake (per JNews). At the end of the six months, both groups shed some weight. However, participants in the LCHF group lost an average of 8 pounds more than their HCLF counterparts. Both groups also saw a decrease in their blood sugar, but once again, the LCHF group saw greater improvement (per American Journal of Managed Care). It's also worth mentioning that those in the LCHF group also experienced a slight uptick in their cholesterol levels at the end of the six months.
Hansen and her team determined that their findings sufficiently demonstrated that a diet that focuses on limiting the intake of carbohydrates is a perfectly acceptable option for people looking to manage type 2 diabetes (per JNews). But she worries that even without the difficulties that come with calorie counting, people may struggle to stick with the diet plan, as it tends to be more expensive to maintain and harder to accommodate in social settings.