What's People's Go-To Electrolyte Drink Brand?- Health Digest Survey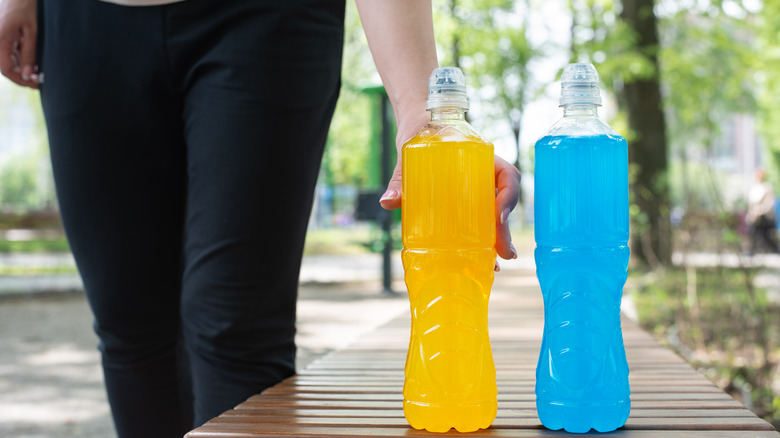 Natalia Semenova/Getty Images
Responsible for maintaining our body's careful balance of fluids, experts at the Cleveland Clinic explain that a lack of electrolytes can leave us susceptible to dehydration. The most famous of all electrolytes are sodium, magnesium, and potassium. These electrolytes, among others, support healthy blood pressure, muscle contractions, and more. Some electrolyte-replenishing beverages, such as Gatorade and Powerade — although delightfully flavorful — can be loaded with artificial sweeteners, reports the American Diabetes Association. Others may contain different amounts of electrolytes to cater to the specific needs of different consumers, such as athletes. For this reason, it's important to pick an electrolyte drink that's right for you.
To find out which electrolyte drink brand people prefer most, we asked 612 readers of Health Digest to vote for their go-to beverage out of five different answer options. With the least amount of votes was Nuun. Making up 4.08% of the total answers submitted, only 25 people selected this answer option. In second-to-last place was Liquid I.V. This answer earned 72 responses and accounted for just under 12% of the total answers submitted.
Pedialyte versus Propel for top choice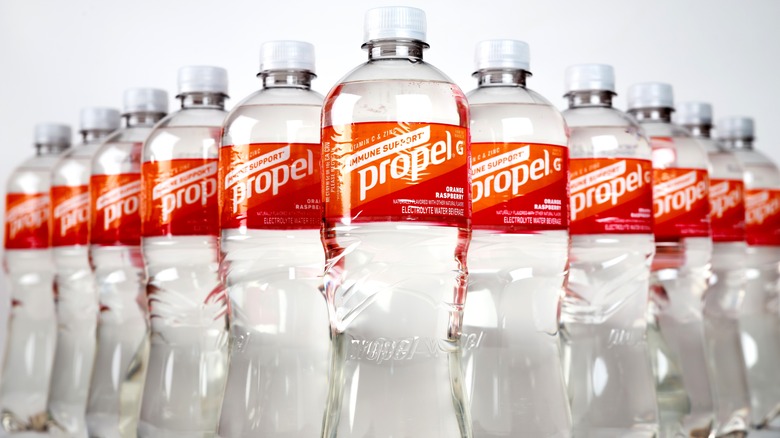 tastyfood/Shutterstock
Bodyarmor earned just four more votes than Liquid I.V. With 76 answer selections, 12.42% of respondents selected this answer choice. As per their website, Bodyarmor sports drinks come free of artificial sweeteners, flavors, and dyes and are rich in antioxidants and potassium. Their Bodyarmor Edge product also comes with 100 milligrams of caffeine for an added energy boost.
Votes skyrocketed after that, with the top two answers amongst respondents coming down to Propel and Pedialyte. With 199 votes, 32.52% of respondents voted for Pedialyte, landing this answer selection in second place. With more than twice the amount of sodium than leading sports drink brands, Pedialyte has earned the title of the number-one doctor-recommended drink brand when it comes to hydration. With a staggering 240 votes, however, Propel landed in first place, making up 39.22% of the total survey responses submitted. Coming in both liquid and powder forms, Propel electrolyte products come in a variety of flavors with zero calories. In addition to electrolytes, they also have the added health benefits of vitamins C, B, and E.