Jeff Beck's Cause Of Death Explained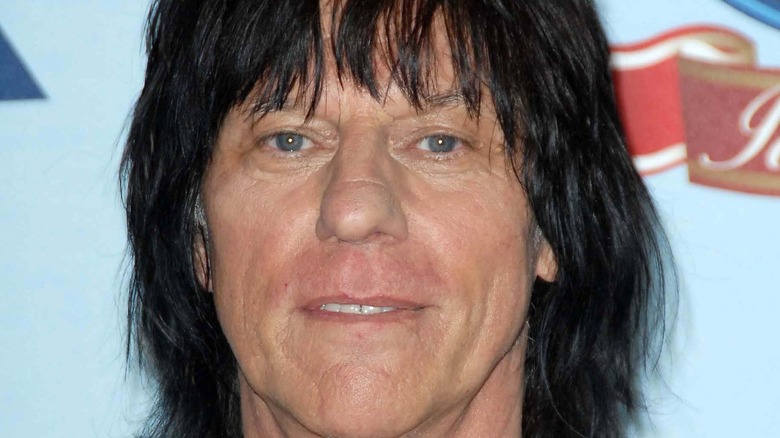 s_bukley/Shutterstock
Notable English guitarist Jeff Beck just passed away at the age of 78. His official Twitter page was the first source to share the news today with the statement, "On behalf of his family, it is with deep and profound sadness that we share the news of Jeff Beck's passing."
Beck was known as a legendary musician out of the 60's era of rock-and-roll, initially hitting the scene by displacing Eric Clapton of the Yardbirds, reports BBC News. He went on to form his own group, known as the Jeff Beck group, with peer and legend Rod Stewart. As an eight-time Grammy award winner, he was not simply a one-hit-wonder (per Variety). In fact, his latest work involved a tour with Johnny Depp for their album entitled "18," and it seemed he'd shown no signs of slowing down.
The Twitter statement also revealed that the cause of death was bacterial meningitis, which he contracted suddenly. And though his passing was quick, it was reportedly peaceful. The family is asking for privacy at this time. 
What is bacterial meningitis?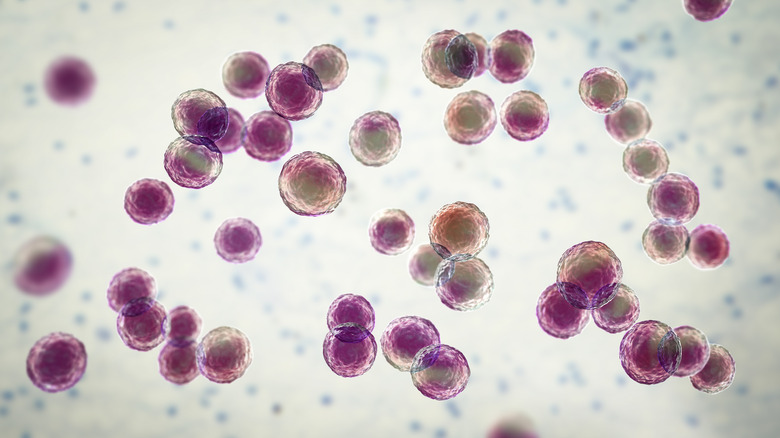 Dr_microbe/Getty Images
Bacterial meningitis is an affliction of the brain and spinal cord via the bloodstream (per Mayo Clinic). Specifically, it's an infection that can cause immense pressure on these regions and essentially attack the surrounding membranes. In some cases, bacterial meningitis can develop out of an ear infection, skull fracture, or surgery (although very uncommon) if the bacteria makes its way directly into the surrounding membranes of the brain. This can lead to severe illness and death, according to Johns Hopkins Medicine. Unfortunately, these impacts can happen quickly and without much warning. Brain damage, stroke, and even paralysis are some of the other outcomes. However, with swift treatment, many are able to recover.
Symptoms to be on the lookout for include headaches and confusion, high fever, skin rashes, and limited range of mobility in the neck, also described as a stiff neck. Parents should look for physical symptoms in their children, including fever with vomiting, irritability, seizures, and even head swelling.
Practicing prevention and when to call a doctor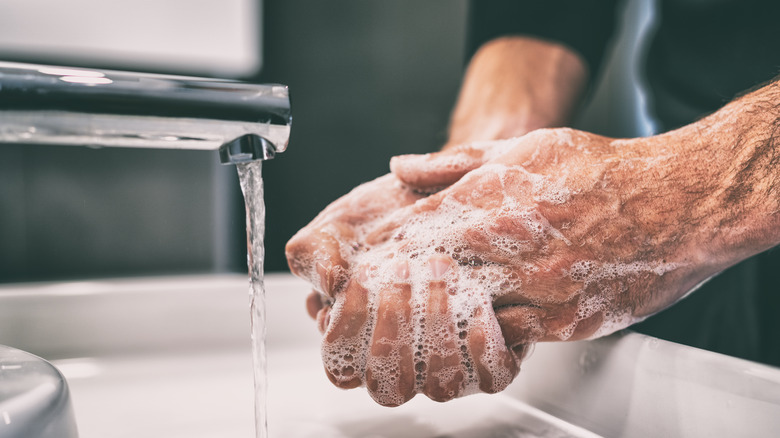 Maridav/Shutterstock
While doctors don't know all the risks of this condition, they believe certain factors are at play, such as weakened immune systems, head injuries, age, and life stage, according to Johns Hopkins Medicine. Infants are particularly at risk before age 1, as well as college students who may reside in crowded dorm rooms. The bacteria can spread via coughing, sneezing, or sharing items that have been in others' mouths (via Mayo Clinic). 
By practicing good hygiene, washing your hands, covering your mouth when you feel a cough or sneeze coming on, and engaging in immune system-boosting activities, you can lower your risk for the condition (per Mayo Clinic). Recommended vaccines for young children are also available to help protect against infection. Seek medical care if you or another individual experiences any of the aforementioned symptoms, such as fever, confusion, vomiting, a headache that does not subside, or stiffness in the neck. These are signs you may have contracted the bacteria. Also, speak to your doctor in the event of known exposure to an infected individual, as prescription medications may be required.