Is Ka'Chava Meal Replacement Shake Good For You?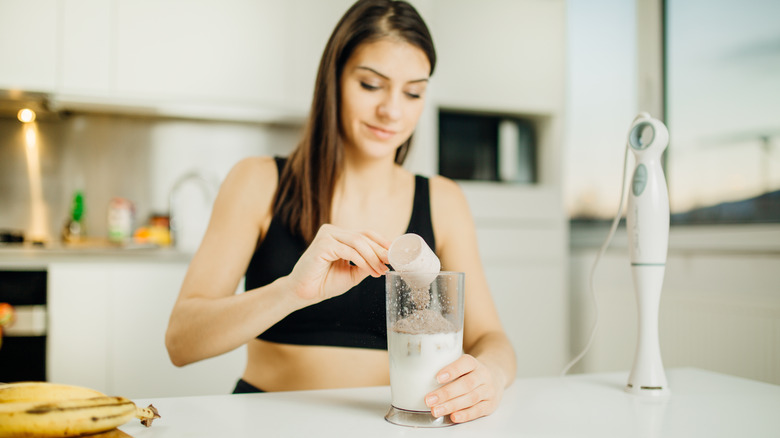 eldar nurkovic/Shutterstock
You've seen the ads for Ka'Chava. The testimonials tout the product as "the best meal replacement" with its great taste and filling texture, as per their website. But how healthy is it? Let's look at the ingredients. A vanilla shake has 240 calories, 7 grams of fat, and 24 grams of carbs, according to Ka'Chava. It also has 6 grams of fiber and 5 grams of added sugar. Its 25 grams of protein comes from pea protein, brown rice protein, amaranth, sacha inchi, and quinoa. The vitamins and minerals on the label look similar to one from a standard multivitamin.
Ka'Chava uses proprietary blends of adaptogens, probiotics, vegetables, fruits, and omega EFA-fiber, which means that you don't know exactly how much of each ingredient you'll get, according to Nutrition to Fit. Therefore, you might not necessarily get enough of a specific ingredient to get its benefit. For example, the adaptogen blend of 1,020 mg consists of maca root, shiitake mushroom, maitake mushroom, reishi mushroom, cordyceps mushroom, and ginger root. Additionally, maca root can balance hormone levels, improve blood glucose, and lower blood pressure, as per a 2022 systematic review in Phytomedicine Plus. However, most of the research showed effects when people took between 2,000 and 3,000 mg of maca. Even if maca root made up 100% of the adaptogen blend, you'd have to drink two to three shakes a day to get the benefits from maca.
Other ingredients in Ka'Chava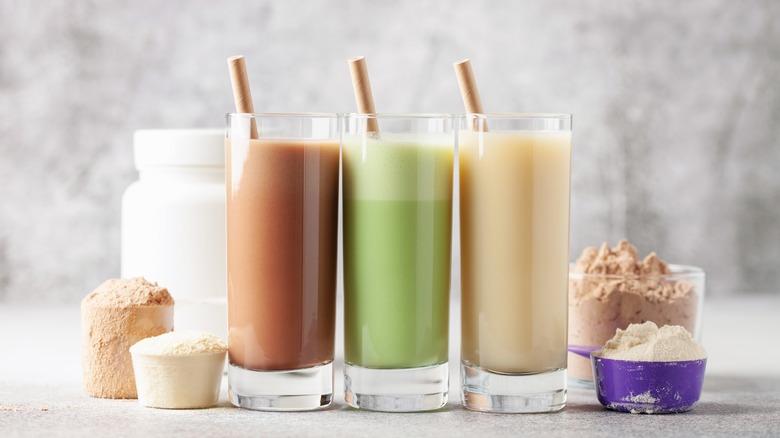 NatalyaBond/Shutterstock
Ka'Chava's approximate 11-gram omega EFA-fiber blend has whole-grain oats, acacia gum, chia, and flax. Fortunately, fiber can help you feel full and help you stick to a calorie-restricted diet, as per a 2019 study published in The Journal of Nutrition. However, you might need a little more chia seed to get its full benefits. A 2014 study in Plant Foods for Human Nutrition found that it takes 35 grams of chia seeds a day to lower blood pressure.
The Ka'Chava prebiotic-probiotic blend consists of inulin, lactobacillus rhamnosus, and lactobacillus acidophilus (via Ka'Chava). But different strains of probiotics have different effects and Ka'Chava doesn't indicate the medical dosage standard in colony-forming units (CFU), explains Illuminating Labs. However, taking a probiotic is generally safe for most people (per Cleveland Clinic).
Although Ka'Chava promotes the product as a meal replacement, Nutrition to Fit says that a 240-calorie shake is rather low to be a healthy replacement for a meal. If you add peanut butter, fruit, or rolled oats to a Ka'Chava shake, it might satisfy you enough for a meal. You can also put a Ka'Chava smoothie into a bowl and add coconut, cacao nibs, or granola for a satisfying crunch. After all, drinking a meal doesn't satisfy you as much as eating one (via Women's Health).