Why A Physician Says The 'Dry January' Trend Isn't As Healthy As You Think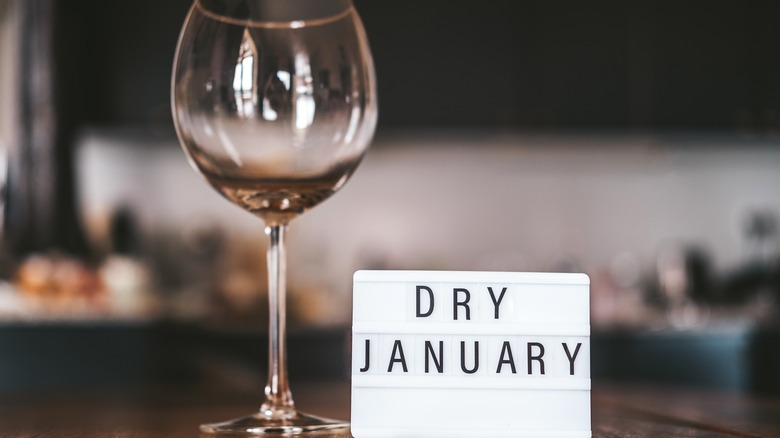 Evgeniia Freeman/Shutterstock
The start of a new year is filled with promise. People excitedly set new goals, dreams, and intentions in order to create the life they envision for themselves. One popular challenge that some people opt to participate in at the start of the new year is "Dry January." However, this annual practice is more than just a trend. In fact, it has a rather rich history. First introduced over a decade ago, Dry January was launched as a public health campaign by British Change UK, according to the Harvard Medical School. While it may help motivate some people who desire to lessen their alcohol intake, some experts caution that the challenge may not be a healthy option for all.
"Dry January can be helpful for those who are looking to reduce their alcohol consumption, quit completely, or just re-evaluate their relationship with alcohol. But it's not for everyone," Dr. John Mendelson, chief medical officer of Ria Health, told Health Digest in an interview. "Because it's an abstinence-only movement, the approach may harm those who are struggling most with alcohol misuse and alcohol use disorder (AUD)," he continued.
How Dry January can impact those with alcohol use disorder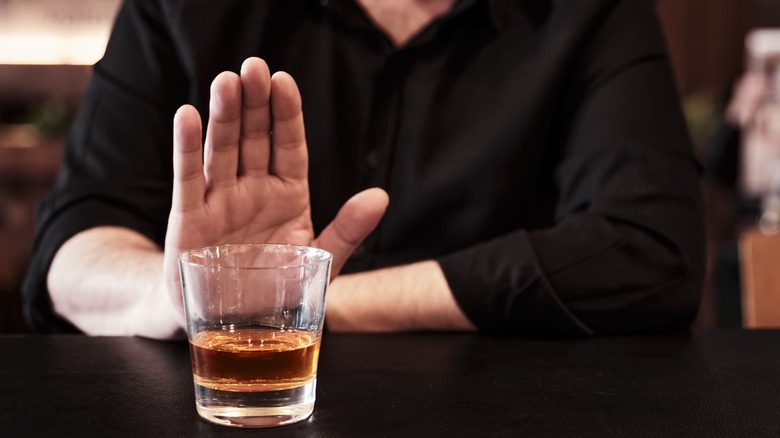 Cagkan Sayin/Shutterstock
Dr. Mendelson told Health Digest that the risk of withdrawal symptoms could negatively impact those working toward sobriety. "Cold quitting can trigger harmful withdrawal symptoms, which can lead to relapse and impact efforts to quit drinking," Dr. Mendelson explained. "Dry January can also be pressuring because the goal is complete abstinence. Because of that, people who aren't interested in abstinence may avoid participating in the movement and those who do may be discouraged if they make a misstep and end up having a drink."
Rather than abruptly trying to abstain from alcohol entirely, Dr. Mendelson encourages individuals to reduce their alcohol intake to create habits that are sustainable in the long run. "If abstinence or reducing drinking is a goal, we recommend people take a longer term approach that focuses on building healthy habits via moderation," he told Health Digest. "This means creating SMART (specific, measurable, achievable, relevant, and time-bound) goals that can lead to fewer drinking sessions or drinking less during a specific session." Dr. Mendelson encourages individuals looking to reduce their alcohol intake to create habits that are sustainable in the long run.
The impact of current alcohol use trends in the U.S.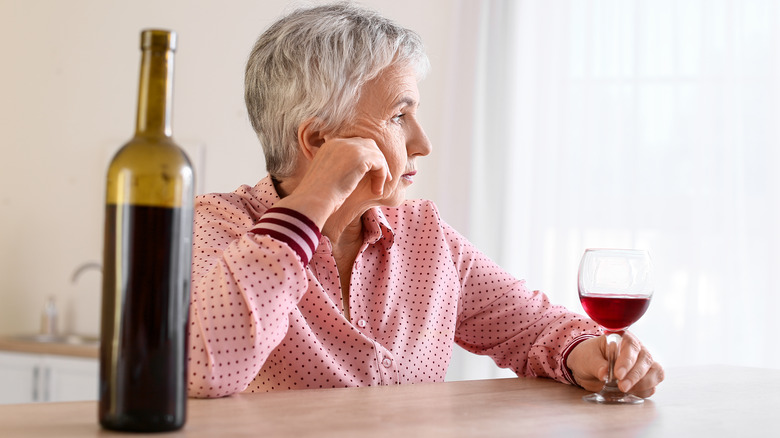 Pixel-Shot/Shutterstock
Dr. Mendelson cites the COVID-19 pandemic as one of the main contributing factors to the rising rates of alcohol use across the country. "The pandemic has led to a huge rise in drinking and binge drinking, particularly among young people and women," he stated. "This is leading to a huge rise in fatty liver disease and also contributing to a rise in suicides, anxiety, and depression, again, affecting young women particularly." Dr. Mendelson concludes by sharing how this may ultimately impact the health of individuals, as well as the U.S. as a whole. "If these trends continue, we're going to see much more increase in fatty liver disease and cirrhosis which can affect liver transplant availability for people who have non-alcohol related liver problems. This will also strain the economy due to the economic impact of excessive drinking."
For more information from Ria Health, visit How To Taper Off Alcohol and Moderation vs. Abstinence
If you or anyone you know needs help with addiction issues, help is available. Visit the Substance Abuse and Mental Health Services Administration website or contact SAMHSA's National Helpline at 1-800-662-HELP (4357).