What A Dental Hygienist Wants You To Know Before Your Next Teeth Cleaning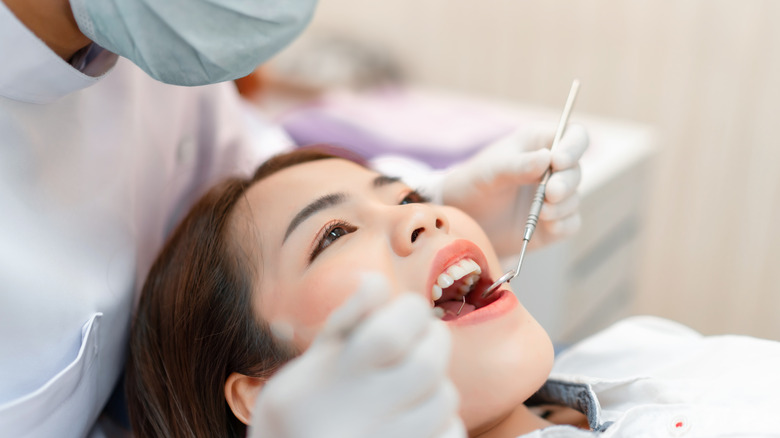 MMD Made my dreams/Shutterstock
When it's time to visit your dentist's office for your six-month cleaning, your dental hygienist plays an important role in that visit. Sue Scherer RDH, BS has been a dental hygienist for over 20 years. She has experience as a clinician, hygiene educator, speaker, and author. Nowadays, Sue is working for Water Pik, Inc. as the education and professional relations manager. In an interview with Health Digest, Scherer outlined the important services dental hygienists provide when it comes to the maintenance of a patient's oral health.
"Dental hygienists are licensed oral care specialists who focus on preventative care," she explains. Scherer says this includes the removal of plaque, stains, and tartar from our teeth and gums. However, she notes that their work stems far beyond that. "Dental hygienists examine patients for signs of a number of oral diseases such as oral cancer, gingivitis, and periodontal disease," Scherer states. "They are also licensed to perform many other tasks that include taking x-rays, applying sealants and fluoride, placing antibiotics below the gum line and taking impressions of the teeth," she adds. "The scope of practice for a dental hygienist can vary from state to state but many dental hygienists can also administer nitrous oxide and local anesthesia." Furthermore, Scherer explains that many dental hygienists also provide education regarding the prevention and treatment of oral health issues.
At-home oral health care can only go so far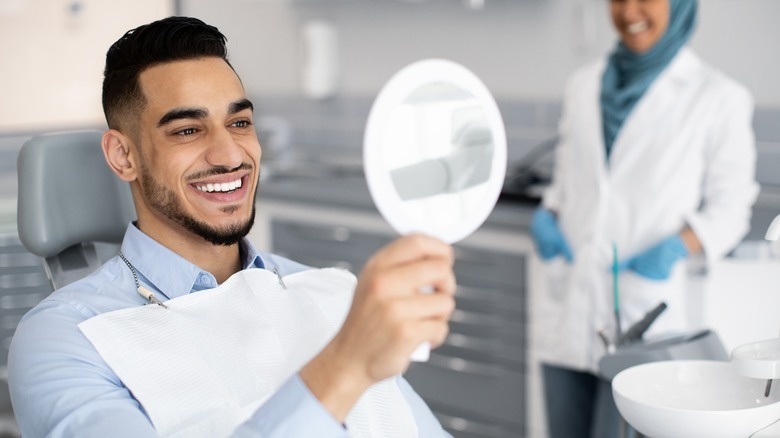 Prostock-studio/Shutterstock
While many of us already know the importance of regularly brushing and flossing our teeth to help reduce our chances of dental disease, Scherer wants patients to know that these at-home measures can only go so far. "Bacteria builds on the tooth surface and below the gum tissue every day," she says. "While homecare practices such as brushing and cleaning between the teeth will help to maintain good oral health, there is buildup on the tooth and below the gum line that a dental hygienist is licensed to remove safely and effectively." In other words, there comes a point when we have to let an oral health professional take care of what we cannot do on our own.
"Regular dental hygiene visits help to prevent the bacteria buildup from leading to gum disease and other oral health problems," Scherer tells Health Digest. She concludes the interview by highlighting how dental hygienists not only play a key role in prevention, but also in early intervention of oral health issues. "In addition, regular dental hygiene visits allows your dental team to detect oral health problems earlier, preventing more severe problems from arising."
To learn more about Sue Scherer, connect with her on LinkedIn.