How Eagles QB Jalen Hurts' Shoulder Injury Could Impact Him In Super Bowl 2023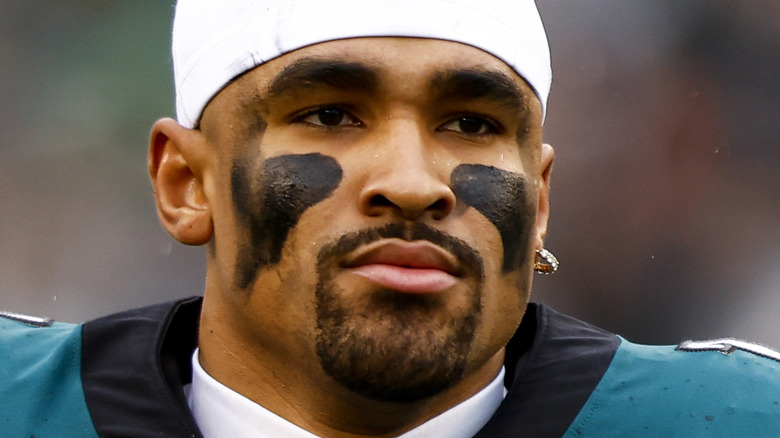 Kevin Sabitus/Getty Images
In December 2022, Eagles quarterback Jalen Hurts was knocked to the ground after taking a hit from Chicago Bears' defensive lineman Trevis Gipson that resulted in a sprain to his right shoulder, reports ESPN. Since the injury, Hurts has openly shared that he is still experiencing residual pain as he continues to recover (via DraftKings Nation). With the Eagles heading to the Super Bowl in less than a week, we asked Dr. Rahul Shah, Board-Certified Orthopedic Spine & Neck Surgeon, how Hurts' injury could potentially affect his ability to play.
"When your shoulder is injured, the ability to move the arm will be affected," he states. "This is particularly important when it comes to throwing, which is integral to a quarterback's performance," Dr. Shah explains. "When one's shoulder is injured, the skills of the arm's ability to torque, accelerate and move efficiently may be hampered, particularly when the arms are at shoulder level or higher." Additionally, Dr. Shah points out that a shoulder injury like Hurts' can also impact defensive maneuvers. "Also activities such as blocking and tackling can be affected as the arms are held out to accomplish these tasks," he states. "When the challenges of the game require[s] one to accomplish tasks of blocking, tackling and throwing at the highest level, there may be some degradation in performance with an injured shoulder."
How Hurts can best prepare for game day
Kevin Sabitus/Getty Images
Dr. Shah goes on to tell Health Digest that the time lapsed between the initial injury and the upcoming Super Bowl will have afforded Hurts a good deal of recovery time. "At this point, it has been over 6 weeks since Hurts injured his shoulder on December 18," Dr. Shah states. "Many ligaments demonstrate a significant amount of healing in 6 weeks' time. Therefore, Hurts has had some time to rehabilitate his shoulder with exercises and practice." 
However, Dr. Shah notes that it may be in Hurts' best interest to work with a professional as he continues to train. "At this point, working closely with his trainers and optimizing his conditioning for his shoulder would serve to prepare him for the game," he explains. "Specific exercises and practice would have to be tailored to any pain or discomfort Hurts faces as he runs through drills and scrimmages in preparation for the [Super Bowl]. At this point leaning more towards exercising as compared to resting is advisable," Dr. Shah states.
The importance of working with a sports medicine specialist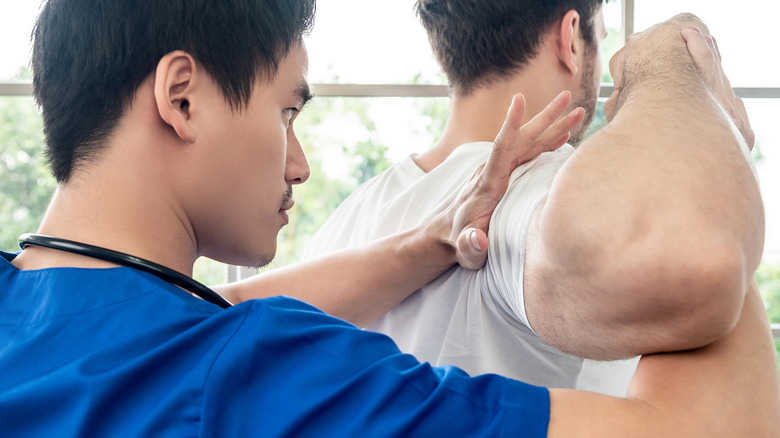 Atstock Productions/Getty Images
Aside from personal trainers, Dr. Shah explains that Hurts will most likely work closely with healthcare professionals as he prepares for game day. "Specific intervention by the sports medicine specialists will likely center around devising strategies to optimize his shoulder and arm function," he explains. "This will be predicated on clearly understanding any pain that Hurts experiences and any awkward movements he demonstrates while practicing. These areas will offer the sports medicine specialists a blueprint of the specific opportunities for improvement Hurts will need," he says. "Following this understanding, working to optimize the harmony of the different muscles in the shoulder such that they are able to effortlessly and painlessly allow for throwing the football will be tantamount." 
Dr. Shah concludes his interview with Health Digest by adding that smaller muscles should not be ignored either. "Finally, specific strength training may also be incorporated in order to optimize any accessory muscles to help Hurts overcome any subtle limitation from any portion of the injury that hasn't fully healed."
To learn more about Dr. Shah, visit rahulshahmd.com