CDC Finds Teen Girls At A Record High For Mental Health Concerns
SynthEx/Shutterstock
Every other year, the Centers for Disease Control and Prevention (CDC) releases the Youth Risk Behavior Survey (YRBS), which reports on trends relating to sexual behavior, substance use, violence, and mental health in high school students. The newest data, released in 2023, shows startling increases in sexual violence and trauma in girls, leading to higher rates of feelings of hopelessness and suicidal thoughts.
According to a CDC report that looked at data collected from 2013-2019 released last year, children's mental health had already been declining — and this was before the COVID-19 pandemic even began, which worsened teens' mental health even more. Results showed that in 2019, 36.7% of teens reported "persistently feeling sad or hopeless." When the results were released, experts said they feared what the next report would show (via NBC News).
According to the YRBS, mental health in teens did get significantly worse in 2021. Rates of sexual violence also increased. The survey, which collected responses from 17,232 U.S. high school students, showed that nearly one in five girls experienced sexual violence.
14% of teen females said they'd been forced into sex, up from 11% in 2019. Sexual violence for males remained at 5%. The report shows that along with this increase in sexual violence, girls' mental health is being impacted.
If you or someone you know needs help with mental health, please contact the Crisis Text Line by texting HOME to 741741, call the National Alliance on Mental Illness helpline at 1-800-950-NAMI (6264), or visit the National Institute of Mental Health website.
The decline in teen girls' mental health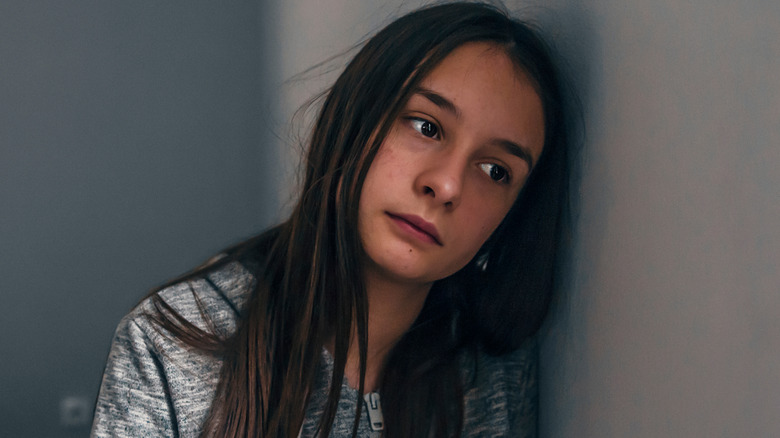 Dragana Gordic/Shutterstock
Overall, mental health in teens has been declining, but this trend is particularly pronounced in girls. According to the YRBS, in 2021 the percentage of teens experiencing persistent sadness and hopelessness rose to the highest rate in a decade, climbing to 42% overall. This number was even higher for girls, reaching 57%.
The percentage of high school girls seriously considering suicide rose to 30%, an increase from 2019. 24% had made a suicide plan, 13% attempted suicide, and 4% were injured in a suicide attempt. And these rates are even higher in the LGBQ+ population. (Survey participants were not asked if they were transgender.)
At the CDC briefing on the report, president of the National PTA Anna King said that these results point to the need for schools to educate staff and families on mental health resources, as well as for Congress to provide funding specifically for children who are survivors of trauma. The CDC also recommends more programs for schools to address the crisis, such as sex education.
The report also stressed the importance of positive relationships at school. Dr. Kathleen Ethier, head of the CDC's adolescent and school health program, said that when students feel connected to others, they're less prone to be victims or perpetrators of violence and are less likely to attempt suicide 20 years later (via New York Times).
If you or a loved one is having thoughts of suicide, call or text 988 to reach the National Suicide Prevention Lifeline.