PBS Star Miranda Esmonde-White On Workout Tips For Healthy Aging - Exclusive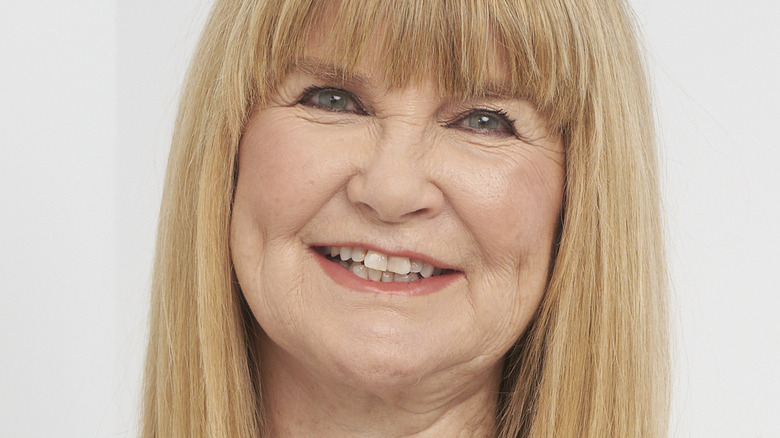 Leslie Woods
As a dancer with the Canadian National Ballet, Miranda Esmonde-White knew her livelihood depended on her physical fitness and flexibility, and fitness was always a priority for her. Indeed, when her time came to pivot from dancing to a new career, she went into fitness training, opening a dance and fitness center that attracted a loyal clientele. Before she knew it, her 20-something-year-old clients reached their 40s and were noticing new aches and pains, and so was she. 
"I just assumed this all comes with life. This all comes with aging," Esmonde-White said. To help her clients and herself stay fit, she began to study anatomy and movement, and soon, she identified flexibility as a hallmark of healthy aging. "The signature of aging is when they [joints] can't move so easily. The signature of youth is this incredible ability to move with ease." In this exclusive interview with Health Digest, Esmonde-White shared her expert tips on how to stay fit at any age.
To age well, work out wisely while young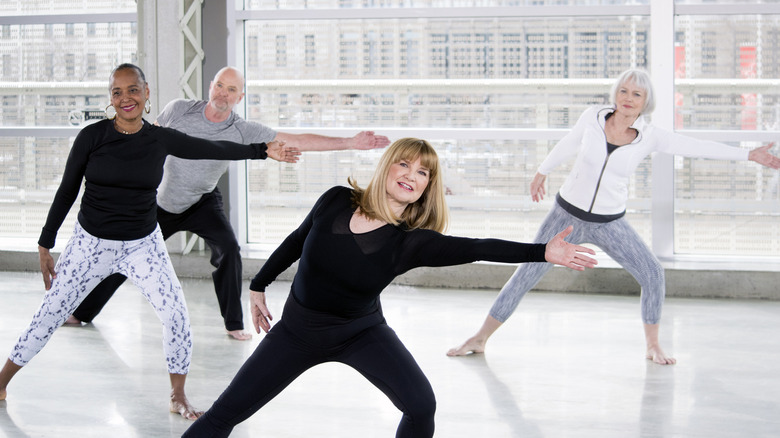 Essentrics
Go to any gym, and there are eager fitness buffs focused on pushing their physical limits. Miranda Esmonde-White, on the other hand, views physical fitness through a more holistic lens, treating it as a lifelong project whose ultimate goal is improving one's quality of life.
"Young people should actually take a look down the road at the people in their 50s and 60s and see what they look like. Will you still look and feel great as you get older, as you get into your 50s, 60s, 70s, and 80s?" Esmonde-White said. She noted that a lot of the pain and stiffness associated with aging, as well as overexertion in younger athletes, is due to workouts that overlook the connective tissue. 
"You know when something won't move? It won't move because that's connective tissue that's dehydrated, or shrunk, or blocked, or caused wadding," Esmonde-White said. "Connective tissue has a lot to do with aging and immobility of young people, like athletes who can't move. They're pushing their muscles, but it's actually their connective tissue that's the issue." Her tip is to work out smarter — not harder.
For sustainable fitness, listen to your body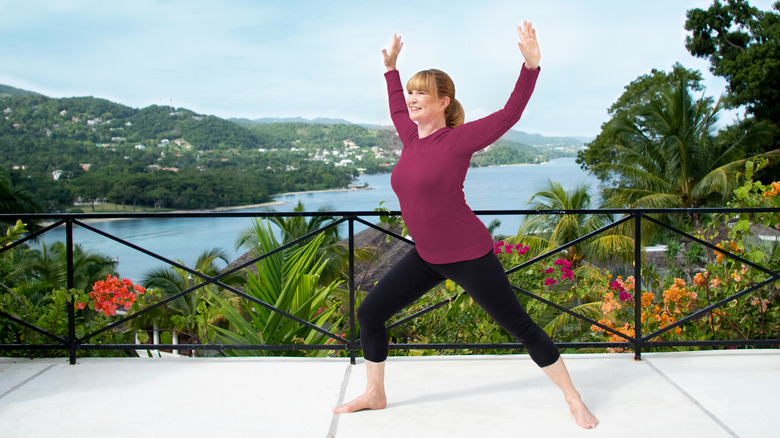 Essentrics
Miranda Esmonde-White warns that another barrier to healthy aging is the common desire to push one's self to their physical limit. This mentality, she said, can cause serious trouble down the road. 
"If you do a lot of weights, for instance, and you overbuild your pectorals, or you overbuild your trapezius muscles, they're going to round your back, and then you're not going to be able to move your arms properly," Esmonde-White said. "They won't go up. "
Powering through workouts while in pain is another common practice she warns against. 
"Pain is a message telling us something is wrong. It's a message telling you, 'You've got a cut on your face,' 'You've broken your leg,'" Esmonde-White said. "The message of pain [is] 'Fix this.' It doesn't mean 'Push through it. Make whatever's injured more injured.'" Instead, she recommends sustainable workouts with long-term benefits. 
"You don't want to destroy your body. You want your body to last until you're 100 [so] you can still bounce around and enjoy being an athlete," Esmonde-White said. "Just enjoy your life, be pain free, be fully active, do all the things you want to do, have good posture."
You can pre-order "The Miracle of Flexibility," by Miranda Esmonde-White, available February 28 from S&S/Simon Element. Tune in to Miranda's new special on PBS, "Aging Backwards 4: The Miracle of Flexibility," from February 25 to March 12.